Dell knew the man shuffling toward him, knew him though he had never before seen him, knew him in the modern way that you can know a person through tweets tapped on a smartphone and clicked into the universe.
The man was tall and bearded, just as Dell had heard. He carried himself proudly, moved in a manner befitting the ex-Navy SEAL he said he had been. He had worn a flannel shirt to the funeral, which made sense because dressing up didn't suit the man who loved Husker football, America, barbecue and a cold beer on the deck at night.
The man walking toward Dell had carved his own niche in the particular part of Twitter that's obsessed with Nebraska football. He had tangled with sportswriters, obsessed over the backup quarterback and gained nearly a thousand followers.
The man had also befriended dozens of Nebraskans on Twitter and met many of them in person. Online, he had shared his secrets and listened to their troubles.
In message after message, he had offered Dell encouragement and solace as Dell's wife grew sicker and sicker still.
That's him, Dell thought as the tall man moved closer. Has to be him.
"Dell?" the man said when he reached the front of the line of mourners. "Hi, I'm Trey. I'm so sorry."
They shook hands, and hugged, and Dell began to tear up again. Because his 36-year-old wife Melissa had just died. Because his friend Trey, who had been there for him when Melissa grew ill, had come to her funeral.
It was the first time they had ever actually met.
"He showed up. I appreciated that so much," Dell Richmond says. "Trey was the sort of guy who could be rough on the exterior, but when you got to him, you knew he had a good heart.
"I knew that. Or I thought I did."
They talked for a few moments before Dell moved on to greet the next mourner. But Dell almost immediately wondered about Trey, swiveled his head to look for him.
People were always doing that, wondering about Trey. This mysterious ex-SEAL had pulled admirer after admirer toward him, as if they were metal and he was magnet. But then he pushed them ever-so slightly away, fighting this magnetic attraction even as he created it.
Dell turned and searched for him in the crowd.
But Trey was nowhere to be seen. Poof! He had vanished almost instantly from the memorial service. He had disappeared.
"I turned ... he was gone," Dell said. "Then I thought, 'That's so Trey.' "

Trey tweeted that he was sick the same way he tweeted everything else.
He worked it quickly and matter of factly into the unending stream of Husker hot takes, banter, jokes, sarcasm and anger that he had tweeted for years.
It was a brief aside or two, friends later remembered, offering limited info and leaving much mystery. Like a photo of a meal that he had cooked for his family but said he wouldn't be able to enjoy himself.
"Why?" his followers wondered. Chemo?
He told people more in direct messages and in person in 2016 and 2017. Throat cancer, he confirmed. Getting treated in Iowa. It was OK. He was tough. He would push through.
"With Trey, it was always no B.S.," Dell says. "That's why we liked him."
He and others remember that they started paying attention to Trey around 2012 or 2013, initially attracted to him because of his no-B.S. approach to their beloved Cornhuskers.
He liked Bo Pelini. He liked hard-nosed, old-school smashmouth football.
He had a weird affinity for peanut butter-and-onion sandwiches and backup quarterback Ryker Fyfe, who he believed, against all evidence to the contrary, to be an unrecognized superstar.
He often picked fights with Husker sportswriters, and many of his Twitter followers enjoyed this, too — liked watching him fire at the experts and argue that he, not they, knew football.
"He liked to poke the bear," says Stuart Mason, a Lincoln resident and former staff sergeant in the Nebraska National Guard.
Trey sometimes poked way too hard, crossing the bounds of common decency. He ridiculed one writer for being overweight, and another for being female.
But that bullying stood in stark contrast to how he was beginning to treat his new friends, they say.
Stuart found himself regularly direct messaging with Trey. They talked about their families and military careers. Stuart spoke of his post-traumatic stress following his deployment to Iraq. Trey listened.
John Krajewski, a Lincoln engineer, bonded with Trey over their shared love of camping. Soon he, too, was sharing personal details of his life with this man he had never met in person.
Nikki Hanson, a resident assistant at a Lincoln assisted living center, started chatting with Trey, mostly about Husker football. But over the years, the relationship deepened. When she was having problems with her son, Trey gave her his phone number and advice on how to raise a teen boy.
Dell, a Lincoln insurance employee, talked to Trey about the art of barbecue. He shared his secret brisket recipe. Then, when Dell's wife got sick, Trey regularly checked in on him. You OK today? How you doin'? If you ever need to talk. ...
"Sometimes Trey could be an a--hole," Dell says. "But he was our a--hole."
Slowly, Trey began to peel back the layers of his own life to his new friends.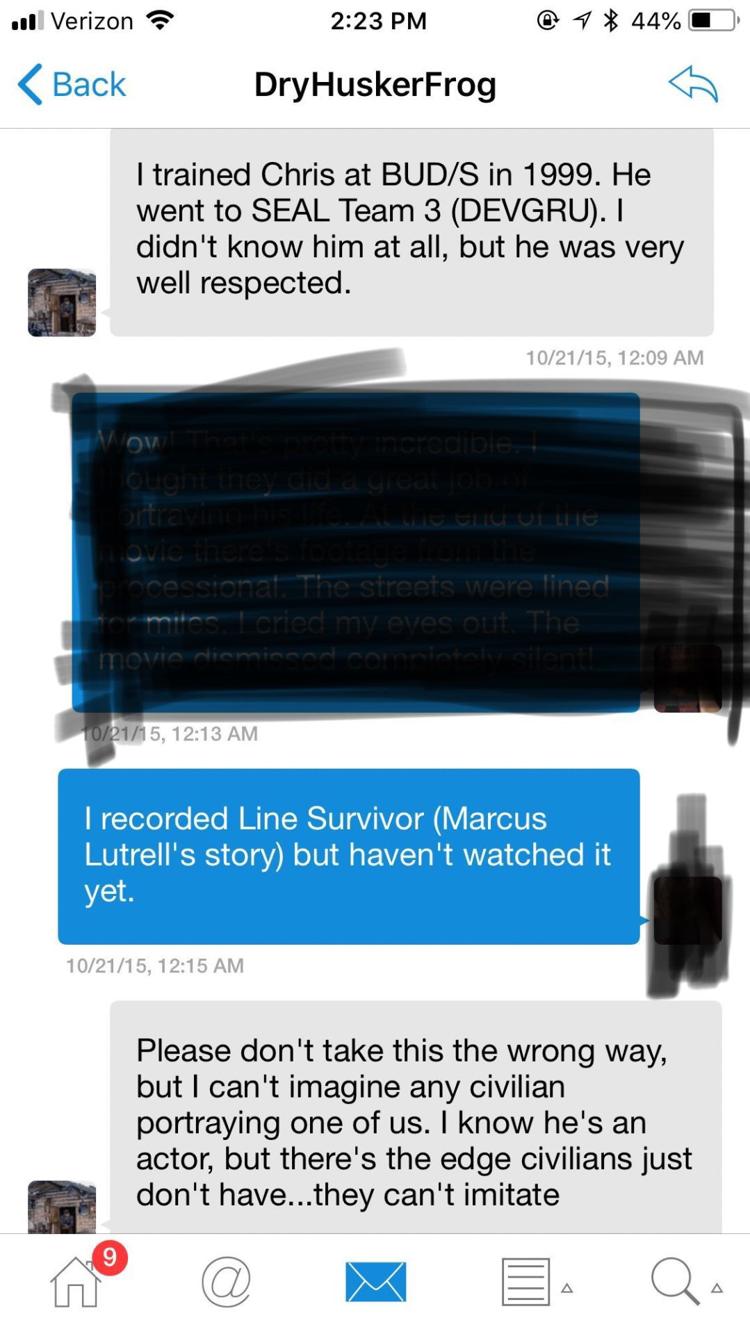 He was not only an ex-SEAL, but also an ex-SEAL instructor. He not only was an ex-SEAL instructor, but had trained the legendary Chris Kyle of "American Sniper" fame. He was retired now, but sometimes still pulled high-level security details, like protecting Hillary Clinton when she came to Nebraska during the campaign.
His parents died in a car wreck when Trey was young. He fought hard through tragedy to get to where he was now. Not all his loved ones had made it — his brother had hung himself in prison. But Trey had risen above. Trey had adopted his niece and was raising her.
Even as he slowly spilled out his life story, there seemed a point Trey wouldn't cross. He made clear that he was a private man. He told his new friends that Trey wasn't his given name — he didn't give it to anybody because as an ex-SEAL he faced threats.
This mystery only piqued his new buddies' curiosity. They nicknamed him Wolf, as in the lone wolf. They caught themselves repeatedly talking about Trey — wondering about him — when they were hanging out.
They compared notes jealously: You had a beer with Trey yet? What's he like in real life?
At first, Trey declined all offers to hang out, citing his social awkwardness or family obligations. But slowly he loosened his rules.
He met up with Stuart. He had a beer with John. He showed at a benefit to raise money for Dell's wife's medical costs.
The tall, bearded man who arrived at these meetings struck all of them as the physical manifestation of the Twitter user they had grown so fond of online. Now, he no longer looked like he could take down bin Laden's compound, but he did seem like he could have once upon a time. And sure, he was more soft-spoken than on Twitter, more measured. But then again, aren't we all?
It was at these meetings that Trey confided in his friends — who were fast becoming close friends — that he was battling cancer. But he gave them the sense he was winning.
Which is why it was so shocking when they started receiving direct messages from Trey in the spring and summer of 2017. I'm not gonna make it to Christmas. I only have a few months left.
The messages started coming from Trey's daughter, who had logged on to his account. The cancer had spread to his pancreas. They had gone to the family cabin in the west, because that's where Trey wanted to be. It was just a matter of time.
Then Trey was ... gone.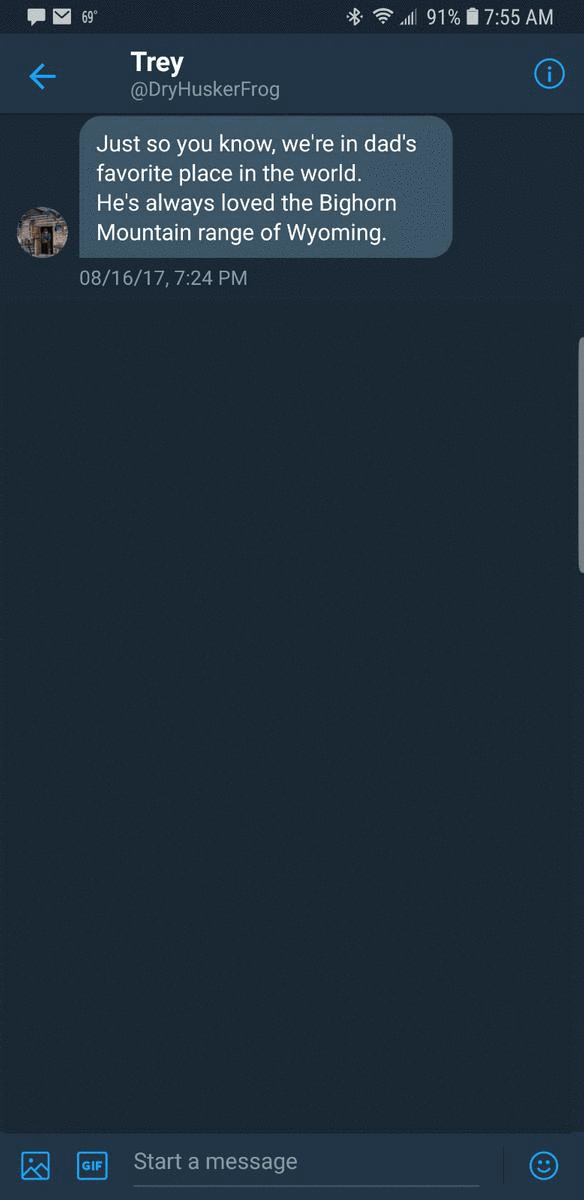 "It blew up all over social media," Stuart says. "My wife could tell I was hurting that night. That I needed my space."
He starts to tear up at the memory. "It was just hard."
People asked about the funeral, and Trey's daughter said it was a small family affair in the mountains. Do what he would have wanted you to do, she told the mourners on Twitter. Go have a beer together and remember Dad.
They did. Two dozen people met at the Zipline beer hall in south Lincoln. They drank beers. They went around and told Trey stories — about his weird love for peanut butter-and-onion sandwiches and his weird love for Ryker Fyfe. They talked about how Trey had helped them with PTSD, illness, accepting death.
They drank more beers. They laughed. They donated thousands of dollars to a cancer charity in Trey Smith's name.
"We toasted him," Dell says. "I cried. We all did."
Stuart was the one who noticed first. It nagged at him, like a dust bunny bothers a neat freak.
But he couldn't clean it from his mind. The nagging doubt kept getting worse.
Didn't this new guy Ken sound almost exactly like Trey? Didn't he use the same words? The same cadence?
"I thought I was a terrible person for even thinking it," he says.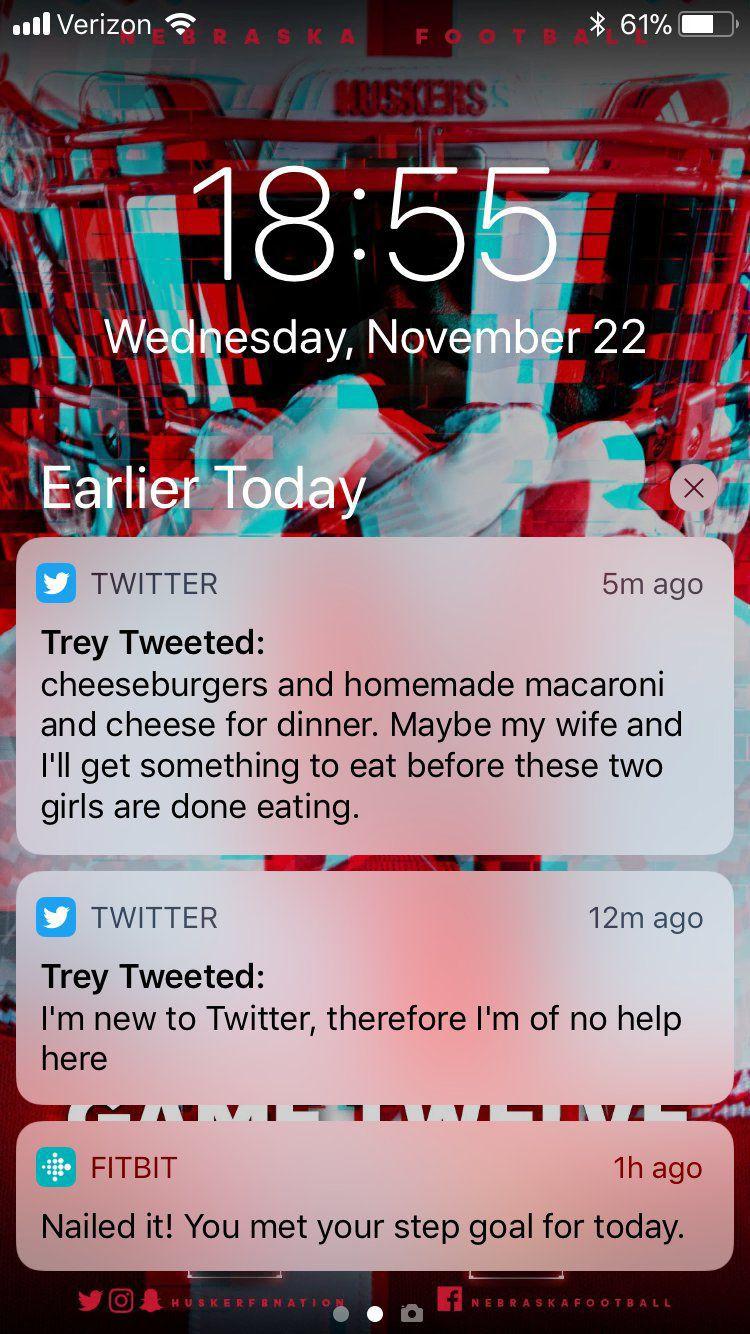 Late at night, he poked around the Internet, tried to learn more about this man Ken who had joined Twitter months after Trey died. He said he was Trey's best friend from way back. He started befriending many of Trey's Twitter buddies.
Maybe they were just really tight, like brothers, Stuart thought. Maybe that's why they sounded alike. Maybe ...
One night, after a few beers, Stuart guiltily confided his doubts to his friend John.
"His eyes got wide, and I was like, 'OK, this guy has the same doubts I do.' "
The sleuthing began in earnest. First Stuart tried to prove Trey's existence. No obits. No Naval Academy record. Not a single nugget of intel on this man who had overcome stunning obstacles to become a SEAL instructor.
And then an exceedingly odd thing happened, a thing that made Stuart's suspicions grow. Trey tweeted. Twice.
The tweets from a dead man didn't make any sense, and in fact looked identical to things Ken was tweeting. Stuart sent a direct message to Ken and asked about it. Yes, Ken replied, I have access to Trey's old account.
So, just a mistake? Stuart doubted that more and more.
He turned to searching for photos of Ken. For weeks, the only photos he could find online were old and blurry. And then, finally, Stuart located a new one. His eyes widened. His hands shook.
Ken was a tall man, bearded. He looked intensely familiar, because he was the man Stuart had met to chat with, the man Stuart had told his secrets to, the man who dozens of people had mourned after he succumbed to cancer.
Trey wasn't dead. Trey was Ken. Ken was Trey.
"I mean, holy s---," Stuart says. "Did this guy really create a fake identity and then fake his death?"
Stuart told a few others on Twitter. They contacted Ken. They threatened to out him on Twitter. They wanted answers.
And that's when things got even weirder.

* * *
I call the cellphone of a man named Ken Peterson, a man who lives in the Lincoln area and seems to live an exceedingly normal life.
Ken seems remarkably cheerful to hear from me. He barely flinches when I ask: Did you create a fake identity, befriend dozens of people on Twitter and then fake Trey's death?
Yes, Ken says. Also no.
He begins to spin an incredible story. A behavioral psychologist he knows approached him and asked him to help with a study on social media and trust. The researcher created the Trey Twitter account, and gave Ken a series of scripts to follow. When Ken started to have doubts about what he was doing — when Ken realized that real people were becoming attached to Trey — the researcher urged him on.
But it got to be too much, Ken says. Which is why he killed off Trey.
"Am I proud of what I did? Hell no, and I understand why people are salty now. I get it. I appreciate it. And if I could take it all back, I never would have gone to Twitter.com. Swear to God."
I believe that, I say. But what about this researcher? What's his name? Does he work for the university?
Ken refuses to give me his name or any other info.
Why protect this very unethical anonymous researcher?
Well, the researcher disappeared, Ken says. Ken's actually hunting for him right now, he says, to find out "what in good gravy is going on."
I suppress the urge to mention O.J.'s search for the real killers. I keep asking questions. Were there others involved? How many?
Ken now says there were six people involved: three researchers, two other people who physically manned the Twitter account and himself. They are from all over: Lincoln, Sarpy County, Omaha and Sioux Falls. But no, he can't give me any of their names. They have all disappeared!
That's a large group, I say. Where did you meet?
"At the Cubby's in Greenwood. The one off the Greenwood exit," Ken says.
I ask him if he has anything else he would like to say.
"Once I killed him off, there wasn't a day that went by that I haven't thought about … how crappy a thing I did," Ken said. "What I did was just stupid."
Right before Ken hangs up, he says this: "This may sound weird, but thanks for the phone call."
As you might imagine, Trey's former friends do not buy this story about a secret six-person psychology experiment led by a group of anonymous and highly unethical researchers who choose to hold their meetings at a Greenwood gas station.
They have already been tricked once. They won't be tricked again. They feel violated. They feel betrayed.
"I'm shaking again just now thinking about this," Nikki says. "He seemed like such a genuine guy. And he pulled out the rug from under us, left so many of us flat on our backs."
"There's nothing he can say," Dell says. "I still have a life to live, a real life. I'm not going to worry anymore about someone who wasn't real in the first place. He's done. He's nothing to me."
But for some there remains one nagging question about this sordid tale of the life and death and non-existence of Trey Smith.
Why?
He could have been just Ken on Twitter, Ken who likes Ryker Fyfe and peanut butter-and-onion sandwiches.
They would have liked Ken. They would have been friends with Ken.
"You don't have to pretend to be a SEAL to be my friend," John says. "I'm about as boring as you can get, and I have friends...
"I don't get it. So ... why bother?"
The answer to that question probably needs a behavioral psychologist or six.
The answer to that question appears to have died alongside Trey Smith.
Maybe it's buried alongside him, in a fake cemetery out near Greenwood.