Angel walks in like he owns the joint.
On a recent school day, he steps inside the Gomez Heritage Elementary office before class to ask about the absence of the school security guard. Angel wants to know: Where is he? More importantly, where is the candy he gives me when I ask nicely?
He says hi to the front-desk ladies, cranking up the charm like a seasoned politician. Then he chats with Principal John Campin like they have known each other for years, which, strangely, they have.
This is odd because Angel is barely 3 years old. Many kids his age have never set foot in an elementary school, much less become best buds with the principal.
Angel is also notable because he's one pint-size example of how a Susie Buffett-backed and University of Nebraska-run program — an institute barely older than Angel — is already changing the way the newest generation of Nebraskans, particularly our poorest kids, are taught and developed.
The Buffett Early Childhood Institute turned five years old this year. In those five years, the institute has taken its wildly audacious founding goal — let's make Nebraska the best place in the country to be a baby — and started to turn that audacity into reality.
"How far have we come?" asks Sam Meisels, the institute's director. He smiles. "We have come some distance."
How's this for audacity: The Buffett Institute is trying to change the arc of Angel's young life, and the lives of thousands of others like him.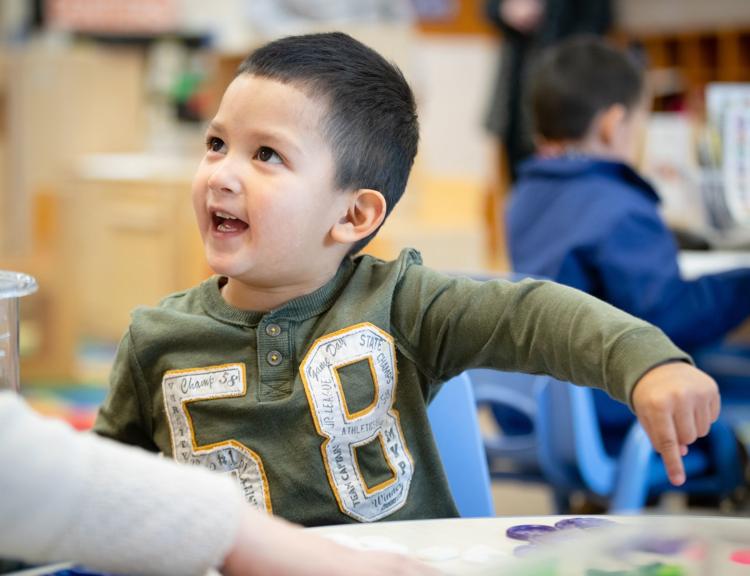 The Superintendents' Early Childhood Plan, created in partnership with the Learning Community of Douglas and Sarpy Counties, has reimagined the way schools teach and young students learn, especially in the poorer areas of Omaha and surrounding suburbs.
At Gomez, an Omaha Public Schools grade school in South Omaha, this means the following things: Home visits where a trained specialist regularly visits the neighborhood's babies. Educational support for new parents if they want it. Family nights and "social clubs" with your toddler at school, where 2-year-olds learn and where parents learn how to develop their toddlers' brains.
A decade ago, none of this existed at Gomez, says Campin, the principal. A decade ago, Gomez, like most U.S. elementary schools, started worrying about students the first day they walked in as kindergartners.
"Now, we say so often, we put our arms around the whole family and we ..." says Campin, stretching his arms out wide and squeezing to mimic a hug.
At Gomez, classroom education begins for Angel and his friends at age 3. Traditional barriers have been knocked down so that preschool, kindergarten and early grade school teachers now understand what other teachers are teaching. They know the best way to build on that education so that gains Angel makes as a 3-year-old aren't lost by the time he's 9.
Similar work is happening at a dozen grade schools in the Omaha, Millard, Bellevue, Douglas County West, Westside and Ralston districts, in schools where more than half the students are eligible for free or reduced-price lunch. Students and teachers in Bellevue, Ralston, Westside, Elkhorn, Gretna and Papillion-La Vista also receive more limited early education and teacher training as part of the $2.5 million annual effort paid for by the Learning Community.
There's simply nothing else in the country like this, Meisels says.
All of this work is backed by Buffett experts who use the latest research in early childhood education and brain development to mentor teachers all across the city and state — even as they also annually track the Superintendents' Plan to see if it's working for students like Angel as they turn 4, 6, 8.
And all of this is chasing a holy grail of early childhood education, something experts call "closing the achievement gap."
It means giving students from predominantly minority and predominantly poor areas a better chance to become better students and eventually get better jobs.
It means giving 3-year-olds like Angel a fair shot at the American Dream.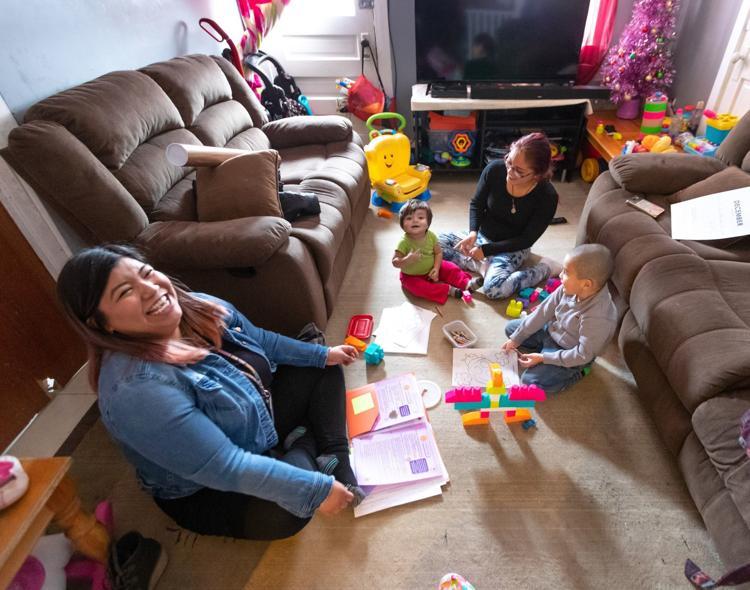 "This is not a problem for Omaha or Nebraska. ... This is a problem that faces societies all over the world," says Meisels, who was already one of the nation's foremost experts on early childhood education when Susie Buffett and NU leaders lured him to Omaha in 2013. "The disparity between those who have resources and those who don't have resources shows up dramatically in the education of children ... we have a huge part of our population we can't afford to ignore. We have to take care of them."
And the achievement gap is simply one gargantuan problem the Buffett Institute is trying to understand, and solve, in Nebraska.
Another is this: In 2018, we often entrust the care of our youngest children to people who are overworked, underpaid and frequently undertrained on the best ways to develop young minds.
Nebraska's licensed, home-based child care providers made an average of $10.72 an hour in 2015, according to one of many surveys done by institute-affiliated NU researchers and Gallup. Teachers at day cares and child development centers make pennies more, and often get no benefits.
The majority of these providers don't have bachelor's degrees, and if they do, they tend to have studied something besides early childhood education.
The situation is only slightly better for Nebraska's preschool and early elementary school teachers. One in five of these teachers has another job to help make ends meet. A whopping 90 percent have "some depressive symptoms" often caused by stress, overwork or burnout. One in 10 teachers is clinically depressed.
"You can make more money at Wendy's today, but you are taking care of hamburgers instead of children," Meisels says. "We say there is nothing more important than our children and their futures, then we let this happen. To me, it's a scandal."
Having identified this and other problems, like the skyrocketing cost of child care in Nebraska cities and the lack of quality care in rural Nebraska, the Buffett Institute is now trying to do something about it.
The institute is also looking at programs that increase early childhood training statewide, so that child care providers and teachers already in the workforce can boost their skills. They are working in the Nebraska Panhandle, where access to quality child care is often a problem. They are wondering: Can the work already being done in Omaha be replicated statewide?
And they have formed a workforce commission whose 39 members, including a state senator, have been meeting all over the state. The commission will release recommendations next year, hopefully answering the question: If we want higher-quality child development throughout Nebraska, how do we pay for it?
"We can't do what we need to do to benefit young children and families if we aren't ... paying attention to the needs of the workforce," says Renee Wessels, the institute's associate executive director. "You can't do one without the other."
These issues are knotty, but the early results appear to show that the Buffett Institute — working with NU, the Nebraska Legislature, superintendents, teachers, private donors and concerned parents — is already starting to untangle them.
You can know this by glancing at the Year 2 evaluation results from the Superintendents' Plan. The hard work happening in schools like Gomez appears to have bumped hundreds of kids from low academic achievement to average or above average when compared with their peers.
You can also know this simply by speaking to Angel's mother.
Beatriz Leon Perez is struck by how quickly Angel is developing when compared to his older siblings. He's learning his colors faster. He's conversing in both Spanish and English better.
He's oh-so-comfortable inside the confines of Gomez Elementary, a comfort that will serve him well when he struggles and needs help.
Angel's quicker start on life makes it easy for Beatriz to dream big when she dreams of her son's future.
"I want to provide him the best education possible, so he can do whatever he wants to do," she tells me through a translator. "I can give him the tools."
That's what Angel's mom is giving Angel. That's what the Buffett Early Childhood Institute is helping to give him, too.
A roundup of inspirational stories from Midlanders with heart
There's the woman with MS who runs despite her diagnosis. The 7-year-old born without his left hand who plays baseball just like the other kids his age. The refugee who turned to Zumba to help her recover from cancer treatments. Check out their inspiring stories and others below.