The annual kids' Christmas concert at Walnut Grove Retirement Community is running a tad long, and a few residents are starting to get restless.
The preschoolers have caroled for their parents and the residents. They have sung and danced and oozed all sorts of Christmas cuteness.
But the clock has ticked past 7:30 p.m., and now a woman glances at her wristwatch and casts a worried look in the direction of the retirement community's main theater, where employees are hurriedly moving chairs and trying to change the big screen's channel to ESPN.
"Volleyball starts soon," she says, and hurries to her room to get in front of her own television.
Sign up for Big Red Today news alerts
Get a daily Husker news roundup, recruiting updates and breaking news in your inbox.
On a dreary December Thursday, thousands and thousands of Nebraskans did likewise. They sank into their favorite chairs in Kearney and perched on barstools in Broken Bow and gathered together in each corner of the state, including in the theater room at this Millard retirement home.
We gathered to watch ... volleyball.
This has been happening for so long we don't even notice it anymore. We no longer even pause to remember how insane it is.
You can explain this insanity in numbers, in facts. By pointing out that the Nebraska volleyball team has sold out every single match since George W. Bush was a new president. Or that the Huskers draw nearly 2,000 more fans a match — every match — than the second-most popular team in the U.S. Or that the program turned a profit of more than $700,000 in the 2016-17 fiscal year, when most other college volleyball programs hemorrhage money and could never dream of statewide support.
But you can also explain it by driving to the retirement home and then a sports bar on a dreary Thursday as Nebraska battles to make its third championship match in four years. You can explain it by letting Nebraskans explain it.
"Volleyball, I watch every one I can," says Richard Klein, an 81-year-old Walnut Grove resident and retired Lincoln firefighter. "This year, I tell you, seemed like they weren't playing well together. But then they just started clicking. Foecke. That Stivrins girl. That freshman blonde gal!
"They're really something, I tell you what."
They are really something, and so is the bond they have forged with Klein, and with Nebraska. In many ways, it's a more interesting love affair than the state's longtime obsession with Husker football.
Lots of places obsess over football. Really only one state, ours, does something similar with women's volleyball.
Elaine Hennings sits in the back of the theater, closely following the first set along with nine other residents. She's a graduate of Avoca High School — that's Avoca, Nebraska, not Avoca, Iowa, mind you — and she actually started on the volleyball team there in 1948.
Sure, she watches football on fall Saturdays. Who doesn't? But she would much rather watch a volleyball match, thank you very much.
"It's just more fun, I think."
The consensus at Walnut Grove is that most big-time sports can seem a bit grim. That the money and the pressure and the anger can sometimes squeeze the joy from it.
"There's not so much, I don't know, meanness, like in football," says Bonnie "BJ" Reerink, who goes by BJ because her best friend is also Bonnie — Bonnie Tuttle, aka Bon Bon, who is sitting right beside her tonight.
Says BJ: "Football is good, but they aren't happy unless they break the other guy's leg."
Bon Bon nods in agreement.
But volleyball isn't like that, BJ and Bon Bon think.
It is easier to follow volleyball, the residents say. It's easy to identify with the players, many of whom are Nebraskans and many of whom seem to the residents to be the nicest young women you could ever hope to meet.
Volleyball feels throwback, they think. Volleyball feels like a truly amateur sport.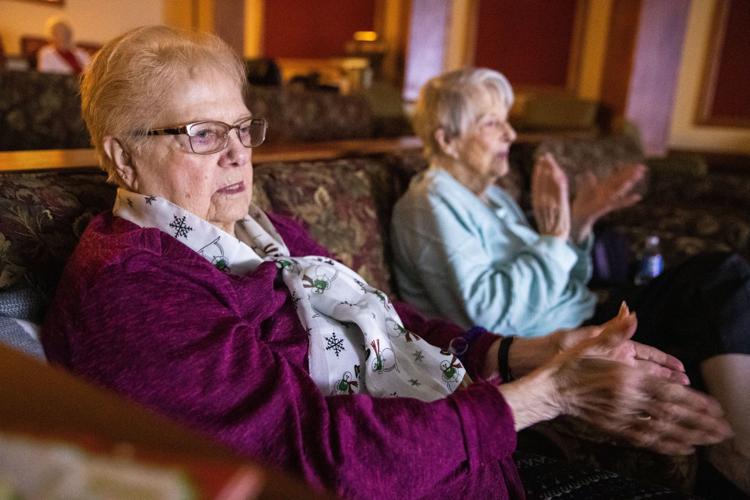 Lest you think this is somehow just the opinion of the elderly, walk into DJ's Dugout just in time for the third set — for what turns out to be the beginning of an epic Husker volleyball comeback in the NCAA semifinals.
The Millard sports bar is packed with people wearing red. A few are Kansas City Chiefs fans, and the Chiefs-Chargers game is on a few televisions.
But those televisions are turned to mute. Tonight, the mighty NFL takes a backseat.
Tonight, this is a Husker volleyball bar, and every time Nebraska scores a point the crowd in here roars so loud you can hear 'em from the parking lot.
Andy Auch Moedy sits at one of the tables here, same as he has dozens of times in the past decade. Not so long ago, he knew zip about volleyball. But then his daughters starting playing it, and the family started going to Husker matches in Lincoln. Even after his daughters graduated from high school, he and his wife stayed hooked on the sport. Tonight they are here sitting at a long table with their college-age kids, their friends and their friends' kids.
"I used to watch football with my dad," Andy says. "Now I watch volleyball with my daughters."
It's interesting to note that many of the people at DJ's Dugout tonight cheering their lungs out for the Nebraska volleyball squad are men. And while that shouldn't be strange, it is.
A strict gender line still exists in sports, and men, especially, enforce it by watching men's golf over women's golf and men's basketball over women's basketball.
There are only a few exceptions. Nebraska volleyball is one of those exceptions.
Andy can name all sorts of reasons for this. The volleyball team wins, again and again, and has since Terry Pettit started the volleyball dynasty in the 1980s. Club volleyball and high school volleyball are both huge in Nebraska, drawing many players and their parents into the sport. And, I mean, have you ever actually sat down and watched a women's volleyball match?
It's fast-paced! It's action-packed! It's dripping with drama for five sets!
Speaking of drama: Nebraska is mounting its comeback now, and Andy would rather watch the big screen than explain any further.
"I don't know," he says finally, running out of reasons this bar is losing its mind during a volleyball match. He turns his palms face up, and shrugs. "I guess Nebraska is just a volleyball state."