PILGER, Neb. — Climb into the passenger seat of Angela's big black pickup truck, ride shotgun up and down the streets and pay attention as she points left and right.
From the driver's seat, Angela Denton is tracing the path of the tornado that tore through here five years ago on June 16, 2014,  destroyed nearly half of Pilger's homes, bulldozed its entire business district and killed two people.
With her index finger, Angela's pointing out the miracles and the heartbreaks that have happened since. The stunning reconstruction that you glimpse out the driver's side window. The incredible destruction lingering just beyond the passenger side.
Miracle and heartbreak. Miracle and heartbreak. Sandwiched so close together, as everything is in a small town. Miracles and heartbreaks, living side by side like neighbors on the same block.
"There have been a lot of days when you think, 'What are we doing? This is dumb,' " Angela says as she turns the truck onto Main Street. After the tornado, she says, "there was roadblock after roadblock, problem after problem.
"But you have to understand … there was so much love that came for Pilger, too. So much love that you can't imagine not rebuilding. Not fighting."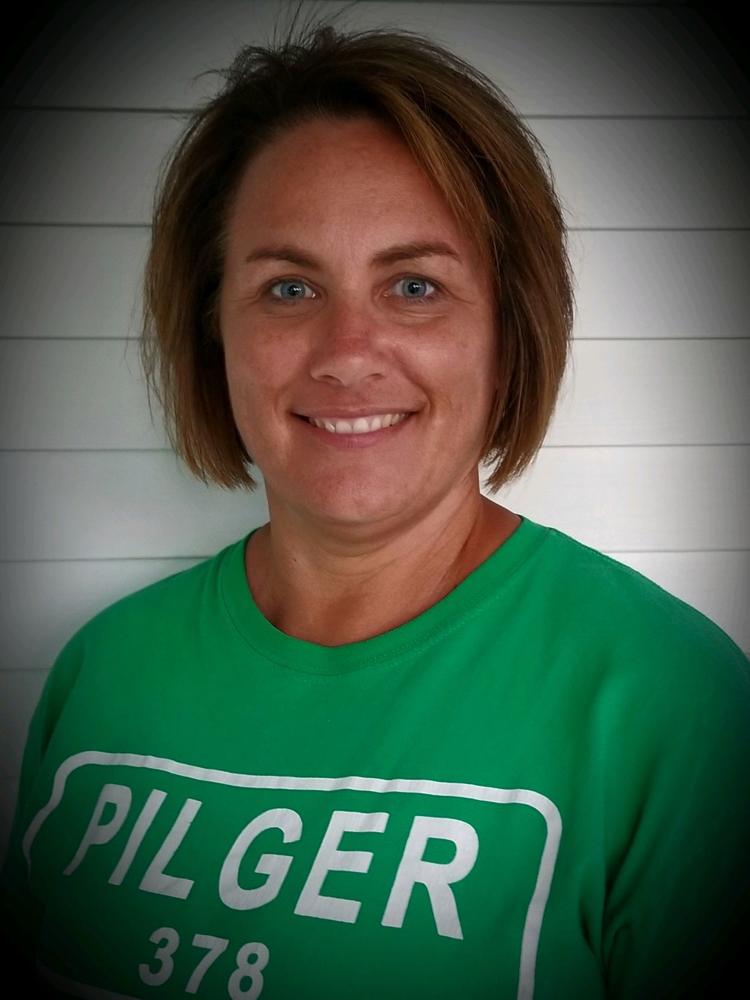 To our left sits a small-town miracle. The new community center, a nicer meeting place than ever existed here before, opened and started holding wedding receptions and workout sessions two years ago.
Today, there's a serious card game going on inside the community center's senior room. I know this because I interrupted it to ask a question, and the eight women playing cards glared at me in unison.
In 2019, Angela thinks, it's a place that binds Pilger together.
Angela drives a few blocks and then, on our right, points out a heartbreak. Here is where the school once stood, she says. She and a group of Pilger residents fought for more than a year to bring back the school, or part of the school, or even an education-related maker space to this spot.
Instead, five years later, this city block is a vacant lot covered in knee-high weeds waving in the wind. The kids go to school in Wisner now.
Angela has an odd memory of getting back into town hours after the tornado hit. She and her husband Joe drove to where their trucking business had stood. "It was wiped clean," she says. She went to join the effort to locate all the town's residents, many of whom were missing.
But first, she remembers hesitating, standing still in the lot for a moment, and gazing at the school. It was torn to pieces, shredded beyond repair. But, in that moment, that is not what Angela saw. She saw a school, untouched. Intact.
---
Five years ago, the Wisner-Pilger Middle School was one of many structures destroyed by a tornado. Now, the city block is a vacant lot covered in weeds waving in the wind.
---
"I think my mind didn't let me see it, you know?" she says. "It's like you couldn't take it in all the way at first. It was too big."
But there is no time to dwell on this, because Angela needs to point out more miracles. Here is a new house, she says. Here is a new house. Here is another.
Together we count 16 new houses constructed since the tornado. Many more, perhaps two dozen, have been renovated using insurance checks and, when that ran out, money drained from savings accounts or loaned by the local bank.
---
One of the few houses that wasn't destroyed when a tornado destroyed much of the town in Pilger, Nebraska, stands surrounded by debris.
---
Viewed one way, it does feel like a miracle that there are any new houses here, any new construction, any people left at all. Before a deadly tornado smashed it to smithereens, Pilger was a tiny community with many of the problems that can plague small towns.
But viewed another way, out the pickup windows as Angela continues to point, it also looks like a heartbreak. Because there, a house once stood. There stood another. And another.
So many more Pilger residents wouldn't or simply couldn't rebuild after the storm. They moved to Wisner, to Norfolk, to Wayne. The town's population on the day of the tornado was roughly 350. Five years later, the number of people who actually live in Pilger hovers at 200, townspeople say. Maybe 225.
Just months after the tornado, nearly the entire population of the town crammed into a Wisner meeting hall for their first of many community meetings. With pro bono help from some of the state's top experts in small town survival, the townspeople brainstormed things they wanted to build and rebuild. They talked together about how much they loved Pilger, and what they loved about it.
They vowed, over and over, to come back.
"There are communities that commit suicide over time. They don't take care of it, it deteriorates, eventually it dies," says Milan Wall, the founder and co-director of the Heartland Center for Leadership Development, who ended up working with the residents for years. "But that is not what happened in Pilger. The feeling I got from Pilger was, 'Goshdarnit, we aren't going to let this destroy what we have.'"
It is easy to vow to come back. It is much harder to actually come back.
Miracle: One task force got the community center done. Heartbreak: Another tried so hard, but failed, on the school.
---
Five years ago, volunteer Tim Nelson of Norfolk searched for people in Pilger after the town was destroyed by a tornado.
---
Miracle: A third task force found a developer who agreed to build a new country store that crucially replaced the old convenience store demolished by the tornado.
When I walked into Pilger Pride, a grandmother was shooing her grandchildren away from the Snickers bars. "Chips but no candy!" she admonished. Another customer ordered a cheeseburger. Another browsed the selection at the store's small deli counter. This is where people buy a few groceries in Pilger now, where they grab a quick bite, where they chat.
There are colorful flowers blooming out front. The only sign of past distress is the book for sale on the counter. It's called "81 Seconds," named after the amount of time it took for a tornado to almost wipe this town clean off the Nebraska map. 
---
Five years ago, Rick Wimer and Steven Brune, both of West Point Rescue, raised a flag in front of the Pilger Senior Center on Main Street.
---
Heartbreak: Another task force is trying to promote housing construction. Home building was brisk at first, say Angela and fellow resident AJ Kluthe. It has slowed to a crawl in the past few years, despite the availability of $10,000 grants for new homes built within the city limits.
Heartbreak: Here is a sign outside a house memorializing the precious 5-year-old girl killed by the tornado: "Cali Dixon lives forever." (A 74-year-old retired postal worker, David Herout, of Clarkson also died, and more than two dozen people were injured.) 
Miracle: Here is another sign on the front porch of the pretty little house right next door: "Home Sweet Home" it says.
And so it goes as I drive around town with Angela Denton. We look at the new co-op that takes up three blocks, the newly built bank that serves as this town's other anchor, a new auto body shop, a business that builds environmentally friendly buildings and the Dentons' own trucking business, which is back up and running.
We also stare out at more vacant lots, more homes abandoned, more memories fading.
Sign up for World-Herald news alerts
Be the first to know when news happens. Get the latest breaking headlines sent straight to your inbox.
"This one just about breaks my heart," says Angela as she points left at a deteriorating house in town. She knows the story of the family that once owned the grocery store, how they are connected to the home, what happened to it. She could tell me stories about just this one family even if we drove together all the way back to Omaha.
And as I listen to her, it's obvious that this town's history, its past and present, is alive inside her. They are as much a part of Angela as she is a part of Pilger.
The woman driving the black pickup truck, and a bunch of other people like her, is why Pilger will continue to exist, for 10 years, for 20, for 50. It will survive even though, five years later, it is clear that future will not be a fairy tale.
"You can't just roll up the streets and shut off the lights and say we're done," Angela says. "We will fight for this. We'll fight because it doesn't feel like a choice."
Photos: Before and after images of Pilger five years after devastating tornado