Alex stood at the summit of Mount Everest and surveyed the world. He stood there and looked out and thought about himself at 14, sitting on his couch on a long-ago lazy summer day in Omaha, vowing for reasons mysterious even to him: "Someday, I will get off this couch. Someday, I will climb Everest."
He prayed a little. He sobbed a little. He hugged his friend and Sherpa guide Tashi. Then he peered over the edge, to the Chinese-controlled side of the mountain, to see if there were any climbers ascending to the summit.
"No one was," Alex Harz, a Central High graduate, told me while remembering his first Mount Everest summit, in May 2018, the one that came after decades of dreaming, 10 years of serious mountain climbing and a 52-day odyssey up the mountain. "So I looked back at Tashi in complete disbelief that he and I had the whole top of the world to ourselves."
Harz's 45 minutes alone atop Everest is a chunk of time that changed his life forever, he thinks. And that 45 minutes atop Everest is especially precious a year later, because the summit of the most famous mountain in the world has never been so crowded.
This year, Everest seemed the mountaineering equivalent of I-80 at rush hour. In May, it grew so overpopulated with people trying to reach the top that experts are blaming the overcrowding for at least some of the 11 deaths on Everest.
Those deaths have focused a mountain of negative attention on Everest. So have photos showing a single-file line of climbers waiting to reach the summit like they were standing at the world's highest altitude DMV.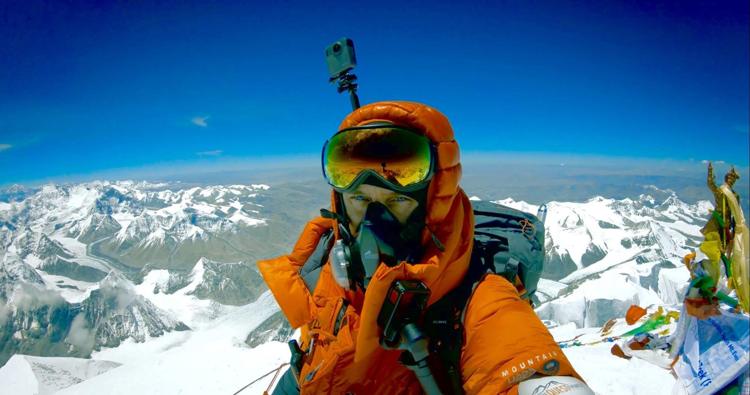 Harz has a unique vantage point from which to view this overcrowding. He's been up there, and he is friends with some of the climbers who stood in those lines. The Omaha flatland kid who became a globe-trotting mountain climber says both bad management and simple bad luck led to the much-publicized overcrowding.
But he also says that the nonclimbers of the world — people like yours truly — tend to miss the true story of Everest when we focus solely on one photo or one year of overcrowding.
There is some mismanagement of the mountain, but that mismanagement is at least somewhat understandable, Harz says. This year, the Nepalese government issued a record 381 permits to climb Everest. When you add in the Sherpa guide that by Nepalese law must accompany each climber — and then factor in that some climbers take two guides — that's maybe 800 trying to make the harrowing trek to the top. And that doesn't include the smaller number of climbers coming up on the Chinese-controlled side of the mountain.
But, Harz says, it's important to remember that the Nepalese government isn't issuing permits for no reason. Nepal is one of the poorest countries on Earth, a place where the average resident makes $2,500 a year — a place that can really use the roughly $300 million in annual gross domestic product that pours in from climbing and trekking on Everest.
"While you can't for certain say what's going to happen moving forward, Nepal is not gonna limit the number of permits," he said. "Everest is the livelihood for a whole lot of people."
And then bad luck piled atop mismanagement. This May, shaky weather shortened the usual two-week window when climbers can actually summit the mountain. When the weather cleared, it prompted that record number of climbers on the mountain to race for the top at the same time.
Harz understands that, too — he remembers taking step after step, fearful that the next could trigger an avalanche or send him tumbling off the mountain. Part of the fear is death. And part of the fear — a big part of it, actually — is working toward the Everest summit for months, for years, only to fall just short of the summit.
"You get that sense of insecurity, that fear of missing out, that sense of summit fever," Harz says of the conditions that created the 2019 stampede to the top of Everest. "There is this big question mark the whole time: Can you climb this mountain and come back alive?"
Sign up for the Live Well Nebraska newsletter
Get the latest health headlines and inspiring stories straight to your inbox.
Everest loomed as a presence in Harz's life long before he ever saw it in person. He decided that he was going to scale it one day when he was a freshman at Central. At the time, he was sitting indoors and watching TV inside a state where there are no mountains.
For years, this dream seemed abstract, weird and unreachable, even to him. Harz spent a year at the University of Nebraska at Omaha, then transferred to the University of Colorado, where he played on the soccer team and also walked on to the football team as a kicker.
And then one day a dozen years ago in Colorado, he remembered his long-ago Omaha vow. It's time, he thought. That weekend, he went out in his snowboarding clothes and climbed his first "14er," a mountain peak with an elevation of at least 14,000 feet.
From that day forward, Everest seemed real, something just outside his grasp. He took formal mountaineering training. He learned to rock and ice climb. He learned survival techniques.
He climbed Colorado "14ers" in winter. Then he went to Seattle and climbed Mount Rainier. Then he went to Alaska and climbed Denali, the tallest peak in North America. Then he flew to Argentina and began to climb Aconcagua, the highest peak in South America and owner of a catchy nickname: "Mountain of Death."
He summited the Mountain of Death. Then he turned his sights to Everest. As he prepared, he realized something fascinating: Climbing Everest wasn't enough.
"I decided I had to do something more than climb these mountains in a narcissistic approach, to stand at the summit for 15 minutes," he told me.
So Alex Harz, one-time Omaha couch sitter, decided to be the first person ever to document the whole Everest journey using a virtual reality, or VR, camera.
The resulting footage, which he showed me clips of, will knock off your Birkenstocks. You will hopefully get to watch it soon — Alex and his agents are currently negotiating with TV and film distributors.
And Harz actually did more than capture amazing, 360-degree immersive views that can make you feel like you yourself are climbing Everest. He also interviewed Nepalese guides and cabdrivers, Buddhists and Hindus, about the life and culture of their home, and how everything ties back to the great mountain in their midst.
"We think Mother Nature is blue sky, or green grass," Harz says. "To the Sherpa people and the Buddhists there, they have a very direct meaning when they say, "Mother Earth. They really believe that (Everest) is the mother of Earth."
He climbed in three stages, a total of 52 days. He battled one of the worst cases of flu he has ever had. He thought about quitting. He thought about falling. He kept trudging upward.
And when he made it, Alex Harz had the entire summit to himself. For a precious few minutes, he and his Sherpa friend Tashi stood atop the world.
"It is romantic," he says. "It is mystical. It is everything you can imagine and more."
Everest changes people, Alex Harz thinks. It has changed him. It's why more and more people want to climb it. And it's why he hopes more and more people can get there without standing in line.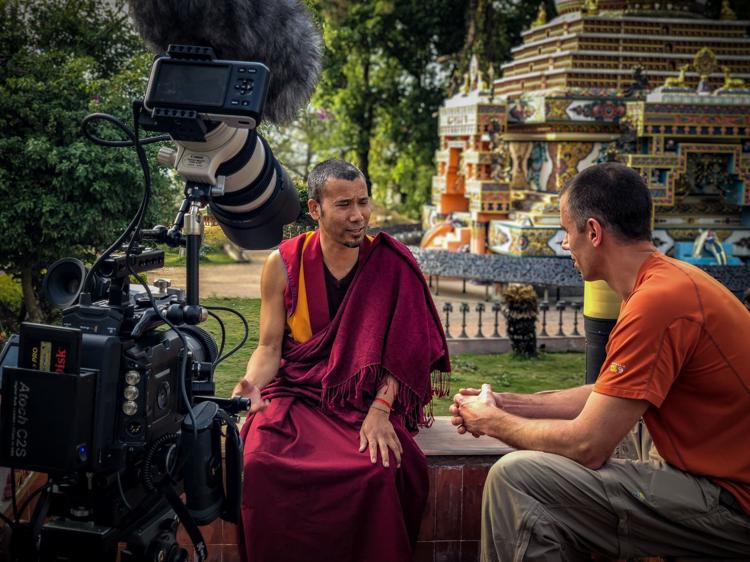 Photos: Our best shots of 2019 (so far)
Take a spin through the best of our staff photos from 2019. The gallery will be updated throughout our journey through the next year.