Sarah Joslyn would never have stood for that dining room wallpaper.
It's not that the wallpaper that has long covered the upper half of Joslyn Castle's dining room walls was bad. It's that it simply didn't fit inside Omaha's most famous 35-room mansion, especially now.
The historic landmark's caretakers and the Joslyn Castle Guild are working hard to return it to a place that looks and feels like it did when the Joslyn family lived here in the early 20th century.
Old-school Omahans will remember that Sarah Joslyn willed the castle to the city, which in turn gave it to the Omaha Public Schools in 1944. For a half-century, this castle was the school system's administrative headquarters — a choice that kept the building alive but also turned it into one strange office.
"The guild wants this to feel more like a home and less like a government institution," said Kelli Bello, Joslyn Castle's communications and development manager.
So the wallpaper needed to go. But a dining room dilemma loomed: How in the heck could the Joslyn Castle of 2019 re-create the wall mural that the Joslyn family commissioned in the early 20th century?
How could they do this using a couple of blurry black-and-white photos?
"I started searching," said Vija Bolin. "Like a detective."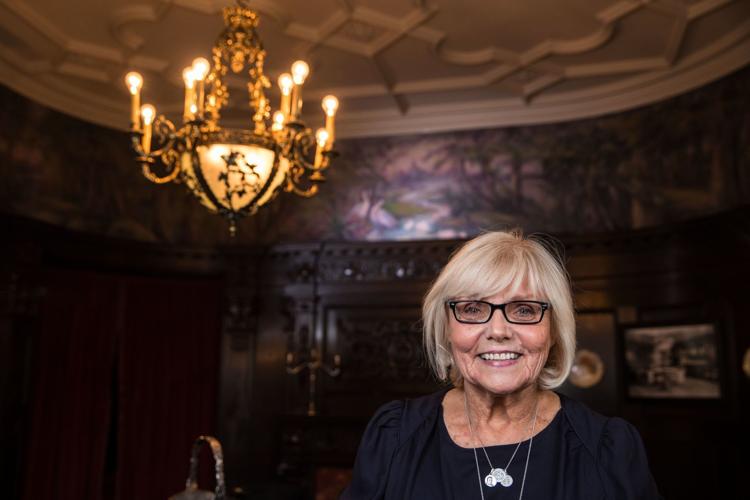 Vija isn't a gumshoe by trade. She's an Omaha artist who has spent the past quarter-century doing theater set design and painting portraits and murals. She had completed one smaller detective project for Joslyn Castle, studying old photos and repainting a flower pattern in Sarah Joslyn's bedroom.
This was a far bigger task, so Vija got to work. She studied the old black-and-white photos like Kennedy conspiracy theorists study the Zapruder film. From these photos, she got a decent sense of the landscape mural she would be painting on one-half of the dining room.
Her husband built her a frame, which was big enough to take up their entire living room. She put the first of four panels on the frame, and started to paint.
But big problems remained. What color was the mural? And what about the other half of the room, the side not captured by any surviving photographs?
Not to mention: Who painted this thing, anyway? And why?
The first big break in the case occurred when the owners of the Brandeis Mansion, Mark Maser and husband Paul Ledwon, invited Vija to tour that house.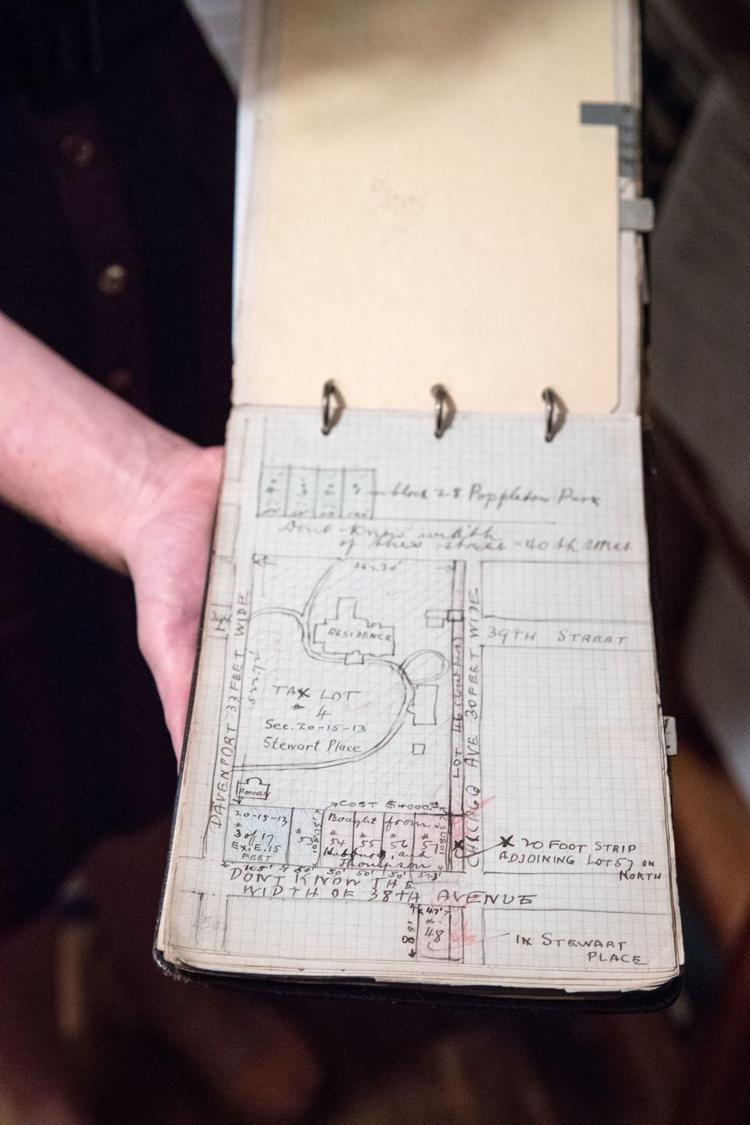 They had proof that a traveling painter, a muralist, came through Omaha in the early 20th century and painted murals in five prominent homes.
He painted one in the dining room of Joslyn Castle, which was destroyed by layers of office paint and wallpaper. He painted another in the Brandeis Mansion — a mural that still exists.
Vija was able to study that mural and get a much better sense of the original artist's style than an old black-and-white photo could ever provide.
"A huge breakthrough," she says.
She continued to study the old photos, the flora and fauna that fill the mural. She found herself staring at Omaha trees and shrubs and flowers every time she drove around town, lost in thought. Was that the tree in the painting? Was that flower?
She kept painting.
And then, a second break. Workers taking down the old wallpaper peeled back a layer of it in the corner of the Joslyn Castle dining room and made a discovery beneath that wallpaper and thick layer of oil paint. Underneath all of that, a small piece of the original mural had survived.
Vija rushed over to the castle to take a look. She realized that she needed to change her mural's color. "Too blue," she said.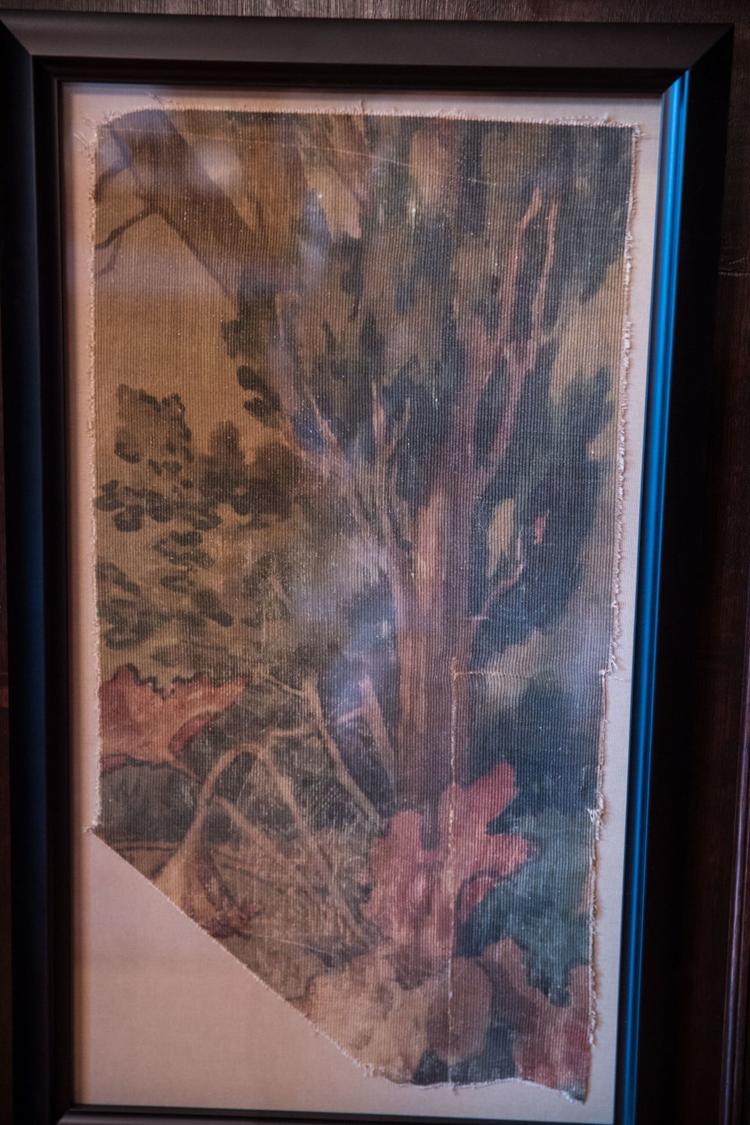 Back in her living room, she basically started over. She painted one panel and then two. She painted a near-identical replica of the discovered piece of wallpaper in the corner, while Joslyn Castle took that piece of original wallpaper and framed it for display. But the last question nagged at her: What to paint on the other side of the room, the part of the mural she had no photographic evidence of.
The artist and members of the Joslyn Castle Guild made what I think is a perfectly irreverent decision, one that somehow honors the Joslyns and also pokes a little fun at the former man of the house.
In 1904, George Joslyn got into a gigantic dispute with the State of Nebraska over a new tax law and his big tax bill. To be fair, George Joslyn had quite a bit of money to burn. After all, he had just paid for a house that cost more than $7 million in current dollars. The man had built himself a castle. A castle with a turret.
But he felt he was being wronged, so he did the only logical thing: He boarded up the still-under-construction castle, threatened to move to the state of New York, and, in a determined bit of political theater, actually put horses and dairy cattle on the giant Joslyn Castle lawn to graze the grounds.
"I might just as well live in Russia as here, so far as being treated right is concerned," Joslyn said at the time. (Of course the Joslyns never quit building their castle, and quietly moved in for good a few years later.)
A photographer snapped a photo of those grazing livestock, and for years afterward — years after George Joslyn's death — Sarah Joslyn kept that photo framed in her bedroom.
So what should they do with the other side of the re-created mural? They should re-create that infamous scene, the one that Sarah Joslyn clearly loved.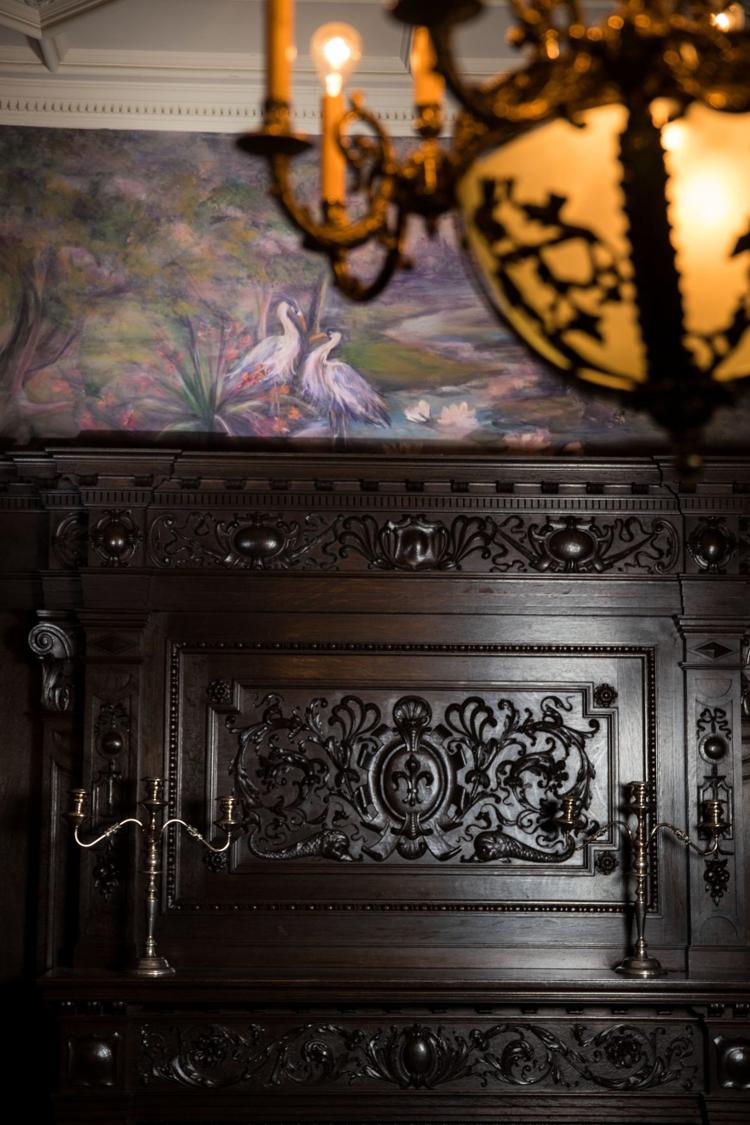 Vija painted some livestock amid the flora and the fauna. And, in mid-June, the mural went up on the wall, just in time for the guild's annual luncheon.
"We actually ate lunch in here," Kelli Bello said. "People were looking up and admiring it. They just love it."
You cannot take a tour of Joslyn Castle without falling in love, both with the house and the effort to restore it to George and Sarah Joslyn's vision.
This is happening in small ways, like the polishing of brass, the hanging of period-appropriate curtains and light fixtures and the laying down of period-appropriate rugs.
It's also happening in big ways, like the mural project and one currently underway: Using donations and grants, the castle leadership is currently restoring the maple floor in the music room after termites long ago damaged the joists underneath the floorboards.
"Thankfully the termite colonies aren't active. There's a lot of wood around here!" Bello said. "But yeah, it's a pretty big week. We got a mural and a floor."
If you want to help these efforts, you can attend a fantastic idea for a fundraiser: On Aug. 24, the castle is hosting a "summer fete" that will attempt to re-create the elaborate housewarming party that George and Sarah threw here in 1903. Expect Russian tea and stiffer drinks, music and dancing and, strangely, tarot card reading. (More info at www.JoslynCastle.com.)
Or you can simply walk through the castle, like I did with Kelli Bello and Vija Bolin last week. You will see a castle that is, bit by bit, getting better. And you will find a dining room mural that would surely meet Sarah Joslyn's approval.