It was a Friday night in mid-January, and everyone was doing what one does at a fundraiser with an open bar.
The beer and wine flowed freely like water. Hundreds of Omahans had one, then two, then lost track. They smiled easily and laughed easily and sweated easily and threw money at the stage for a good cause and texted the baby sitter to make sure she could stay a bit longer and had another as the evening lost focus and blurred comfortably into the gauzy glow of middle-aged midnight.
At least that's what it looked like from my chair. I clutched my third tonic water of the evening, then my fifth, then seventh. I tried not to think about the free beer. I tried not to judge, either. After all, I would have been right there with them, crimson-faced and smiling crookedly, had I not been one of those increasing number of slightly annoying souls who swear off booze for a month and then call it by its catchphrase: Dry January.
On this evening, Dry January felt oh-so-dry. As bone-dry as the Sahara under a scorching summer sun.
But honestly, the night fascinated me, too, as did the whole sober month.
I spent Dry January watching myself, watching others and thinking about the gargantuan role that alcohol plays in our lives.
I noticed its gravitational pull when I walked into an art opening, a bar to meet friends or a meetup spot before a Nebraska basketball game. I definitely felt it on the night that Sarah — who campaigned for this Dry January experiment — suggested that we go to dinner at La Buvette, the Old Market restaurant where you're quite literally surrounded by thousands of bottles of wine.
What's the first thing you do in any of these situations? Well, if you are like me, you make a beeline to the bar. You do so almost subconsciously. Until it's Dry January, when you very consciously order a tonic water with lime instead.
"Alcohol use is so ingrained in American society," said Dr. Alena Balasanova, the director of addictions education at the University of Nebraska Medical Center. "It has really become so interwoven into our society, our communities, that for folks who do choose to abstain ... it's eye-opening."
My eyes are wide open. I don't often drink to excess and believe myself to have no particular drinking problem, as it were. Balasanova quickly pointed out that, in her experience, most people with an addiction or serious alcohol use problem never attempt something like Dry January.
(In fact, if anyone reading this does think that they have a serious alcohol use problem, please don't quit cold turkey, Balasanova says. That's dangerous. Instead, see a doctor. There are many ways, including several relatively new FDA-approved drugs, to successfully treat addiction or a substance use disorder in 2019.)
While I don't have an alcohol use problem, I have gotten extremely used to a cocktail after work, or a glass of wine with dinner, or two drinks — fine, sometimes three or four — on a Saturday night.
But not in January, when I was as sober as the most sober prohibition agent during Prohibition.
Yes, I went to bed earlier, especially on weekends. It turns out that I'm not aware of a whole lot to do near midnight on a frigid Omaha Friday besides have another drink.
Yes, I lost a little weight. Four pounds, to be exact. It would have been more if I hadn't used my lack of alcohol intake as an excuse to eat chocolate ice cream. It turns out that Ben & Jerry's is bad for you, too.
I also probably lowered my blood pressure a tad, and gave my liver a bit of time to recover from the holidays, Balasanova said, though it takes more than a month to cause real change.
While my waistline got a tad thinner, my wallet got a little fatter. It turns out that drink tab really adds up!
None of this stuff should be the least bit surprising. After all, many of the beers I drink have 250 calories, and many of the cocktails I order cost me $11.
But what is a little surprising is how willfully I and most everyone else try to ignore such facts.
"I very rarely have people come to me and say, 'I read this new article, and if I just walk for a half-hour a night, I will be healthier!' " said Tracie Jackson, a Nebraska Medicine dietitian and diabetes expert. "Nope. It's always the story about how wine every night lowers risk of heart disease."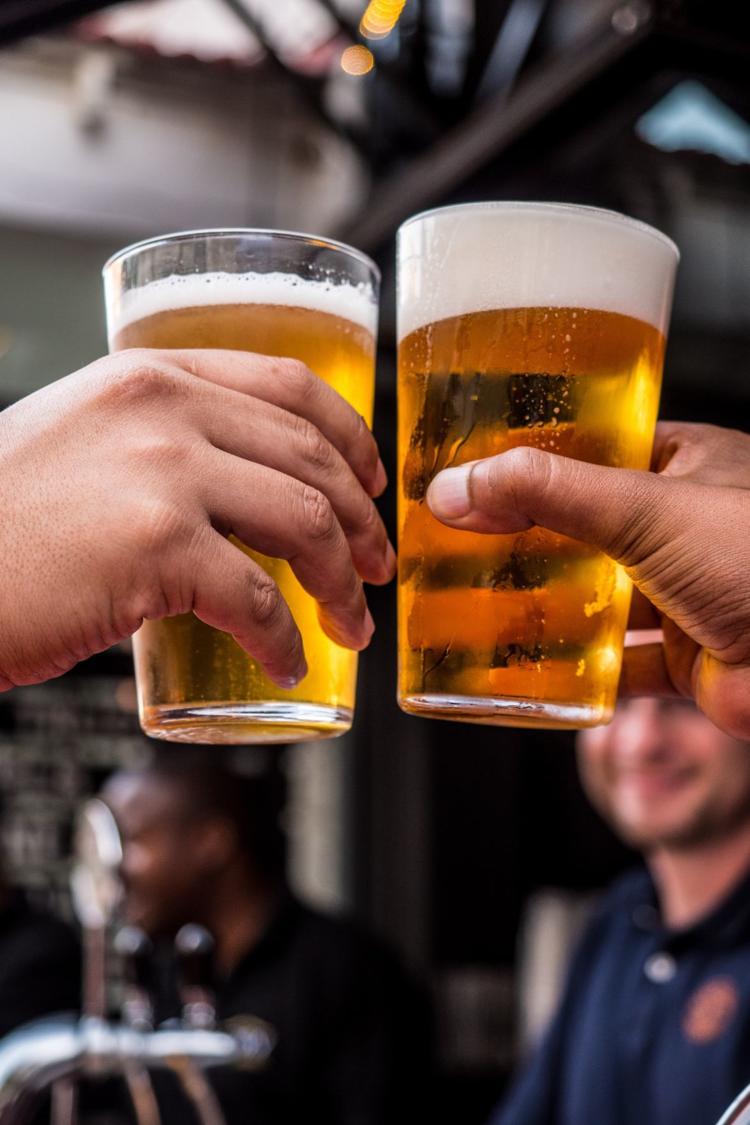 Both experts told me that there's nothing wrong with Dry January. In fact, there's some evidence that the sober month can cause longer-lasting changes to drinking habits. More than two-thirds of the participants in a 2015 University of Sussex study lowered their level of problem drinking in the six months after completing Dry January.
A part of me thinks that the eye-opening January will lead me to think harder about that third drink in July. Do I really need it? Do I even want it?
Another part of me thinks that this will quickly recede like so many other New Year's resolutions, just a memory that will blur and grow hazy in another gauzy glow of middle-aged midnight down the road.
Either way, I'm glad I spent a month drinking tonic water with lime. I'm not happy about it, mind you. But I am glad.
"You aren't putting toxins in your body," Balasanova said when I talked to her in the final week of January. "Anytime you aren't doing that, that's good."
Update: I wasn't putting toxins into my body. Friday is Feb. 1. And you darn well better believe that I'm going out for a beer after work.
Photos: Our best shots of 2019 (so far)
Take a spin through the best of our staff photos from 2019. The gallery will be updated throughout our journey through the next year.