Claude hates the telephone, which is why it shocked his wife Nadine when he started picking it up this winter and dialing every night.
When an aging man answered, Claude always started the conversation the same way.
Hi, this is Claude Frerichs. I don't know if you remember me, I was in Platoon 3026 ...
A few times, the call ended abruptly. "That damn Vietnam War experience, I don't want to think about it, don't call me again," Claude says, re-enacting how three or four calls went.
But dozens of times, the voice on the other end said, "Well sure. Hi, Claude!"
That's when Claude would tell a fellow Marine, a fellow veteran of Platoon 3026, about the first-ever reunion of their one-of-a-kind platoon. He gave them the details on the reunion for a group of 75 Nebraska boys who battled through boot camp, went their separate ways into the teeth of the Vietnam War and then lost nearly all contact with one another for a half-century.
Once the details were out of the way, Claude and the aging man on the other end of the line would talk.
Sometimes for 10 minutes. Or 20 minutes. Or an hour. They would talk like old friends even though they hadn't spoken in 51 years.
Sign up for World-Herald news alerts
Be the first to know when news happens. Get the latest breaking headlines sent straight to your inbox.
"You have to understand ... this guy doesn't use the phone," Nadine told me last week, shaking her head at her husband.
"My wife has accused me of becoming a chatterbox," Claude replies, smiling at her.
There is most assuredly going to be some chattering at an Omaha-area hotel Sunday night at the reunion of Platoon 3026. They are bound by Vietnam-era history, a plan hatched by Marine leaders to stand up an all-Nebraskan platoon and send them to boot camp together. They are bound by their shared experience in boot camp and what happened after — almost 75 separate deployments to Vietnam, where the war raged during their first few months in it. And they are bound by what happened after their deployments ended.
All but one of them survived, but not without scars.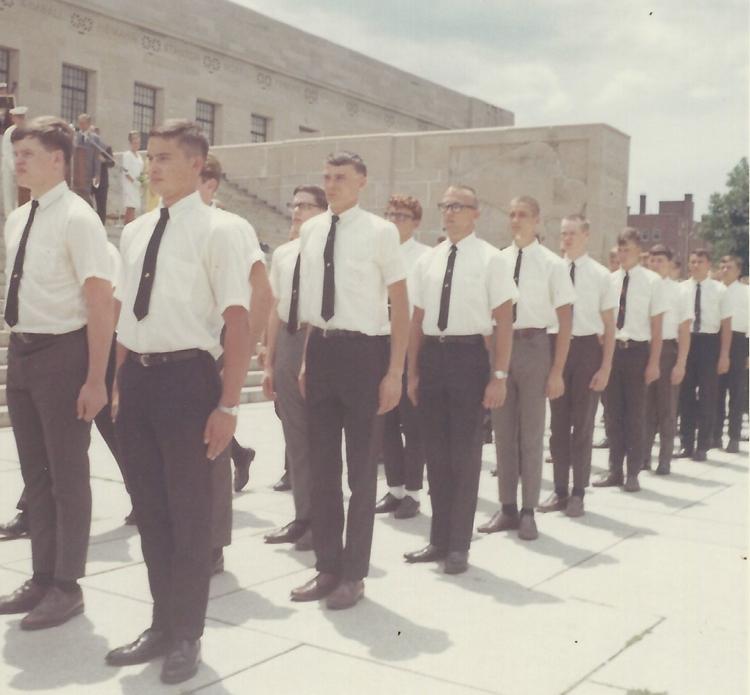 Most moved back to Nebraska before scattering across the country, getting married, having children, working, retiring, playing with grandkids.
And most of them — men who became CEOs, men who became doctors and men who became homeless — seem to have buried the experiences of 1968 deep in their bellies. It's the sort of stuff, the good, the bad and the ugly, that they really want to talk about only with the other men in Platoon 3026.
They also want to catch up on the 51 years that have passed since they were fresh-faced 18-year-olds. They want to make up for some serious lost time.
"I feel like a kid waiting for company to come to his 10th birthday party," said Tom Bizzarri Sr. of Omaha, who until recently had spoken to only two or three of his fellow platoon mates since 1968.
A half-century of silence would have been hard to imagine on June 23, 1968, the day they stood together in white shirts and skinny black ties in front of the Nebraska State Capitol.
Nine had enlisted from Omaha South High School. Two were from tiny Clarks, Nebraska. They also hailed from Lincoln, Albion, Coleridge, Lyons, Tekamah, Weeping Water and too many other towns and map dots to mention.
Gov. Norbert Tiemann, a World War II veteran, spoke. Their family and friends cheered and cried. Miss Nebraska 1967 gave out some hugs.
They raised their right arms and pledged to defend the U.S. Constitution against all enemies, foreign and domestic. And then, just like that, they were on a bus, and then a plane, and then getting their heads shaved and getting screamed at by a drill instructor at San Diego's Marine Corps Recruit Depot.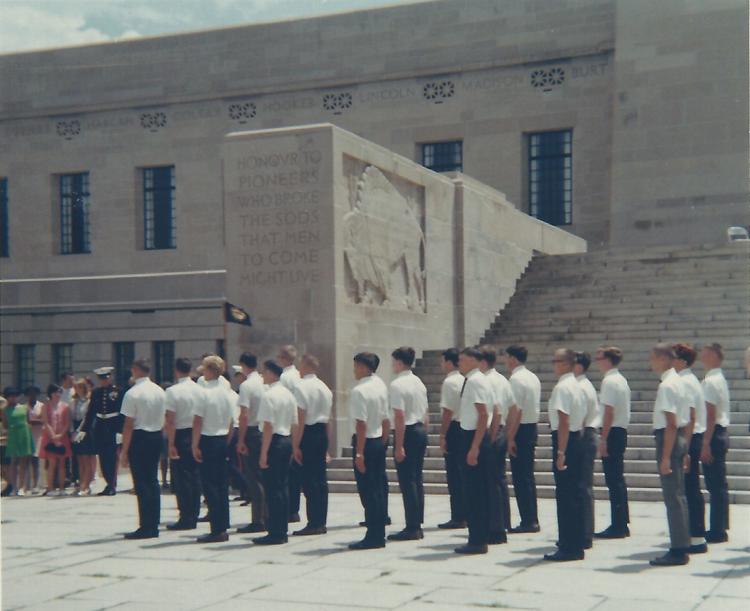 Most of the stories about the 10 weeks of boot camp I heard from members of Platoon 3026 are unprintable in these pages because they require either too much explanation or too many curse words.
But the bond they forged in boot camp is worth discussing. They weren't friends, exactly. You might have known absolutely nothing about the life of the young Nebraska Marine standing next to you, Bizzarri said.
But they did work together. They did win multiple platoon competitions, drawing the ire and fire of other platoons who couldn't beat the Cornhuskers.
"You are always looking out for each other," Bizzarri said. "You don't want each other to make a mistake. You are just so focused on the task at hand."
And then they went to infantry training. The Nebraskans were split up. Many never saw one another again.
By Christmas 1968, almost all of them found their way separately into Vietnam, where the war raged. Many of the Nebraska Marines ended up serving in air mobile assault units, which made up 20% of the service members in Vietnam but took roughly 80% of the casualties, Frerichs said.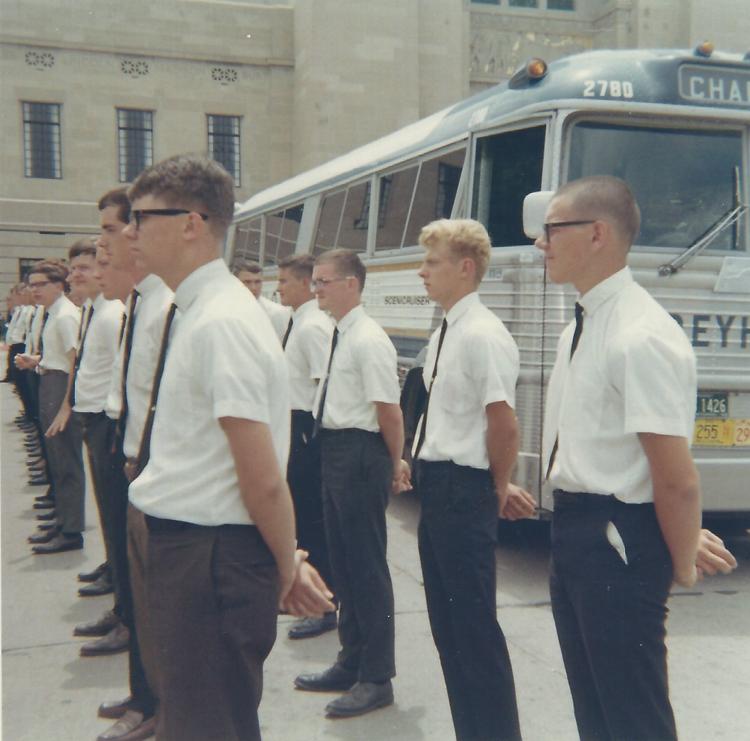 Others worked in reconnaissance, fighting deep behind enemy lines. Others fought in some of the fiercest battles of the war. At least one joined the CIA.
Many received Purple Hearts, which they generally said nothing about. One member of the all-Nebraska platoon, Omahan Paul Bazar, paid the ultimate price.
He was born on Christmas Day 1949. He died on April 21, 1969, at age 19.
Everyone else came home, reentering the U.S. during a period of increasing anti-war furor.
A lot of the Nebrakans went to college through the GI Bill. They lost track of their all-Nebraska platoon past. They moved on, best as they could.
Two years ago, Frerichs, now a retired pharmacist in Lincoln, attended the funeral of John Tucker, a fellow member of the platoon. He thought: We need to get these guys back together. We need to do it before it's too late.
"We thought if we could get 10 guys together, that would be a success," he said.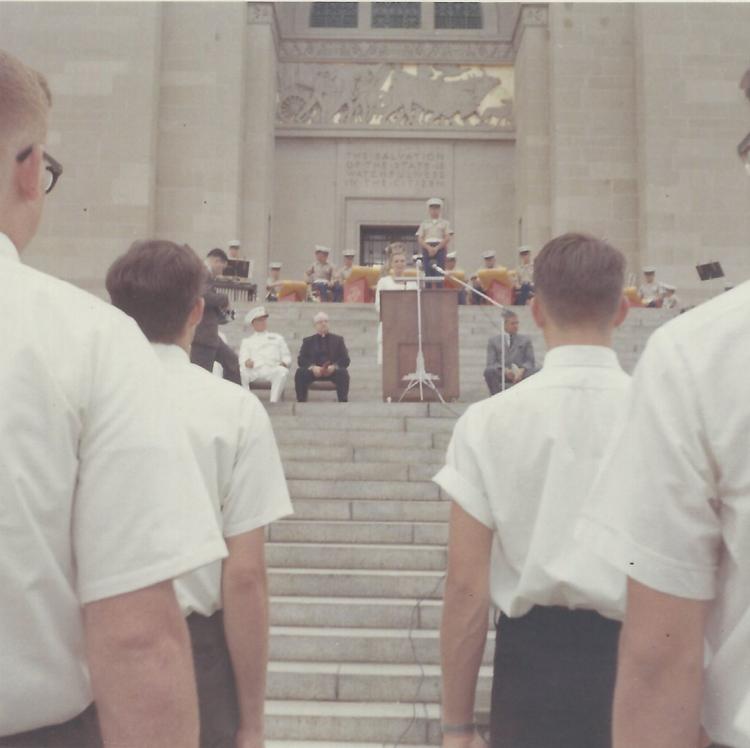 So he picked up the phone. He started Googling names, phone numbers. He tracked down ex-wives, children and finally the Marines he was searching for.
He enlisted other eastern Nebraska Marines from the platoon, putting them on planning committees.
And, eventually, Claude got hold of 43 of the platoon's 75 members. He talked to some of them for 20 minutes, and some for an hour. Which is how he knows that one became a doctor, and another a firefighter. One worked for the Internal Revenue Service for 30 years, and another owned a fur trading company in Wyoming.
They live as far west as Oregon and Montana and as far east as Virginia, Tennessee and North Carolina. Several are retired police officers, several are retired military officers and several are retired teachers.
As far as Claude can tell, 14 of the platoon's 75 members have died. As far as Claude can tell, at least 20 are coming to this weekend's reunion.
"You would not believe the success stories out of these guys," he tells me. "You would not believe the stories I have heard."
He pauses and thinks about the upcoming reunion.
"We're gonna have some stories to tell on Sunday night."
Check out 42 stories that built, defined and characterized Nebraska
The World-Herald has gone back through the archives and uncovered stories that define not only the Omaha area, but the entire State of Nebraska.