For the first time in at least 15 years, Kaho Subow, a Somali-born U.S. citizen living in Omaha, was finally going to be able to live with her mother, a Somali-born refugee living in Africa.
Then last month the process came to a halt. Subow's mother was told that she would not be going to the U.S., and the reason, Subow recounted through a translator, was this: "The president of America refused."
Called the "travel ban," Trump's policy — fully in place since December — applies to travelers from five countries with overwhelmingly Muslim populations: Iran, Libya, Somalia, Syria and Yemen. It also affects two non-Muslim countries, blocking travelers from North Korea and some Venezuelan government officials.
The government argued that the ban was about national security and that affected countries hadn't met vetting requirements.
The court sided with Trump, who said the decision was a great victory for the U.S. Constitution and "a moment of profound vindication."
The Nebraska Republican Party issued a statement applauding the ruling: "It's clear that the President was within his constitutional authority to keep Americans safe. This gives the federal government the opportunity to shore up our refugee program so terrorist organizations like ISIS cannot infiltrate them."
Writing for the majority in the 5-4 decision, Chief Justice John Roberts said presidents have substantial power to regulate immigration and rejected claims of an anti-Muslim bias. Roberts upheld the government's rationale that preventing the travel was in the interest of national security, but noted: "We express no view on the soundness of the policy."
In her vehement dissent, Justice Sonia Sotomayor said the court's ruling is a rebuke to religious freedom. Citing Trump's past public statements about Muslims, she wrote: "It leaves undisturbed a policy first advertised openly and unequivocally as a 'total and complete shutdown of Muslims entering the United States' because the policy now masquerades behind a façade of national-security concerns."
Sotomayor said the decision "turns a blind eye to the pain and suffering (inflicted) upon countless families and individuals, many of whom are United States citizens."
That view was echoed Tuesday by local refugee and immigrant advocacy groups:
Nebraska Appleseed's federal policy director, Omaid Zabih, called it "an affront to our long-standing tradition of welcoming new neighbors into safe homes."
Stacy Martin, president of Lutheran Family Services, said the decision "runs counter" to the values of Americans and Lutherans. After World War II, she said, one out of every six Lutherans in the world was a refugee or displaced person. "Lutherans know not only welcome but know the stigma of being painted unfairly," she said in a statement.
Martin is inviting Omahans to a picnic from 6 p.m. to 8 p.m. Wednesday at Stinson Park. The event, billed as not political, is aimed at standing with refugees and immigrants.
The number of refugees resettling in the U.S. has plummeted. The latest figures show a 67 percent drop so far this fiscal year compared with last. Some 16,000 refugees and those with special immigrant visas were resettled in the U.S. between Oct. 1 and June 22. Over the same period last year, about 49,000 refugees were. Nebraska's figures have fallen from 1,056 to 279. Last year, Nebraska resettled 104 Somalis. This year, that number is five.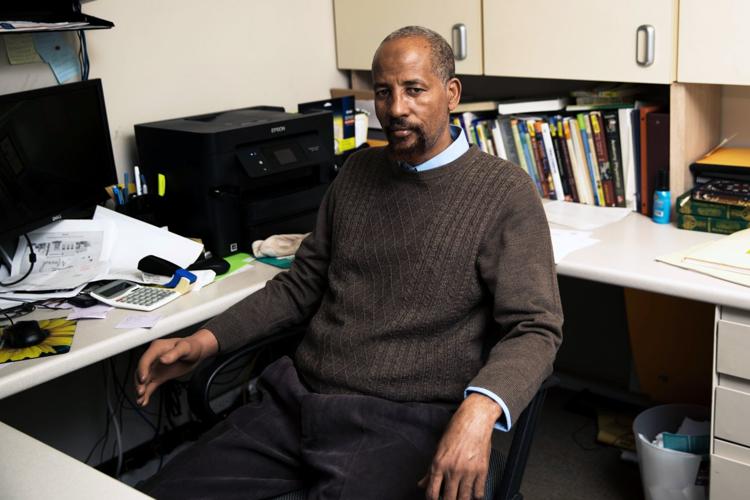 Hassan Osman Omar, chairman of Somali Community Service Inc., said, "This is not justice."
Omar's phone lit up Tuesday as members of Omaha's Somali community called with concerns about their husband, wife, children or parents who are still overseas.
"Everyone was shocked," he said of the ruling. "They see it as a discrimination policy on another level."
Another majority Muslim country, Chad, was removed from the list in April after improving "its identity-management and information sharing practices," Trump said in a proclamation.
Chad was one of three examples — Iraq and Sudan are the others — of Muslim-majority countries removed from the travel ban list. In her analysis for a Supreme Court blog, SCOTUSblog, Amy Howe said Justice Roberts noted that the removal of those countries and exceptions in the order allowing in some citizens from almost all the countries shored up the government's argument that the ban was about national security, not religion.
Dan Stein, head of the Federation for American Immigration Reform, which seeks to drastically reduce immigration, called Trump's policy a "common sense reaction to the new realities of terrorism."
Local conservative radio host Ian Swanson said the Supreme Court correctly gave the president the latitude to make decisions on immigration and national security and said his listeners on 94.5 FM/1420 AM The Answer largely side with Trump and the travel ban.
Swanson criticized Trump's first travel ban, calling it unhelpful.
The State of Hawaii led the charge against the latest travel ban, arguing unsuccessfully that the president was overreaching his authority and that the ban targeted Muslims and people of certain nationalities in violation of the U.S. Constitution.
Somalia is a long-troubled country. Civil war and drought there have forced millions of its citizens from their homes. Some 2.1 million Somalis are displaced within the country's borders on the horn of Africa. An additional 870,000 are registered as refugees by the United Nations.
Since 1991, the U.S. has resettled about 104,000 Somali refugees, with 12,000 going to Nebraska and 9,000 to Iowa, according to federal counts.
At a recent meeting with a handful of Somali Nebraskans, they shared stories of separation and their own self-sufficiency here. They had papers and identification cards showing that they lived in Omaha and had factory or meat-production jobs.
Elmi Garad Egal, clutching his U.S. passport to show his citizenship since 2011, said he has been apart from his son for more than 10 years. Sadia Mohamed, a 35-year-old assistant nurse at the Douglas County Health Center, was shot in the leg as a child and is desperate to bring her kindergarten-age niece here.
Subow was born in Somalia, fled from there in 2003 and came to Omaha in 2010. She said her mother's petition was approved at first. She said she was thrilled at the prospect of having her mother come to Omaha, where she could be safe and could help Subow, a single mother working at Majors Plastic and juggling care for two middle school-age children.
But on May 22, she said her mother was summoned to the U.S. Embassy in Nairobi, Kenya, and given a document that told her the case was pending until the travel ban policy changed.
"Pending," noted Omar, the Somali Community Service chairman, "can be forever."
This report includes material from the Associated Press.