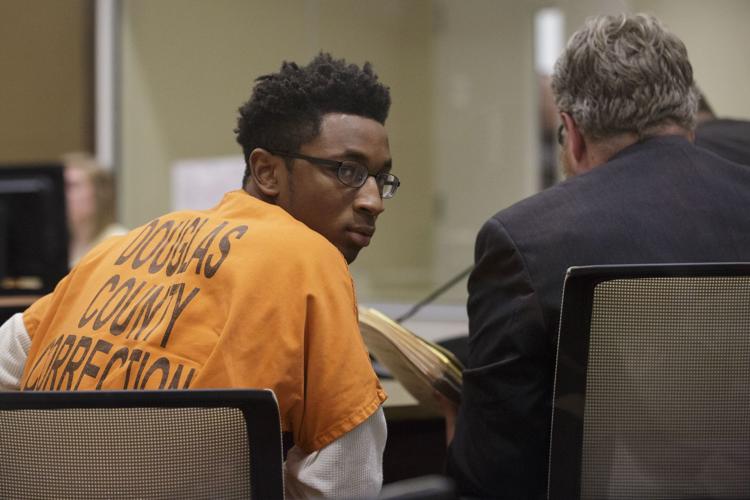 This is the second in a three-part series analyzing what this single non-fatal shooting — an event that happened 100 times last year in Omaha — says about larger issues confronting the city. For more on why we're writing, read the story behind the story, here.
* * *
One shooting, one 13-year-old victim.
Five suspects, all teenagers.
The ages of the four oldest — 18 and 19 — made them adults in the eyes of the court, though they hardly looked like it.
Their mug shots revealed childlike expressions in their wide-eyed stares. The fifth suspect, 16, was a juvenile and therefore not identified publicly in the Omaha police press release that went out after the March 29 shooting.
Age aside, what all five suspects were accused of is hardly child's play.
One of them allegedly pulled the trigger on a gun that fired a bullet right through 13-year-old R.J. Eckhardt's right arm. Another allegedly drove the gunman in her car. The three others allegedly were along for the ride, fully aware — police say — of this mission to commit harm.
It was a case of mistaken identity, as it turned out. Police say the suspects had zero connection to R.J., a seventh-grader who lives in southwest Omaha. They had followed the wrong car and shot at the wrong person.
The suspects got lucky in this regard: R.J. wasn't killed. They're not facing murder charges.
Still, use of a firearm to hurt another person can carry a raft of felony charges. The alleged shooter faces a minimum of 15 years in prison on five counts. The three other adults, including a recent high school graduate with a college scholarship, face a minimum of five years apiece on their single charge: conspiracy to commit a felony.
A trial date has not been scheduled.
Three suspects have pleaded not guilty; a fourth plans to do the same; and the 16-year-old has entered a denial in Douglas County Juvenile Court.
If convicted, these young people are poised to lose huge chunks of their lives behind bars.
But this single shooting carries a public cost as well.
Since their arrests in late March and early April, the taxpayer tab has continued to tick up: $37,000 for lockup costs in the Douglas County Jail and Douglas County Youth Center.
And that doesn't count court fees, or the cost of court-appointed attorneys or transportation to court hearings. Nor does the tally include what it cost for Omaha police and emergency crews to respond to the shooting.
* * *
How did we wind up with young people shooting each other?
The problem is complex and so is the answer.
But a starting point might be a lack of stability at home. This doesn't mean that children growing up in tough circumstances cannot succeed. Or that children born into every advantage automatically turn into productive citizens.
An oft-cited study that looked at the correlations between childhood trauma and adult health and life outcomes found, perhaps unsurprisingly, a link between the two. The more trauma and hardship a child faced — such as abuse and neglect — the higher the risk that the child would engage in risky behavior later on, including violent behavior, according to the Adverse Childhood Experiences study.
A child who experiences violence is more likely to be a victim of violence, a perpetrator or both, said Dr. Charity Evans, a trauma surgeon at the Nebraska Medical Center. Evans has started hospital-based violence intervention programs there.
And it's not a small number of children at risk. A U.S. Department of Justice report from 2016 found that one in four U.S. children surveyed had witnessed family or community violence in the past year.
This report, by the Justice Department's Office of Juvenile Justice and Delinquency Prevention, says exposure to violence causes children significant physical, mental and emotional harm and may increase the likelihood that children will fail in school, experience depression and anxiety and become involved in criminal justice systems.
This is why Mary Visek, chief probation officer for Douglas County Juvenile Probation, wants to see society's attention turn "farther upstream" — before children enter the juvenile justice system. At any given time, Visek said, the county serves an average of 650 to 750 youths on probation.
Most of the time, she said, youths "age out" of their behaviors and bad choices. That is, they grow up. But the deeper into the juvenile justice system they get, she said, the worse off they might be. She said it's important to identify high-risk families early, when children are young, and work on prevention.
"Everybody in our community has to get better at knowing who needs help and identifying how you (help) the house next door and the house across the street and support people," she said.
In the case of the March 29 shooting, court records show past trauma and hardship, and also run-ins with the law, for the three male suspects. The two female suspects have no local criminal histories.
The stories pieced together by court records of J'Tavion Smith, Jaqueris Allen and Jaquez Turley start with this fact: No evidence of a father in the picture. Their caregivers, typically mothers and grandmothers, themselves were challenged. By poverty. By criminal activity. By domestic violence.
Some experts, like Evans, said that on a macro level, delinquent behavior is a function of survival.
If a home is in turmoil, if a neighborhood is troubled, a gang with its offer of belonging, identity and security — however criminal — becomes a powerful draw.
* * *
A gang drew in J'Tavion Smith, who at 18 was well-known to the Omaha Police Department's gang unit before he allegedly was involved in the shooting of R.J. Eckhardt.
J'Tavion, the alleged gunman on March 29, was involved in past shootings, said police, and was a member of a north Omaha gang subset, the 44th Avenue Crips.
A Police Department criminal history shows J'Tavion's previous arrests. At age 16, he twice was arrested on suspicion of unlawful occupancy, which means being in a car without permission, and twice he was arrested for obstructing a peace officer.
When he was 17, he was arrested on suspicion of being an accessory to a felony and obstructing a peace officer, a misdemeanor. The felony charge was dropped. But he was assigned to go to the state's juvenile rehabilitation facility for boys in Kearney for the obstruction charge.
It's hard to know more because there is no official court record. Under Nebraska law, juveniles who successfully complete the terms of their probation generally have their cases closed to the public. This is a carrot: Behave and the bad record goes away.
"We want them to be able to live their lives," Visek said. "We want them to move forward."
What is visible in public records is evidence of exposure to childhood trauma — domestic violence.
J'Tavion's mother apparently was in a relationship with a man who was abusive. When J'Tavion was 13, his mother sought a protection order against the man, alleging in the application that he had doused her with lighter fluid and chased her around the house.
When J'Tavion was 14, the man showed up at J'Tavion's home drunk and violent. He kicked the front door and punched a window, and flying broken glass cut J'Tavion's two younger siblings. An ambulance came, but J'Tavion's mother denied that the couple were fighting.
The incident triggered a home visit from a state child welfare worker, who determined that J'Tavion's home was volatile and unsafe. The worker helped J'Tavion's mother come up with a plan that included telling the boyfriend to stay away and getting domestic abuse support.
But the boyfriend didn't stay away for long.
Several months later, after he'd been drinking, he took J'Tavion, 14, and J'Tavion's 9-year-old brother to a house, which they all entered. He gave the boys this pretext: He wanted to check on the people who lived there. Police were called by someone who reported it as a burglary.
The boyfriend locked himself and the two boys inside the home. He ordered the boys to "get low" and crawl to the basement. Then he squeezed into a closet to hide with the children.
Police, wearing ballistics vests stamped SWAT, entered the home shouting, with a K-9 dog snarling. The boys heard police say that if the boyfriend didn't come out of his hiding place, the dog would be let loose.
"J'Tavion reported that he was scared, that he or his brother were going to get hurt," says the state's affidavit for placing the children in foster care. "(The brother) stated that he heard the officer yelling, the dog barking, growling and his paws scratching at the ground, trying to get away from the handler. (The brother) stated he was scared."
The closet door opened. The dog bit the boyfriend. Then police frisked and handcuffed them all. Including the two children.
The boyfriend went to jail for three days. Then he and the boys' mother got engaged. Then the boys and another sibling were put into emergency foster care — living at first with their grandmother. That didn't work out, so the state placed them with someone else during their six months away from home.
Officials don't remove children from the home lightly. Even when home life is troubled, the act of pulling children away from their parents and the familiar can be more traumatic than what they're experiencing, Visek said. This, she said, is why the public policy preference is to do everything to keep families together and why juvenile justice reform advocates view detention as a last resort.
J'Tavion and his siblings returned home from foster care. He was 15.
He eventually joined a gang and transferred out of the Omaha Public Schools.
J'Tavion did have some things going his way, though. His mother, Tykeeva Smith, said he finished high school early, graduating at the top of his class from Canyon State Academy, a special school near Phoenix, Arizona, that specializes in at-risk male youths.
Tykeeva said her son earned certificates in welding and landscaping and had a path to college, due to start at Iowa Western in August.
Smith said she did everything she could for her son and tried to advocate for him. She said that once J'Tavion got into the juvenile justice system, he was not given enough structure or consequence — or time to make positive changes stick.
She said she was at her wits' end sometimes trying to contain a teenager who didn't want to follow her rules when he was back home. And that his choices, combined with a lack of follow-through and communication with her from the system, were to blame.
On the night of March 29, police say, J'Tavion was the one with a beef. And a gun.
Omaha Police Detective Dustin Morris testified during J'Tavion's preliminary hearing that J'Tavion was at Benson High School the night of the shooting. The high school was playing host to the Boys and Girls Clubs of Omaha's annual all-star high school basketball tournament.
Morris testified that J'Tavion told police that he'd been in some kind of "verbal altercation" at Benson but then said no more.
When asked to identify J'Tavion for the court, Morris looked directly across the Douglas County Courtroom 625 and said:
"He's wearing an orange jumpsuit."
J'Tavion has pleaded not guilty to five felony charges: two counts of use of a firearm to commit a felony and one count apiece of second-degree assault, discharging a firearm near a building or vehicle, and criminal conspiracy.
* * *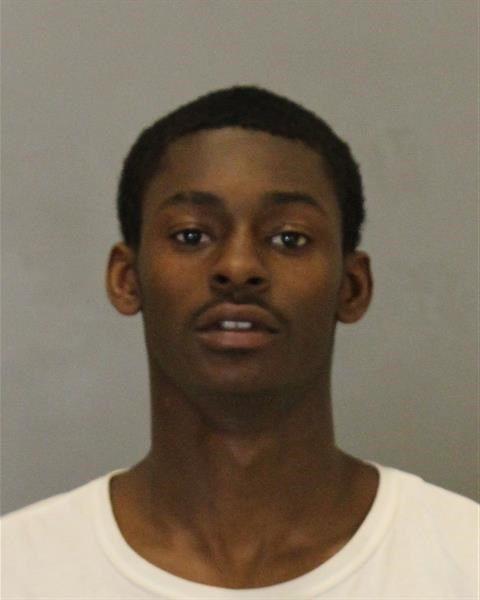 Jaqueris Allen, an alleged accomplice, has a long history in Douglas County Juvenile Court.
It started when he was 13. He missed 23 days of middle school, was caught smoking marijuana and was accused of stealing a car — a charge that later was dropped. During that period, his mother had a baby, got evicted and cashed a check she couldn't cover for $350 at a check-cashing business.
At age 15, his juvenile record noted that he bounced around, going from house to house, skipping important court hearings, cutting his electronic monitor. One poignant line underscored a possible reason why: Jaqueris "did not always eat and has spent nights in a park."
When Jaqueris was 16, police caught him with a gun, which put him under the watch of juvenile probation for about two years. He was charged with four crimes but was found responsible only for possession of a handgun by a minor and unlawful possession of a handgun.
Jaqueris went into juvenile detention for 20 days. Within a month of being back home, he had to go back into juvenile detention. This time, he was accused of kicking his ex-girlfriend in the head and possessing marijuana.
During his probation, Jaqueris was hardly ever in one place for long. A now-sealed juvenile court record showed eight out-of-home placements over an almost two-year period, including detention and rehabilitation facilities in Omaha and Kearney and a rehab center as far away as Arizona because, the court said, there was nowhere else.
At one point, his mother asked the court for detention for her son because she was worried about his safety.
The bad check caught up with Jaqueris' mother in the form of a warrant for her arrest. Her wages at McDonald's were garnished to pay a debt that with fees and interest had ballooned to almost $600 — more than what she made in two weeks at her job. Jaqueris skipped court appearances. Warrants were issued for his arrest.
When Jaqueris was 17, police found him with a loaded .45-caliber handgun in the car.
When Jaqueris was almost 18, he was still smoking weed and struggling to comply with the terms of his probation.
"Said juvenile failed to attend educational programming," says one record in Jaqueris' now-sealed juvenile case file. "Said juvenile failed to comply with valid court orders."
Among the terms of his probation were a host of do's and don'ts. Do meet with a probation officer. Do wear an electronic bracelet. Do attend school. Don't drink or do drugs. Don't hang out with inappropriate friends. Don't be around weapons. No gangs.
The case file appears to be an exercise in trying everything. At one point, Jaqueris' then-attorney, Joy Suder, pressed for the court to find him more therapeutic-type help, and the judge agreed.
Somewhere along the way, Jaqueris graduated from Benson High. He got his driver's license. Both were big deals, positive steps that open doors.
After a rocky 2½ years, the Douglas County Juvenile Court marked his case as successful. He was released from probation in January.
In February, Jaqueris' sister was sentenced to 20 to 40 years in prison for her role in the stabbing death of a man who had been set up in a robbery.
In March, R.J. Eckhardt was shot.
And Jaqueris was among those charged.
He is now back behind bars. Only this time, it's the Douglas County Jail. Adult jail. No more juvenile detention. No more juvenile placements. Jaqueris turns 19 on Thursday and will spend that birthday in jail.
Testifying last month, Detective Morris said Jaqueris told police that he had nothing to do with what happened. A police affidavit said Jaqueris said he was "absolutely not the shooter."
When police searched his mother's home, officers found a gun inside an outdoor grill and a box of ammunition in his bedroom.
Turns out, the gun didn't match shell casings left at the March 29 shooting scene. That weapon has not been found.
Jaqueris has been charged with conspiracy to commit a felony. He pleaded not guilty.
* * *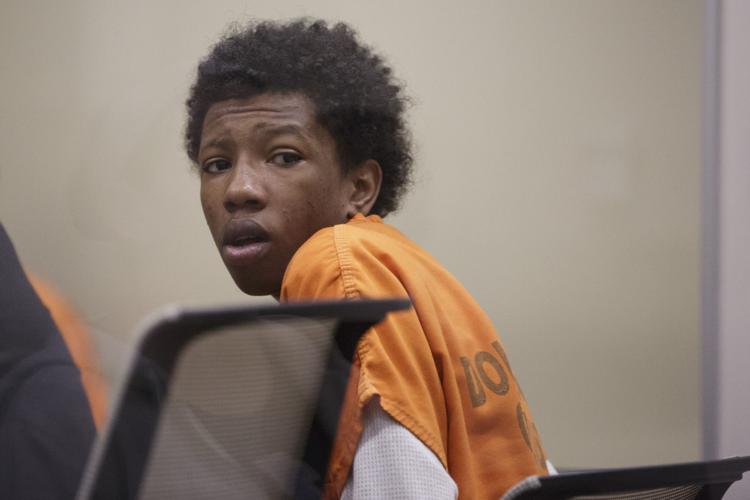 Jaquez Turley seemed destined for a tough life.
In 1999, when his mother was pregnant with him, she was charged with shoplifting. Then came a series of crimes she would be charged with over the course of Jaquez's life. Her Omaha police criminal history covers two pages and includes 30 misdemeanor-level entries. Her Nebraska court record includes felonies.
Jaquez lived primarily with his grandmother, who was taking care of other children and was struggling to make ends meet. A financial affidavit filed with Jaquez's juvenile record said she was caring for three children and was receiving food stamps and other federal aid.
Meanwhile, his mother forged checks to big-box stores like the Walmart in York, Nebraska, and the Menards in Fremont. She was in and out of prison or jail from the time Jaquez was 8.
Jaquez showed up in the Douglas County Juvenile Court system for the first time as a delinquent in 2016, when he was 16. He was charged with obstructing a police officer and unlawful occupancy.
His case lingered in juvenile court with little action. He allegedly committed those crimes in October 2016. Charges were filed in February 2017. The court asked for his school records in June 2017.
On July 11, 2017, Jaquez and his grandmother signed off on his probation terms, a page of 19 rules in tiny print outlining what Jaquez had to do for successful release from court supervision. No drugs. No gangs. No "inappropriate behavior."
Before the month was up, on July 27, Jaquez skipped a juvenile court hearing. A juvenile probation officer reported that Jaquez was testing positive for marijuana, violating curfew and had a gang affiliation. A warrant was issued for his arrest.
Jaquez was found, arrested and placed in Douglas County's juvenile detention center.
"Said child was on run for about six weeks and is heavily gang-involved," says a court record from September 2017.
In October 2017, a full year after that initial run-in with police, Jaquez's case was "terminated unsuccessfully." He was 17.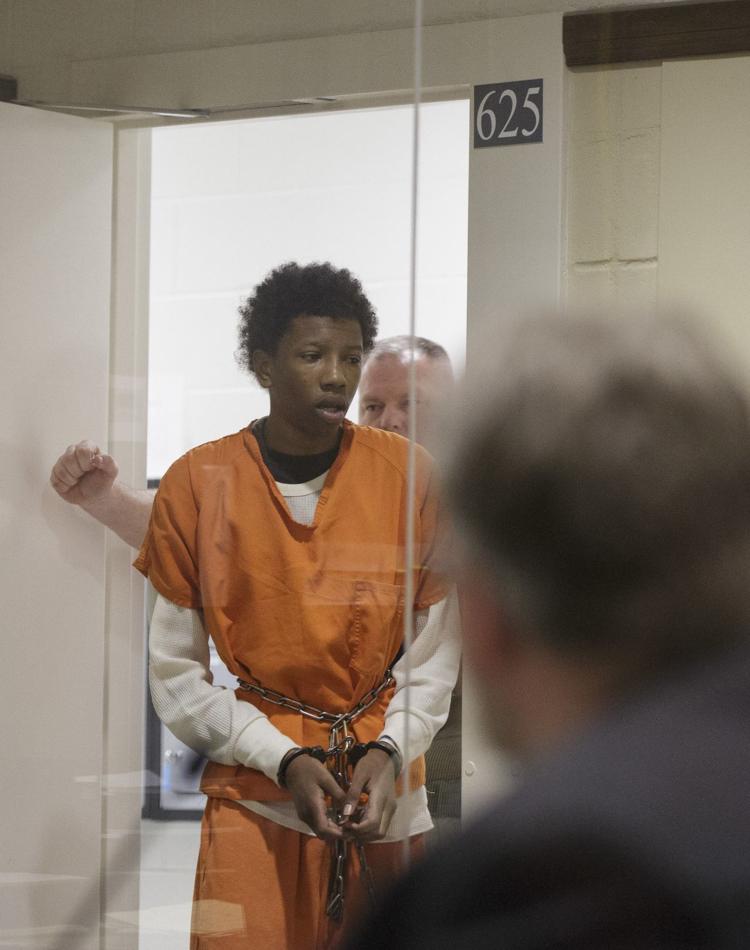 Visek, head of juvenile probation, declined to comment specifically on Jaquez's case. A juvenile court judge declined a reporter's request to see the transcript of the probation termination hearing in time for this deadline. That transcript might have shed light into why Jaquez was let go from the court's watch.
In general, Visek said juvenile justice advocates want youths to be successfully released from probation. Advocates don't want long probation terms. Teenagers are going to make mistakes, she said, and "we don't want to have them on paper forever."
"We want to let them move on with their life and grow out of their behavior," she said, adding that most do. Eight out of 10 youths who enter the juvenile system do not get in trouble again.
Jaquez left the Omaha Public Schools in 2017. He has no apparent Nebraska driver's license.
When interviewed by Omaha police, Jaquez, now 19, said next to nothing about the shooting of R.J. Eckhardt.
"All I'm going to say is 'I'm not the shooter,' " the police affidavit says. "And I'm no snitch."
Jaquez's grandmother, Karen Turley, defended her grandson. She expressed anger with the system and with news coverage when reached by phone.
"He didn't do anything," she said. "I'm very unhappy about it. I'm sick of the State of Nebraska. He's not given a fair chance."
Jaquez has been charged with conspiracy to commit a felony. His attorney, Christopher Roth, said Jaquez is not alleged to be the shooter, the driver or "to have participated in any way."
"We are going to wait for the evidence to see how the state can prove their case," he said, adding that his client would be entering the following plea: not guilty.
* * *
The two other suspects, both female, have no Nebraska court records predating the March 29 shooting.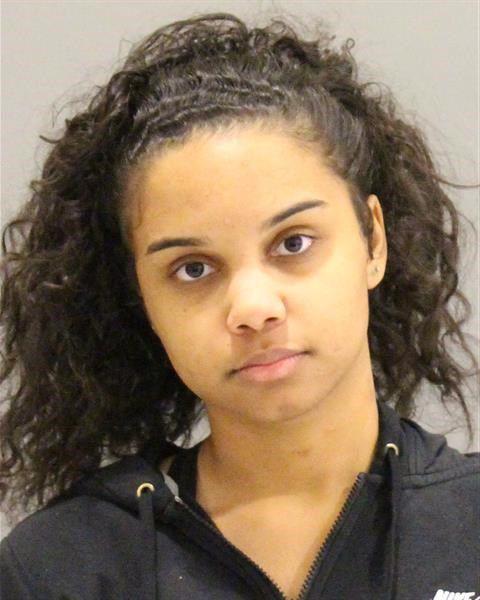 Unlike their three male counterparts, Kheana Noutoua, 18, and the 16-year-old juvenile have no obvious criminal records.
In fact, Noutoua appears in World-Herald archives as an honor student during her seventh- and eighth-grade years at La Vista Junior High. Her name appears on a more current student honor roll listing, dated January 2019, at St. Pius X Catholic High, a co-ed private school in Kansas City, Missouri.
Her role in the shooting, according to prosecutors, was as an accomplice. Police say Kheana was with the juvenile girl and three young men at Benson High School.
In the affidavit for her arrest, Kheana admitted to police that she was in the car with the group as it waited outside Benson High and that she was in the car as it followed shooting victim R.J. Eckhardt's family out of the school parking lot and to an address near 48th and Spaulding Streets. And she was in the car during the shooting and after, when the group fled. She rode in the front passenger seat.
Now she faces a felony criminal conspiracy charge. She has pleaded not guilty. A court hearing is scheduled for June 18.
Kheana is the sole suspect of five who got out of jail right away. She was arrested March 31 and was released April 3 on her own recognizance.
Her attorney, Glenn Shapiro, said she is in the Kansas City area with her father. He said her family has declined to comment for this article. Shapiro offered little comment other than to say she was an honor student with a college scholarship at the time of her arrest and "had no involvement in what transpired."
The 16-year-old was the first suspect arrested.
Police say surveillance video from Benson High the night of March 29 showed a silver Nissan Maxima that investigators linked to the teen's address near Franklin Elementary School in northeast Omaha.
The next day, on March 30, Omaha police showed up and found her in the passenger seat of that car. In an arrest affidavit, she told police that she was at Benson High with the others and that they left the basketball game and waited in the high school parking lot to follow someone from a rival gang. When told to follow that supposed rival's car — the car would turn out to belong to an unintended target — the juvenile said she did.
The juvenile was charged with felony criminal conspiracy. She went to juvenile detention, and her attorney, Kevin Ryan, got the criminal case moved to juvenile court. Ryan said the juvenile had "denied" the charge — which in juvenile court is akin to pleading not guilty. Ryan said he expects to change that to an "admission" or guilty plea.
The 16-year-old remained in detention at the Douglas County Youth Center at 42nd Street and Poppleton Avenue until her release on May 17. She has an ankle monitor, a curfew and other requirements.
Nationally, females make up 10 percent or less of gang members. Omaha police and community advocates working with economically disadvantaged girls say gang violence sweeps in girls. They get caught up with gang member boyfriends or serve as drivers or keepers of weapons or buyers, engaging in straw purchases.
"It's a sad and scary situation that many of these young people find themselves in," said Omaha Police Sgt. Aaron Hanson, a member of the department's gang unit. "We've dealt with young women in drive-by shootings who have come from amazingly normal, well-off families. Across the metro. They're driving the car. Or in the car. Or holding the gun."
Hanson said he did not know the young women in this case but said his experience in general has shown that girls are drawn to gang activity for the same reason boys are: a feeling of involvement, of belonging, of purpose.
Then they reap the same consequences.
* * *
Four of the five teenage suspects are adults in the eyes of the court.
There is real prison time on the table.
If convicted, Jaqueris Allen, Jaquez Turley and Kheana Noutoua could lose the next five years of their lives. J'Tavion Smith could lose the next 15.
The stakes continue after prison. Convicted felons lose the right to vote. And it's much harder to find jobs and housing.
But the fifth suspect, the 16-year-old girl, represents the second chance offered to juveniles. She could still finish school. She could still enter adulthood with an unblemished record if she keeps a straight course.
The choice ultimately is hers, but society plays a role, too.
The degree to which she or anyone in the juvenile justice system can be successful will depend, too, on the presence of caring adults who can see past a mug shot or booking sheet.
Wayne Brown of the Urban League calls this "social capital math." Youths need at least one present adult and multiple positive connections to community groups to blunt hardships at home.
"If you can get the math right," he said, "you provide a sense of strength, power for that young person to take chances. They're able to move forward."
When the equation is flipped? The math can be disastrous.
This story has been updated to include an interview with Tykeeva Smith, the mother of J'Tavion Smith. Tykeeva Smith spoke with The World-Herald on Monday.