On the day before the last day of school — and of her 31-year teaching career — Mrs. Treinen taught first grade.
This might not seem remarkable. Teachers teach. Even retiring ones. Even on Last Day of School Eve.
So there was Mary Treinen on Tuesday, school badge dangling from her neck, walking around her St. Gerald Catholic School classroom. Children need routine, she'd explain later. They need structure, they need, at this tender age, a firm footing before going into the wide world of second grade.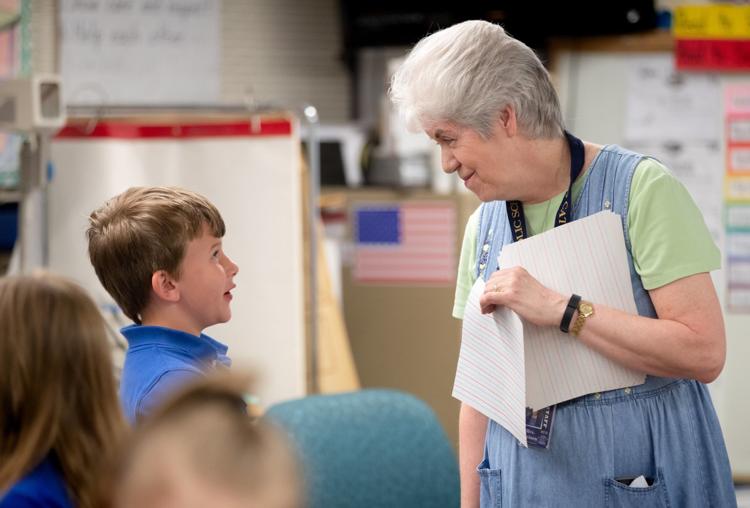 The end of the school year brings rituals that include the departures of long-serving teachers. Across the Omaha metro area, more than 200 teachers will retire and each has his or her own story to tell.
The career of Treinen (pronounced TRY-nen) is notable for a few reasons.
First, she has only taught first grade and only in the very same classroom where she had sat as a first-grade student in the 1960-61 school year.
Her late father, John Tolan, and mother, Elaine (still living at age 97) were founding members of the Ralston-based Catholic parish that built a church at 78th and Lakeview in 1957. The school followed in 1959. Decades later, a new St. Gerald's church opened a couple of miles west, at 96th and Q, while the school remained on Lakeview.
Second, in a decades-long teaching career, you're bound to teach the children of former students. But one of those former students went on to become Mrs. Treinen's boss. Christy Keenan, the school's principal, sat in that same first-grade classroom in 1980-81 and returned years later to teach fourth grade and kindergarten. Then, she became the school's principal.
Mrs. Treinen said she was inspired by her father, who taught math at Boys Town, and her own first-grade teacher, a nun called Sister Joanina. Sister Joanina was young and bubbly and happy.
"But," Mrs. Treinen quickly added, "she was firm."
So, despite the pouring rain that pounded her slanted classroom roof, despite the sugar rush of Krispy Kremes and Capri Suns — which came delivered with a firetruck (!) as an end-of-year treat — and despite the fact the kids had just one more day, Mrs. Treinen taught.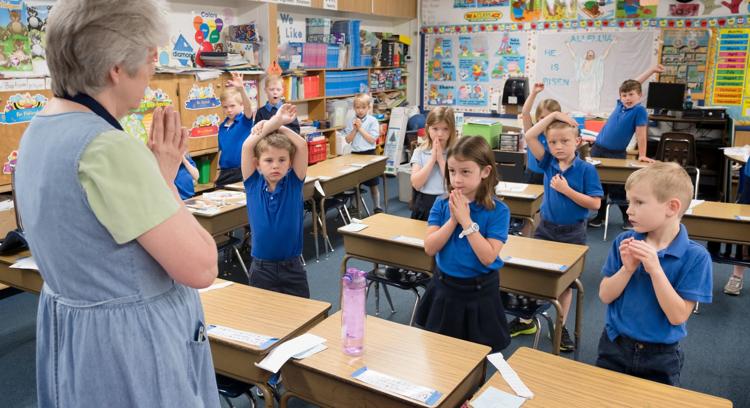 She taught the weather, the calendar, money and probability. She taught reading and writing and — ever a stickler — holding your pencil erect and remembering to end each sentence with a period. She taught science and religion, social studies and language arts.
And she taught lessons that years later her class of 6- and 7-year-olds might draw upon when they become parents or working adults: manners, patience, problem-solving and the lifelong importance of telling someone with complete sincerity that they did a good job.
"I can tell you tried really hard," she said to one student.
"I like how you drew the lines," she told another.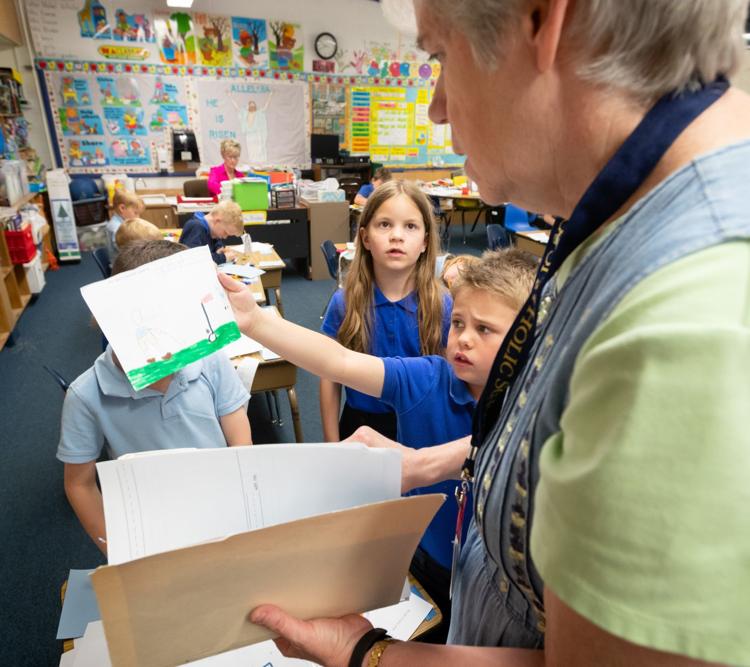 "You got it all, Lucy, that is beautiful," she said to a third. "You should be proud of that."
Retirement in any field is supposed to be the time-honored reward. For teachers, speaking as a former one, the wife of one and the daughter of a retired one, retirement marks an important milestone in a field that is arguably underappreciated and, definitely in Omaha-area Catholic schools, underpaid. (Catholic school teachers in Omaha typically earn 70 to 90 percent of what their public school counterparts make.)
Mrs. Treinen, whose husband, Rick, had worked in computers, knew going in she wasn't going to make it rich in her line of work.
She also knew going in that she wanted to teach only first grade. She'd tried third grade as a student teacher but preferred younger students.
"People tell me they could never do first grade," she said. "I feel the same way about junior high."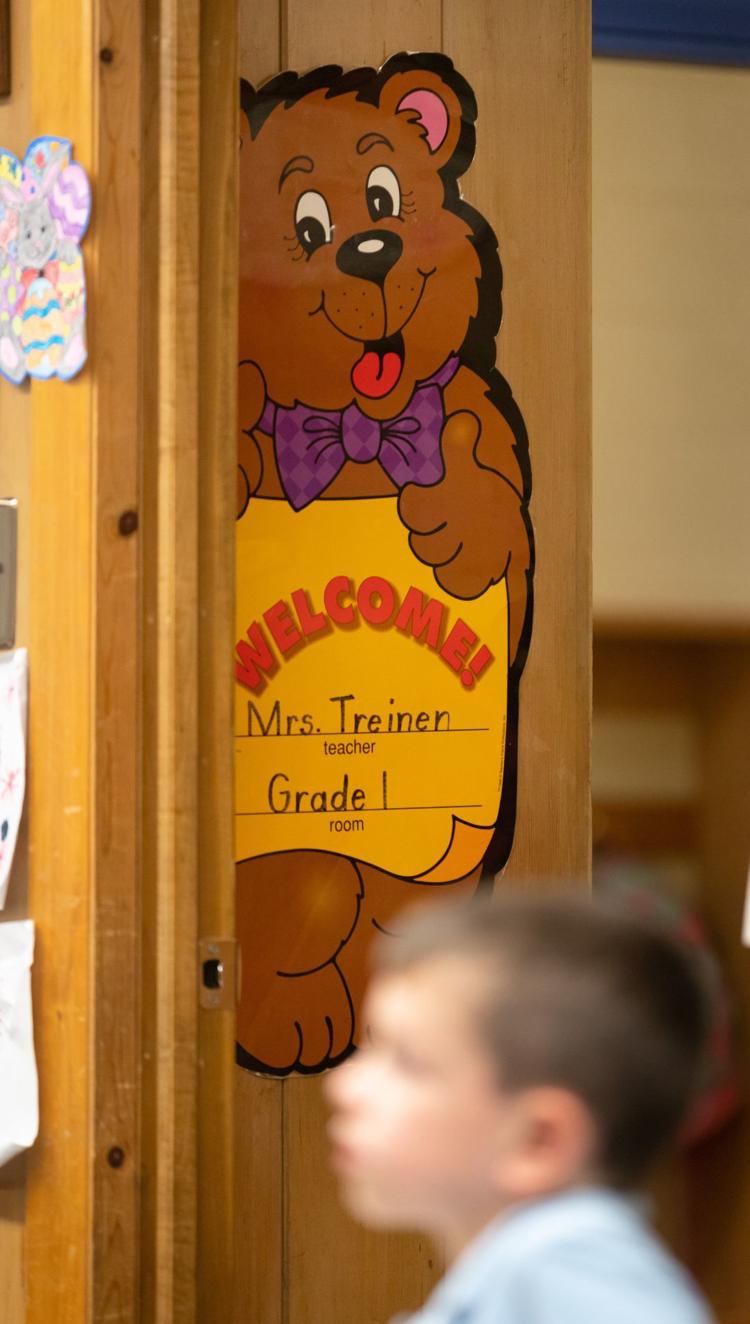 Keenan said her first-grade teacher remained consistent in this respect: "being so patient and soft spoken."
"Everything she did was calm and made you feel at ease," Keenan said.
That seemed to be Mrs. Treinen's mojo the day we visited. Any number of circumstances — from the weather to the doughnuts to the fact that summer vacation was so near — could have thrown off the kids.
Mrs. Treinen nevertheless remained steady and stuck to the script: giving hugs and high-fives as the children entered. Listening patiently as first-graders rattled off their special intentions during prayer time. Launching the math lesson.
Not once did she sit. Not once did she even have to redirect. Mrs. Treinen was like magic — keeping the students happy and engaged and out of trouble.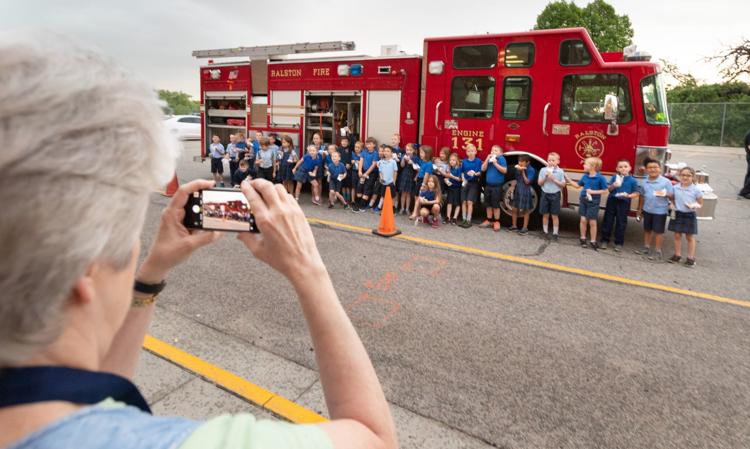 "She's so good at control," whispered her teaching assistant, Michaela Bredar. "They listen to her."
That was echoed by the students themselves.
Said Kolin Koory: "She doesn't really yell that much. And she can teach really good."
Said Hayley Bartak: "She's really nice a lot of the time."
Mrs. Treinen didn't spend a lot of time talking about herself. There was a long to-do list on the white board, and even on this day before the last day of school, there was no time to waste.