The band's getting back together. Omaha fans are making travel plans. And tickets for this reportedly final show are selling out.
The St. Louis Jesuits, the Catholic Church's Simon and Garfunkel, are reuniting for a fall concert to be held on Sept. 29 at Powell Hall, near Saint Louis University, where they first met almost five decades ago and revolutionized Catholic liturgical music through their folk-rock sounding songs.
Like band reunions, this one has the wistful feel of an era ending. The five men, like their baby boomer and Generation X fan base, have aged. Jesuit seminarians when they met, they are now in their 60s and 70s, and one is 80.
Their balding, graying pates and white beards have replaced youthful 1970s shags and mustaches. Two have left the religious order. All went their separate ways in individual projects long ago. And church music in general has expanded and evolved to include newer artists and compositions and to bring back some of the old chant and Latin traditions.
Still, the buzz about this upcoming concert shows a deep connection between the Grammy-nominated musicians and their fans, especially in Omaha, where two of the Jesuits — the Revs. Roc O'Connor and Bob Dufford — have ties.
Sign up for World-Herald news alerts
Be the first to know when news happens. Get the latest breaking headlines sent straight to your inbox.
Both attended St. Pius X Catholic School (now St. Pius X/St. Leo) and graduated from Creighton Prep (O'Connor, class of 1967; Dufford, '61). Both have served at Creighton University.
Reached in Milwaukee, where he works now, O'Connor, 69, said he's looking forward to the concert because all five men have been on separate paths for years and this reunion puts them "in a kind of communion together, moving like you do in music, in a direction that is oriented beyond ourselves."
The St. Louis Jesuits last performed in Omaha in 2009 at the Holland Center. They might be like rock stars to their fans, but they don't act like them. The men as a group long spurned doing concerts and tours, offering instead music workshops and smaller, spontaneous performances. The music wasn't about them, they would say.
"They're all so humble about this; they'd cringe if anyone called them a rock star," said Tom Kavanaugh, whose late brother, John, was a Jesuit priest and early contributor to the group.
Kavanaugh, based in St. Louis, is co-producing the upcoming show, which will include more than two dozen songs, an 80-member choir with some singers who backed up the Jesuits years ago, and 15 instrumentalists.
Ticket prices start at $15, and proceeds will go to a charity for homeless people with addictions called the Ignatian Spirituality Project. Most of the 2,600-plus seats have already been sold.
Papillion fan Lorry Feldhausen bought two tickets for herself and husband Mark. The pair graduated from Creighton University in 1975, the year the Jesuits' second album, "Earthen Vessels," was released. (It went on to sell more than 1 million copies, making it one of the best-selling Catholic music albums of all time.)
The couple was so drawn to the Jesuits' music that they made Creighton's campus church, St. John's, their home parish, despite living about 13 miles away.
"The songs are comforting, inspiring, uplifting, even joyful," she said. "Those songs put the 'celebrate' in the celebration of Mass."
Lorry's generation spans two distinct periods in Catholic liturgy. Now 65, Lorry grew up with the old Latin Masses in which the priest faced the altar, congregants were more spectators than participants, and music, if it was offered, was handled through chant and choir. Sometimes people in the pews were invited to sing old hymns, but generally, the experience to her felt detached and formal.
Major reforms in the Roman Catholic Church in the early 1960s, as a result of Vatican II, changed everything. The priest turned around and spoke English, and music became a much more down-to-earth, shared experience. Guitars were introduced. The organ got dialed back.
For her, this was a welcome change, and the gentle, easy-to-sing melodies with scriptural lyrics were like water for a thirsty person.
For me, a generation behind Lorry, the songs of the St. Louis Jesuits were all I knew. We sang their music at every Mass at St. Margaret Mary in Omaha. At home, my ex-nun mother cranked up her Jesuit albums on the weekends. My four siblings and I grew up doing our chores with "Sing to the Mountains," "Be Not Afraid" and "Seek the Lord" thrumming in the background.
Mom didn't get the Led (Zeppelin, for you millennials) out in the 1970s because she found what she needed in the Jesuit music: peace and calm, which as I think about it now, probably reflects on her always having young children underfoot. Of course, it was also meaningful.
"It's quiet, and it's tender. It's spiritual," she told me after unearthing those old Jesuit records. "It's moving."
To understand the hold the St. Louis Jesuits have on many older Catholics, it helps to get a window into what old church music was like. It was old. It was formal. It was often in Latin, Hebrew and Greek. Sometimes it was chant, and once in a while, there were devotional hymns with titles like "O Saving Victim Opening Wide." This could be beautiful, depending on one's taste, but the style did not encourage much active participation from the pews.
Vatican II sought to change this. Yet the early grassroots music was simplistic. A few chord changes and lyrics about peace, love and brotherhood.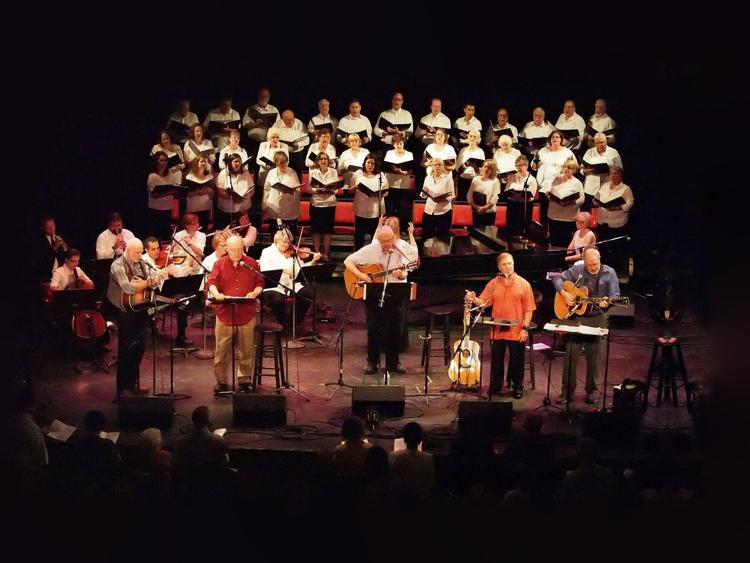 Brother William Woeger, director of the Omaha Archdiocese's Office of Divine Worship, said these early songs sounded like advertising jingles. The Rev. Mike Joncas, a Minnesota-based composer whose most famous work is "On Eagle's Wings," said the songs were easy for guitarists to play but "not sophisticated at all."
Enter the Jesuits. They were products of their time, reacting to and immersed in the tumult of the 1960s. Folk musicians like Bob Dylan and Peter, Paul and Mary were popular. People were fired up about change and protest. The Catholic Church was changing in radical ways, too. Plus, a new English translation of the Bible had come out, and that was based on a prior French translation that helped lend Scripture to songwriting.
This was key to the Jesuit sound. Their songs, Joncas said, were more "musically sophisticated" with more harmonic chord progressions, and their lyrics were "almost entirely biblical."
"They were, in fact, inviting Catholics to sing the Bible rather than just kind of vague statements about love and friendship and brotherhood and all that stuff," said Joncas, an artist in residence and research fellow in Catholic studies at the University of St. Thomas in St. Paul, Minnesota.
The men were: Dufford and O'Connor of Omaha; Tim Manion and John Kavanaugh of St. Louis; Dan Schutte of Neenah, Wisconsin; and John Foley of Wichita, Kansas. Foley was a trained musician and had already begun composing church music.
They met on the Saint Louis University campus in 1970 and 1971 when they were in various stages of their Jesuit training and careers. Individual musicians, they began collaborating in St. Louis and then, for one summer in 1974, in earnest in Berkeley, California. The rest of the time, they were teaching or studying or performing other ministries. Music was not their main focus, but they shared the same approach to liturgical music: reverent, expressive and joyful, O'Connor said.
Their music, according to a 2005 America Magazine article, filled a void: Lyrics were well-written and taken from Scripture. Melodies were within reach of a wide public. The overall sound was contemporary and American.
Their first album, which came out in 1974, had 56 songs. It is called "Neither Silver Nor Gold," and that album is in the Kitty Grace Collection. "Earthen Vessels" was next in 1975 (also in her collection). Over the next decade, the St. Louis Jesuits, as they called themselves, produced three more albums, and individual members, especially Schutte, went on to do other musical projects.
Their music spread not just across America but across denominations. Protestant churches have used it.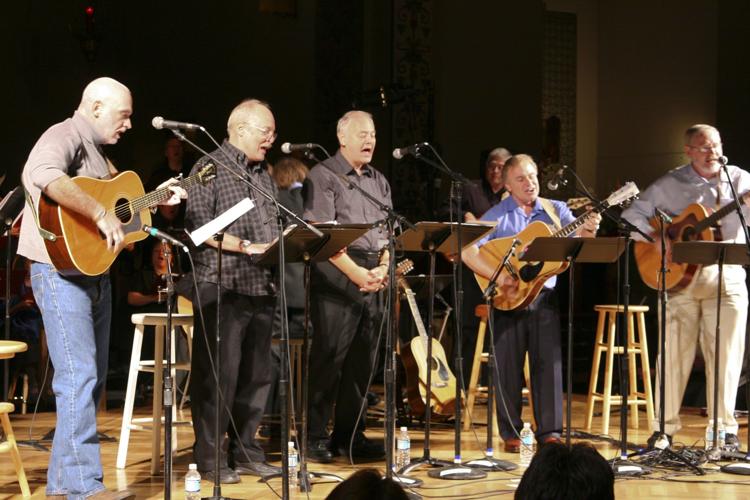 Like any band, the men evolved musically and personally. Kavanaugh left the group early to pursue other religious activities. Manion and Schutte left the Jesuits. Foley, Dufford and O'Connor remain priests and are still connected to music but also have focused on other spiritual activities.
Subsequent waves of musicians have come, with the latest drawing from the contemporary Christian or evangelical style with whole rock band sets on the altar.
Not everyone is a fan. Beauty is in the ear of the listener, after all. And church music can be a third-rail issue, dividing congregants over preference.
The Jesuits' concert is called "Coming Home." And listening again to those songs, which are not generally sung at my parish, St. Cecilia Cathedral, I felt the strong pull of the familiar. It was like going home.
My literal home still has the old Jesuit record albums. Mom found them in the basement, next to a record player that's hardly ever used. But she doesn't need vinyl anymore.
"Alexa!" she commanded. "Play the St. Louis Jesuits."