The assignment was right up Jeff Barnes' alley. But it came with a catch.
The Architectural Foundation of Nebraska wanted a book on the state's best buildings to come out during this sesquicentennial year of statehood. Barnes, 59, is a fifth-generation Nebraskan who has written four books dealing with Nebraska and is well-traveled around the state. He loves architecture and might have been an architect in another life.
He already had photographed a ton of his personal architectural faves, from a sod house near Comstock to his very favorite Nebraska building, the State Capitol in Lincoln. (It's where he met Susan, his wife of 35 years.)
With that head start, this task seemed like an easy one.
Except for one thing: a limit. The foundation wanted 150 buildings, one for each year of statehood. Jeff could think of 300, easy. How could he choose the best? What would be the criteria? And how could he balance architecture throughout the state with that goliath Omaha and its blocks of important buildings?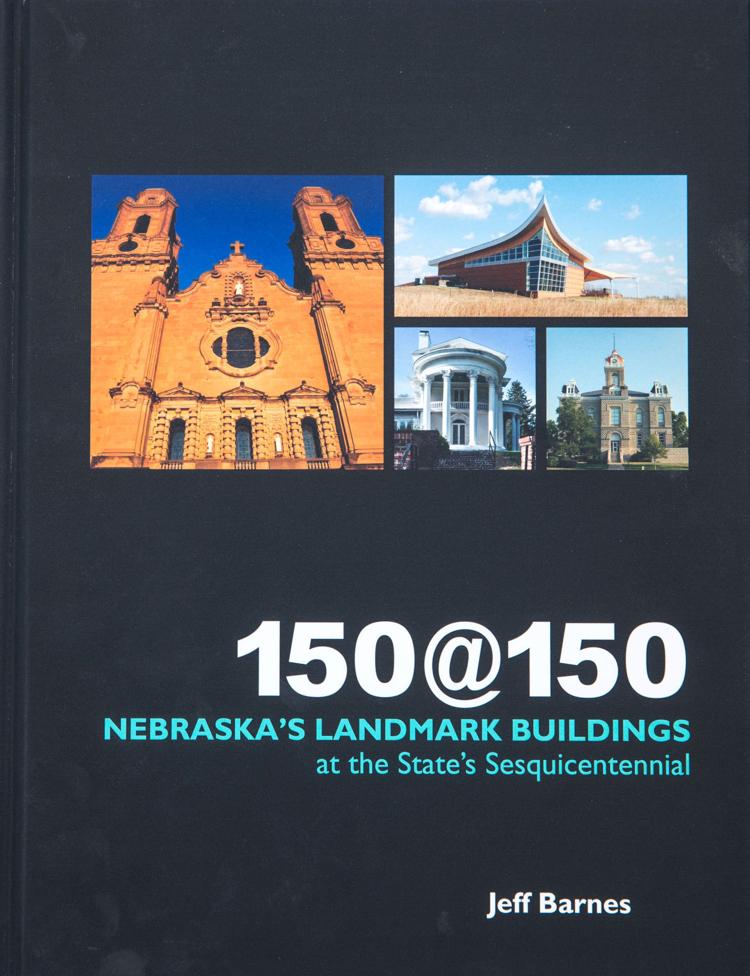 Barnes considered — and rejected — organizational options like history (eliminating historically important Nebraska buildings that got wiped off the map by calamity or whim), county by county or design purity. This book was intended for coffee tables in living rooms across Nebraska, not as an insider's take.
In the end, Barnes, who is a career storyteller, decided to go with the buildings that best told the state's story. The result is an interesting 160-page Nebraska history lesson, told in bricks and mortar. (Or, in the case of the Comstock house, clay and ... hog hair.)
You don't have to be an architect to understand or appreciate the stories in this book, "150@150." Barnes has presented an interesting look into places that will be both intimately familiar to Nebraskans (yes, Memorial Stadium made the cut) and maybe less well known (a World War II-era bombsight vault in McCook).
Bruce Carpenter, board president of the Architectural Foundation, a nonprofit educational group, and Sara Kay, executive director of the American Institute of Architects of Nebraska, a trade group, said they believe this is a one-of-a-kind anthology of sorts of Nebraska architecture.
"All the structures are significant in their own way to Nebraska," Kay said. "It's a great opportunity for the state of Nebraska to celebrate architecture."
Carpenter, an architect and senior vice president at HDR who has helped design the Holland Center, Baxter Arena and TD Ameritrade Park, among other notable places, said the book is meant less as a tribute to design and more as an explainer of how buildings reflected or impacted daily life at a point of time. His hope is that readers, in looking back at 150 years of architecture, will get new ideas about how to value architecture in the future.
The book is organized chronologically by decade beginning in Nebraska's territorial days preceding statehood in 1867. Buildings range from the simple to the grand, from personal homes to giant public structures. The probable oldest building is a log cabin in Bellevue that dates to the 1830s. The newest is the $323 million Buffett Cancer Center in Omaha that opened this year.
Omaha architecture represents more than one-fourth of the book, and buildings you'd probably guess would make the cut are here: both Joslyns (museum and castle); the Durham, the Rose Theater and Central High School. Newer buildings are here, too, including the CenturyLink Center.
Photos: Omaha landmark Joslyn Castle through the years
The 35-room Scottish Baronial mansion, built in 1903 by George and Sarah Joslyn, includes a reception hall, music room, ballroom and library. Today the castle hosts more than 40 weddings a year, plus murder-mystery parties, literary readings, scotch tastings, anniversary parties, concerts, little kid birthday parties and Christmas celebrations with Santa.