They meet on French soil, two American military pilots separated by 100 years.
One pilot is a living, breathing Alabama native who speaks French and lives in Omaha's Dundee neighborhood. U.S. Air Force Lt. Col. John Fowler is 39 and wears his Air Force dress blues and Ray-Ban shades in the September sun in the tiny village of Courville, outside Paris.
The other pilot is but a memory, frozen in time to an August day in 1918 when he lost a dogfight with the Germans after the Second Battle of the Marne, his plane falling to the earth near the then-obliterated village of Courville. Lt. William Muir Russel is depicted in a monument and photographs, a handsome 24-year-old in U.S. Army Air Service dress, one hand jauntily tucked into the front pocket of his uniform pants, which are stuffed into knee boots.
The pilots hold different places in history. But the two share so much in common: The sheer pleasure of flight. The desire to serve their country. And deep gratitude for a long friendship with France, a place that continues to recognize American service with events like the recent one in Courville that introduced one pilot to the other.
"This is a country — one of our allies — who remembers what we did for them and how we fought together," Fowler said. "Even though it was three generations ago, they haven't forgotten."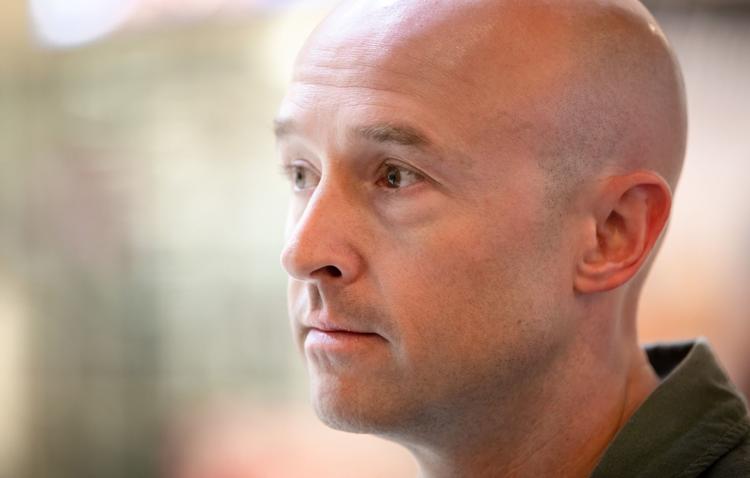 Fowler is back in Omaha for a second assignment with the 55th Wing.
He previously served as a pilot in the 45th Reconnaissance Squadron at Offutt Air Force Base from 2005 to 2010. He has flown aircraft including the C-21 jet and the RC-135. Fowler also served as the U.S. assistant air attaché in France. He was based in Paris and did everything from military planning with the French to attending remembrance ceremonies for American war dead of ages past.
Last October, he moved back to direct operations for the 55th Operations Support Squadron. He and wife Annemarie live in a duplex across the street from my brother.
One night, Fowler tells my brother an incredible story about war and friendship and gratitude. My brother tells me. I am so hooked I have to hear it for myself and find myself tooling around Offutt with Fowler, who at that moment is piloting his 2011 Subaru.
He gives the nickel tour: the cargo planes, the spy planes, General's Row, the Cold War buildings, the new StratCom headquarters and our destination: the base Starbucks. Over cups of steaming green tea, the contrast between now and then comes to light.
Fowler was a kid in Birmingham, Alabama, hooked on flying when he entered the Air Force Academy in Colorado Springs, Colorado, in 1997. Russel was a student at Cornell University, rushing through his senior year to enlist in a fledgling new branch of the U.S. Army.
Fowler wanted to be in the Air Force. There was no Air Force for Russel. There certainly wasn't a cozy Starbucks.
Instead, at makeshift training camps where airplanes could be taken apart and stored in boxes or under tents 100 years ago, there were crackers, cheese if you were lucky, and at one point outside Chicago, a godsend: the Red Cross.
"My admiration for the Red Cross has been decidedly increased," Russel writes in 1917, in one of many letters he sends his father, Henry, a lawyer and businessman in Detroit. "Now we get coffee, pork chops, eggs, frankfurters and hamburgers."
Russel's letters and telegrams home, published in a book called "A Happy Warrior," offer a window into what wartime air service was like.
Writing two or three times a week, the faithful scribe captures how rudimentary the flying machines were — easier to put together than a car; how dangerous — training crashes seemed to happen all the time; and once overseas, how cold — flying in open cockpits over France during the winter caused fingers and faces to freeze.
Russel uses a new vocabulary, telling his father in detail the meanings of "joyride" and "tailspin."
The letters also reveal deep affection for his surviving parent; Russel's mother had died. He signs off with "your loving son." We don't get to read the father's responses except in a few published telegrams. In one, Henry Russel urges caution before his son enlists, advising: "Do not be so fast." Henry Russel even sets up a fancy New York City job to lure his son away from danger.
But William Russel says no. He says that he is compelled to serve his country and that he and another Cornell friend had already signed up. He asks his father to meet them in Washington, D.C., to speed up the enlistment process, so he can start learning to fly right away.
Russel's letters home also reveal a man who is mechanically gifted, curious, insightful and steady. He writes with such rich detail and gratitude and humor that it is impossible to read these letters and not wonder what kind of man he could have been.
"Father, it is truly terrible beyond description," he writes in July 1918 after a patrol. "The once beautiful country ravaged and pitted with shell holes. ... Very little has escaped the cruel fire of the large guns and the frightful destruction of a merciless enemy ... it was far worse than I had thought and truly it seems to me that it is inconceivable to one who does not see it with his own eyes."
Then his voice is silenced. What comes back to Detroit is a devastating telegram: "William Russel killed in combat August eleventh. Heart-felt sympathy."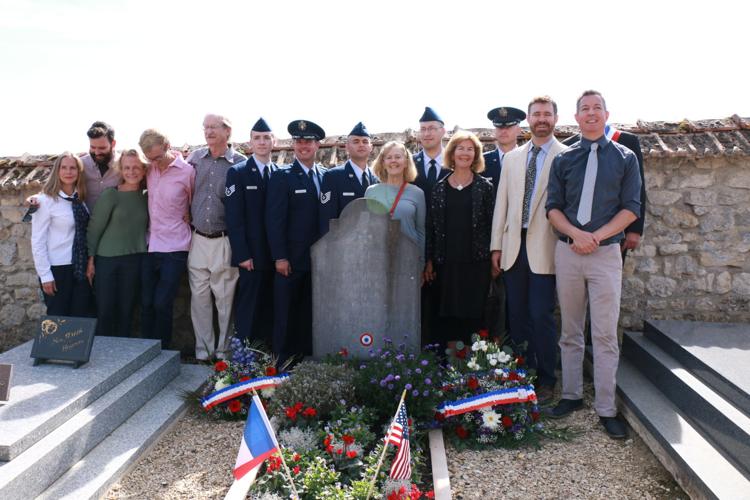 William Russel was attached to the 95th Aero Squadron, First Pursuit Group of the American Air Service. According to "A Happy Warrior," on the morning of Aug. 11, 1918, Russel was piloting a Spad XIII plane as a rear guard of a 13-plane patrol. It was a month after Quentin Roosevelt, son of former President Theodore Roosevelt, had been killed in aerial combat.
Russel was cut off by a German patrol that " came out of the sun upon him." His companions rushed to his defense, but he got separated in the dogfight, "and they never saw him again."
Accounts describe how Russel had just performed a tricky double "renverse" maneuver but was hit, and "very soon the plane, as if without control, glided and crashed to the earth."
Locals pulled Russel's body out of the wreckage, dug a grave and buried him in the Courville cemetery. They put up a cross, and someone wrote on it the particulars: Russel's name and this distinction: "Aviateur Americain."
After the war, in 1920, Henry Russel left Detroit to get his son's remains and bury them on American soil, near his mother and brother. But the elder Russel didn't make it across the Atlantic. He died of pneumonia.
In his will, he left something for the people of Courville: $10,000.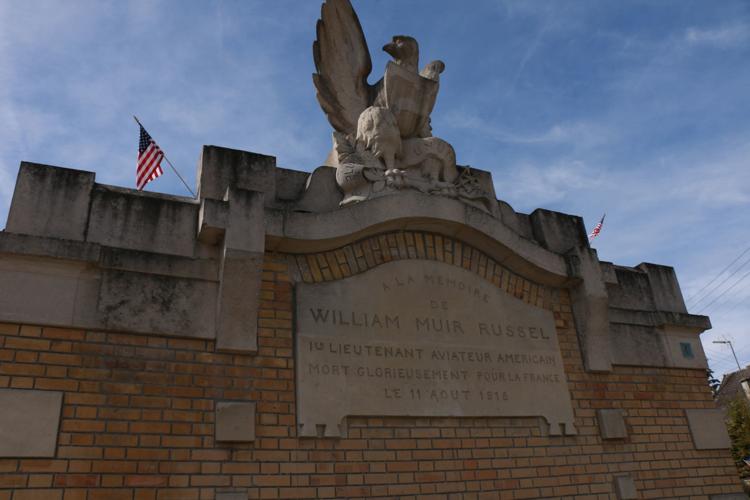 The war to end all wars about ended Courville.
Valérie Bourguignon Kenny has lived in the region for 25 years, served on the Courville town council and created a group to restore monuments.
She offered some context: Before the start of the war in 1914, she wrote in an email, the village of 400 people sat in the fertile, beautiful countryside of Champagne. Courville had a medieval castle.
The first German advance emptied the town, but the buildings themselves were largely spared. People drifted back. The castle became a hospital. In 1917, an airfield was established nearby.
In May 1918, the Germans occupied Courville, sending most inhabitants scattering. Then the day before American military divisions were to arrive, the Germans blew up most of Courville's buildings, including the castle-turned-hospital. On Aug. 11, Russel's plane went down. The war ended Nov. 11.
Kenny said no one knows who would have pulled Russel's body from the wreckage or who buried him. But the act was not uncommon. So many Americans are buried in French graves that are carefully, lovingly tended. (When Fowler was stationed in France, he got so many requests for the U.S. Air Force's presence at memorials and wreath-layings that he had to turn some down.)
Courville villagers returned to ruins after the war. No homes. No heat. Basic help from the American Red Cross — and that $10,000 gift from the Russel family.
The gift went to a monument and fountains with a very practical purpose: providing water to the town. The town tapped a nearby spring and built a communal wash house inscribed with the name: William Muir Russel.
Russel's story is immortalized in the 296-page book his family had published. You can find it online on the Internet Archive.
But as the years passed, some descendants were unaware. Marian Laughlin of Ann Arbor, Michigan, was one. She knew that she had a great-uncle who died in World War I. But she did not know much about him until her mother drove her down a street in Detroit named "Courville."
In 2003, Laughlin went to Courville and met Kenny. She supported Kenny's desire to renovate the wash house/memorial to repair brickwork, doorways and an eagle statue perched on the facade. In 2010, the monument was finished, and Laughlin returned to Courville for a celebration that included "many toasts of the local Champagne."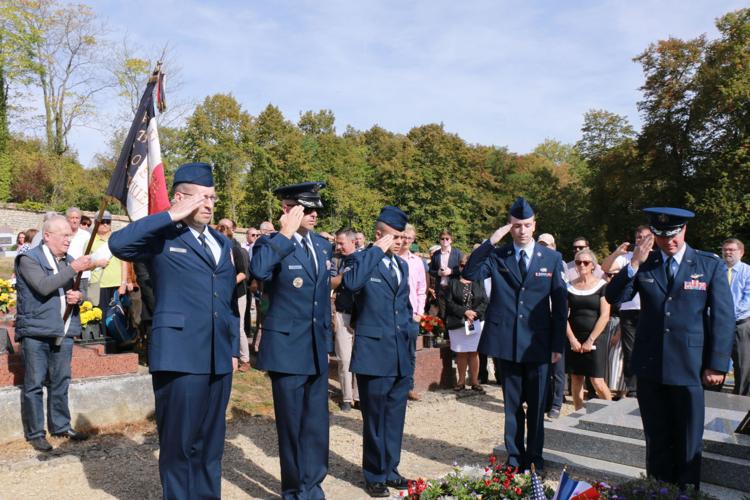 To mark the 100th anniversary of Russel's death and the war's end, Laughlin worked with Kenny to install a plaque at the memorial site to tell Russel's story.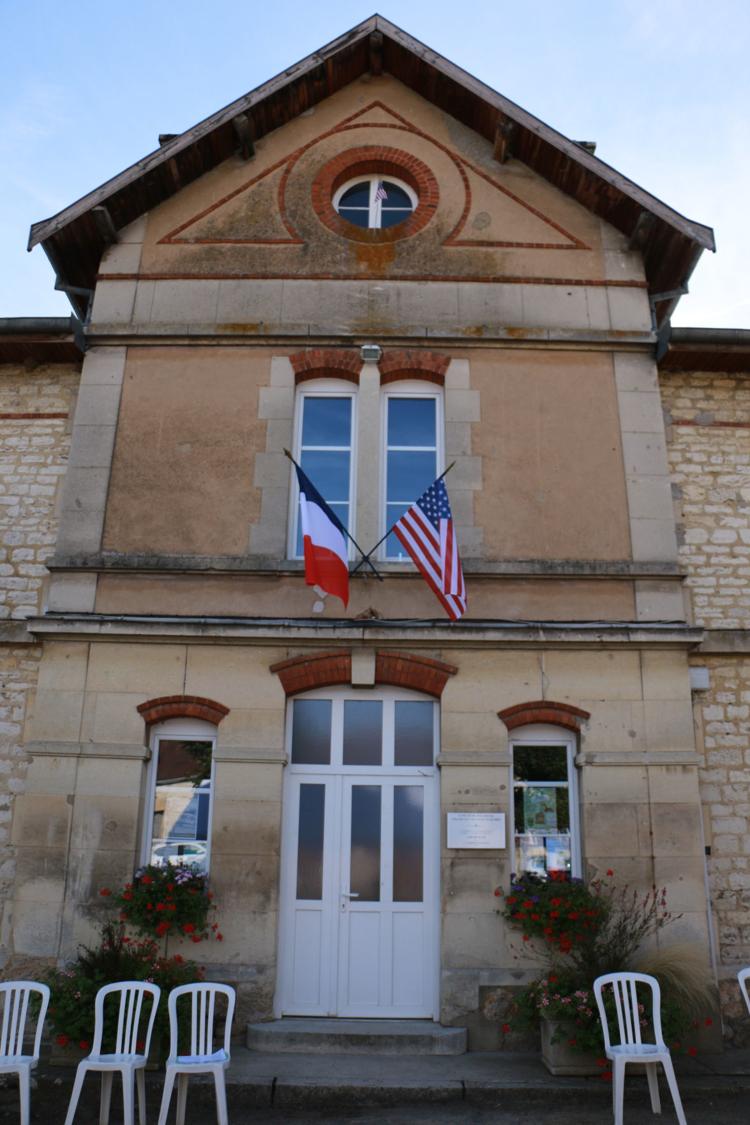 The ceremony was held Sept. 16.
Present were a host of Russel's relatives from the U.S., including Laughlin. Kenny was there, along with many of the villagers of Courville. Representatives of the French and U.S. Air Forces were also there, including Lt. Col. Fowler of Omaha, who gave remarks in French.
He said it was an honor and a privilege to come.
He called Russel "a fallen aviator who sacrificed his life for our two nations."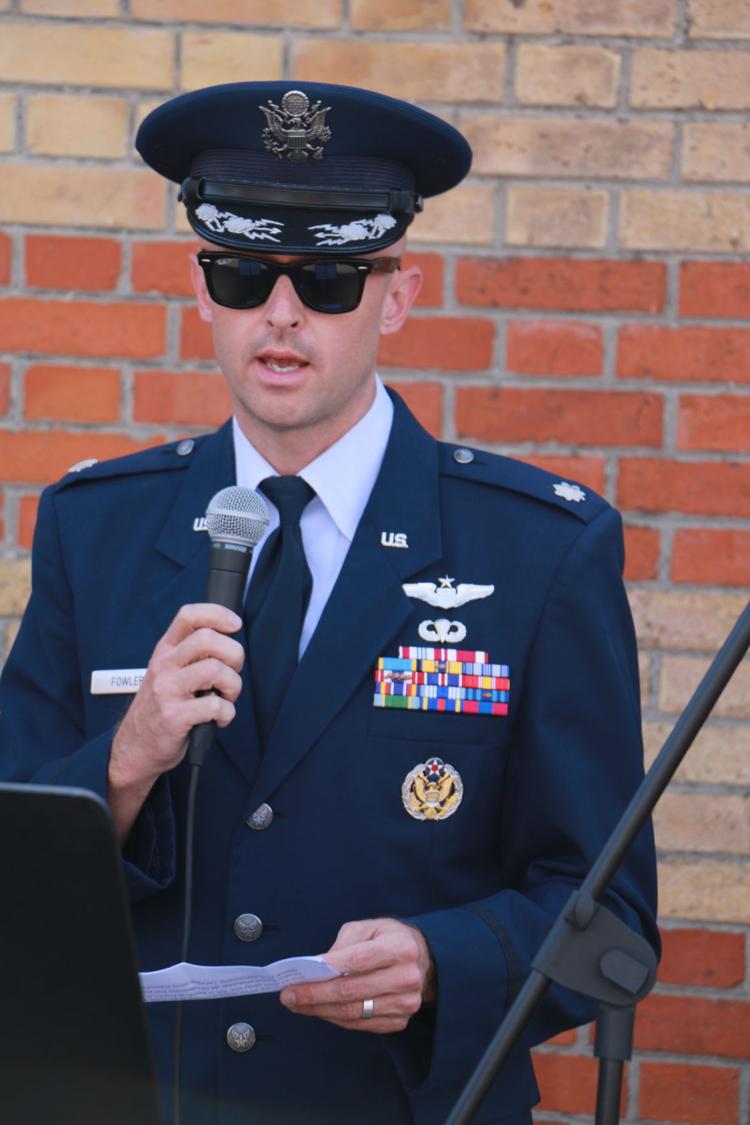 He said that sacrifice illustrates "the deep friendship that has existed between France and the United States for over 200 years."
He used the moment to remind the crowd that the U.S. and NATO allies stand together in maintaining "a Europe that is whole, free, prosperous and at peace."
He closed with "Vive la France" and "God Bless America."
The band played both countries' national anthems. And both countries' dirges for the dead: taps and "La Sonnerie aux Mort." Wreaths were laid.
Back in Omaha, Fowler reflected on what he had seen and heard in France.
He could relate, of course, to the story of a fellow pilot who was drawn to the sky for adventure and cause. He could understand how scary and thrilling it is to get behind the controls. He could appreciate the sentiment of a family being grateful for the way a war-torn village had cared for their beloved's remains.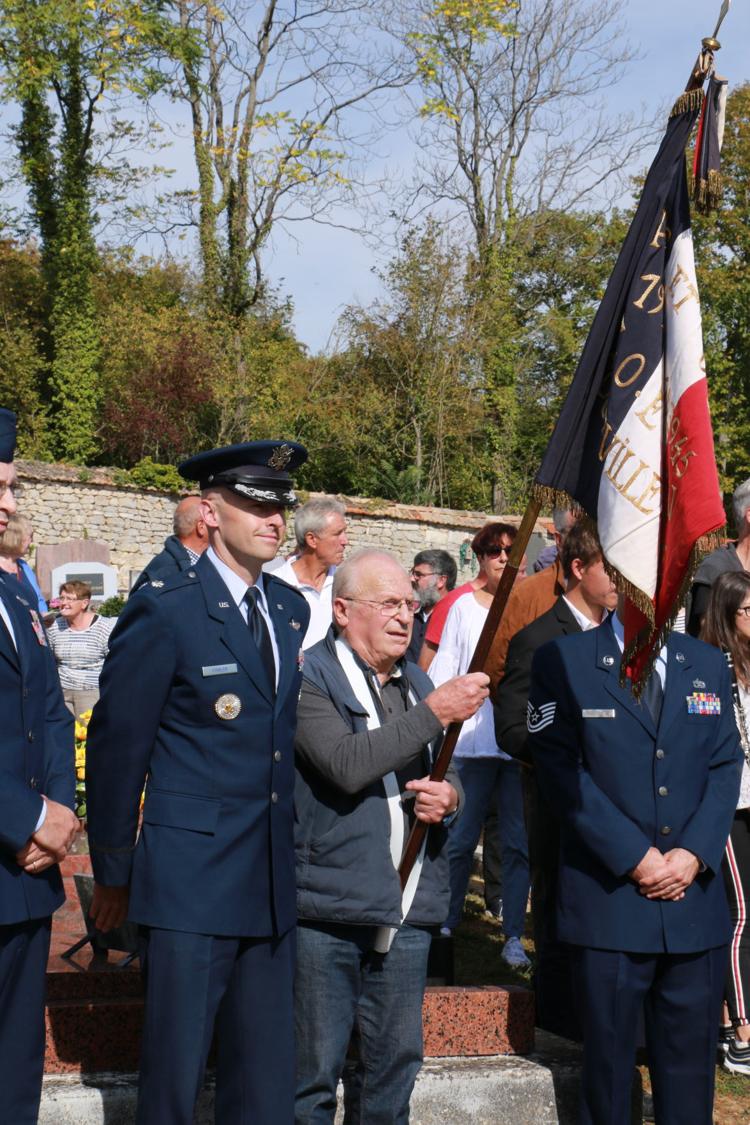 What particularly stayed with this pilot was the value of such a long friendship between two countries that stretches over two centuries, from the Age of Enlightenment to today's battlegrounds.
"We're together in the Sahara. Iraq and Syria. They're fighting ISIS with us right now," Fowler said.
And it brought Fowler a measure of comfort that a fellow pilot could plummet from the sky and that someone would remember. And that this pilot now would store the memory, too.