It's easy to imagine: A worker installing new floor in Omaha's most opulent home takes a quick break to thumb through the local paper. After a few minutes, he sets the paper down, picks up his tools and continues on with his day. An utterly forgettable moment in time.
But now, almost 112 years later, we know what he was reading about.
This month, workers restoring the music room floor in Joslyn Castle pulled up the floorboards to find a battered copy of the Omaha Daily News from June 30, 1907. The paper dates to the time the music room was added to the famous mansion built by one of Omaha's wealthiest couples, George and Sarah Joslyn.
"It doesn't look like (leaving the paper) was intentional," said Kelli Bello, manager of communications and development for the castle. "Our best guess is one of the floor layers back in 1907 was reading it on his lunch break and covered it."
The Omaha Daily News ran until 1927, when it merged with the Omaha Bee. The copy found at the castle is the paper's sports section, which leads with a story about the upcoming boxing match between heavyweights Bill Squires and Tommy Burns in Ocean View, California.
"You can just take a tip from me that I will beat him, and don't be surprised if I knock Bill out in less than fifteen rounds," the story quotes Burns as saying.
In what was considered a huge upset, Burns would knock out the formidable Squires in the first round.
Closer to home, the paper bears an advertisement for attractive new property in Dundee, which wouldn't be annexed by Omaha for another eight years.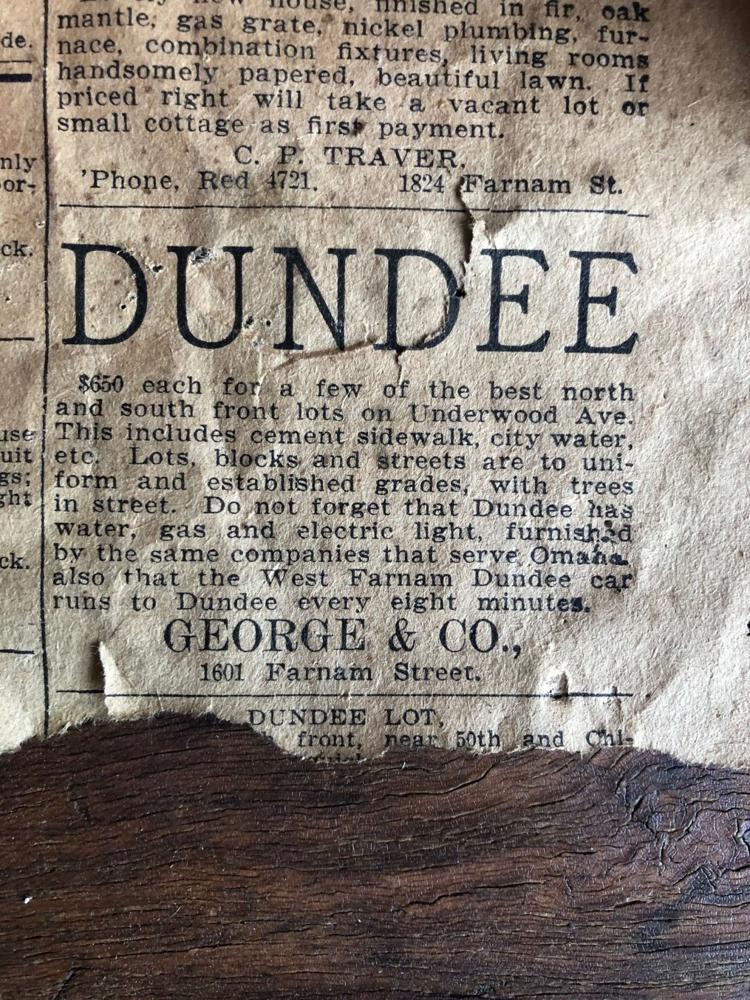 The newsprint boasts: "$650 for a few of the best north and south front lots on Underwood Ave. This includes sidewalk, city water, etc. ... Do not forget that Dundee has water, gas and electric light, furnished by the same companies that serve Omaha. Also that the West Farnam Dundee car runs to Dundee every eight minutes."
Charmed by the newspaper, Joslyn Castle staff last week left their own time capsule wrapped in plastic under the new flooring: a tour brochure, copy of the castle's newsletter, and — of course — Tuesday's World-Herald.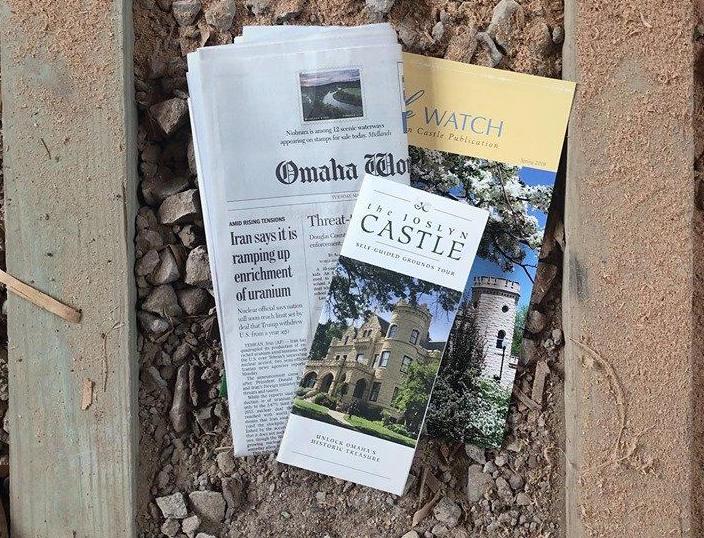 In addition to the paper, workers have found small pieces of pottery as they complete the floor restoration, Bello said. The project, funded through grants from the Douglas County Visitor Improvement Fund and the Fred and Eve Simon Charitable Foundation, is projected to be complete by early June.
The castle is hosting public tours this Memorial Day weekend, when visitors can see the progress of the floor restoration themselves. Tours will be from 10:30 a.m. to 12:30 p.m. Monday.
You can see the cover of the June 30, 1907, Omaha World-Herald below.