Shawn and Andrew built themselves a little white home at the water's edge. They built themselves a nice little life, where after work in Columbus they could drive the 12 minutes home, put on their trunks and wade into the Platte River as it gurgled gently around their ankles, never reaching past their knees.
It wasn't much, but it was exactly what they wanted, at least until the river started rising Thursday, and ice chunks as big and heavy as marble countertops rose to the surface and practically leapt onto land. At least until the river breached the levee and rushed toward the nearby Bellwood Lakes, and then the lakes flooded, too, and the water rushed back toward the river.
Until roiling water flooded the trees bordering the yard, and the water shoved the gargantuan floating ice chunks toward the little white home and the ice chunks made a nightmare cracking sound as they came closer, and closer.
Until Andrew was screaming at Shawn over to the phone to "Get out of there, now!" and Shawn was grabbing the dogs and sprinting to the truck and hydroplaning through neighbors' yards to get out because their river road had fast become a non-road before his eyes.
"I wasn't really sure I was gonna make it," Shawn said quietly this week. "Halfway down the road on the way to Rising City, I had to pull over."
Why?
"Because I was shaking so bad."
The Elkhorn River at the Maple Street bridge is shown under water Monday March 18, 2019.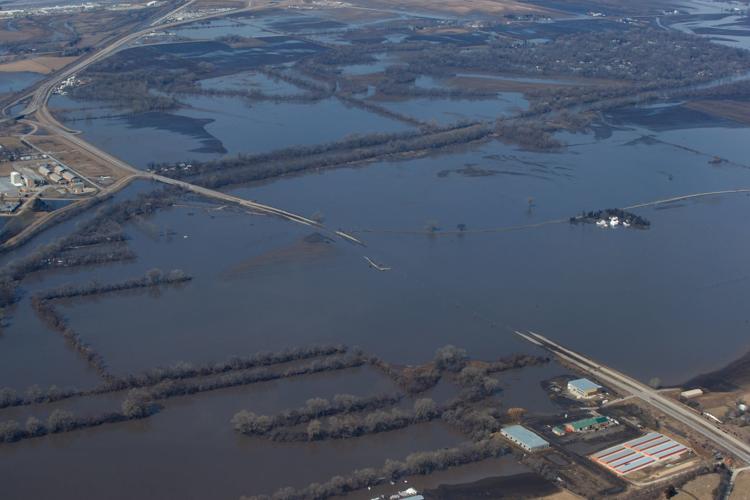 Floodwaters from the Elkhorn River have gone down and now expose a heavily damaged West Dodge Road.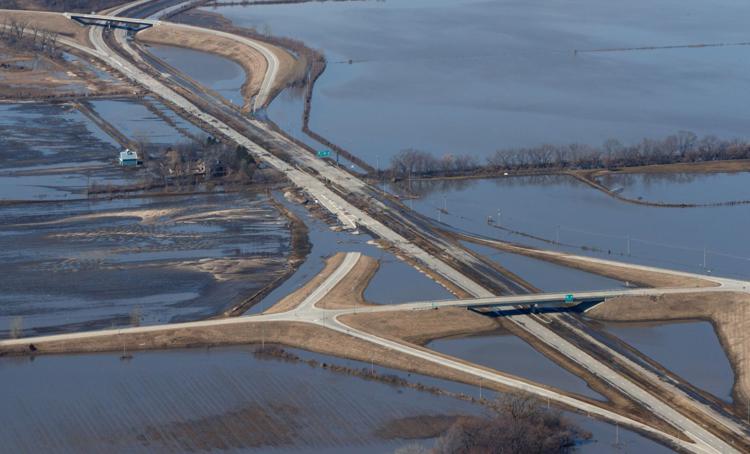 Floodwaters from the Elkhorn River have started to recede, exposing a heavily damaged West Dodge Road.
The eastbound lanes of West Dodge Road just west of 228th Street show the damage done after floodwaters went down Monday.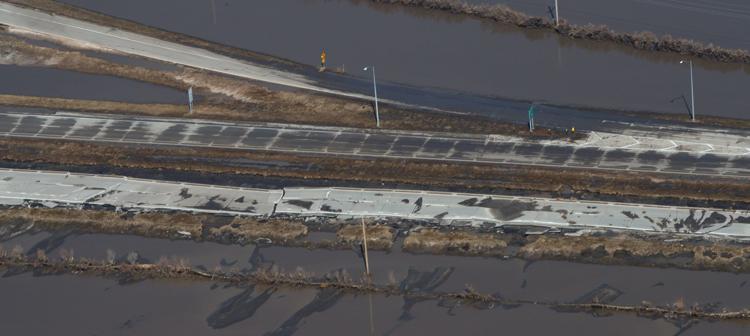 A cow makes its way through floodwaters near Columbus, Nebraska, on Friday.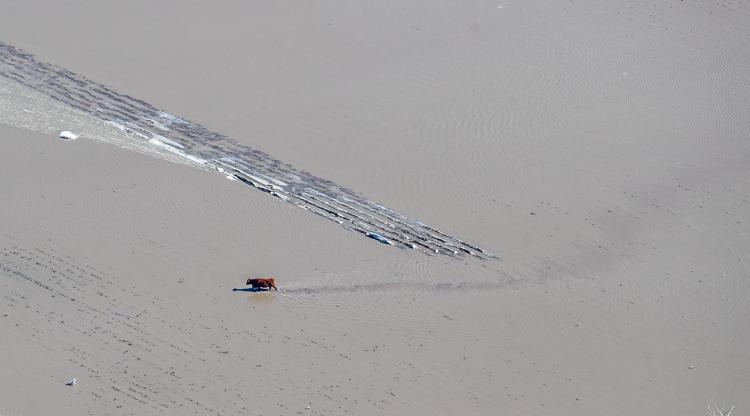 A shell of the Spencer dam is left on the Niobrara River.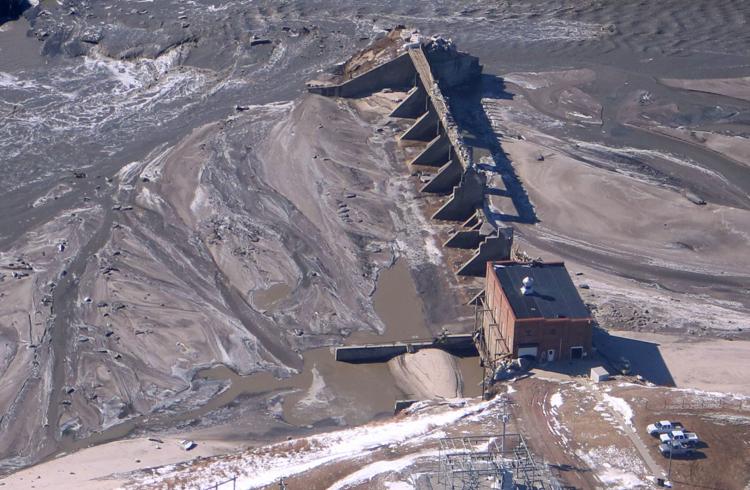 Floodwaters engulf a farm near Missouri Valley on Friday.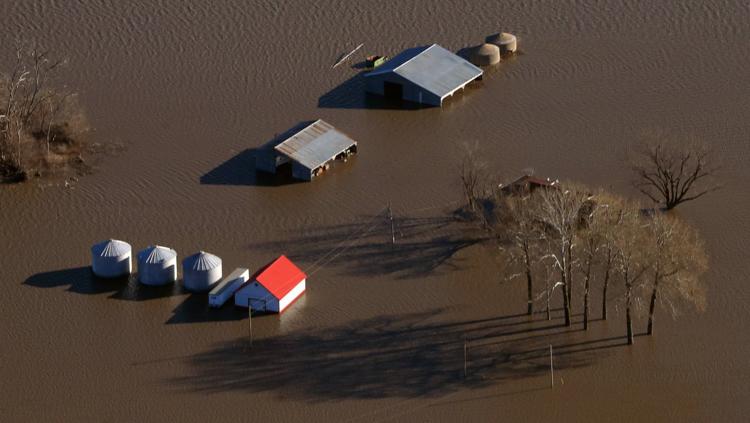 Floodwaters flow over a railroad bridge near Arlington, Nebraska, on Friday.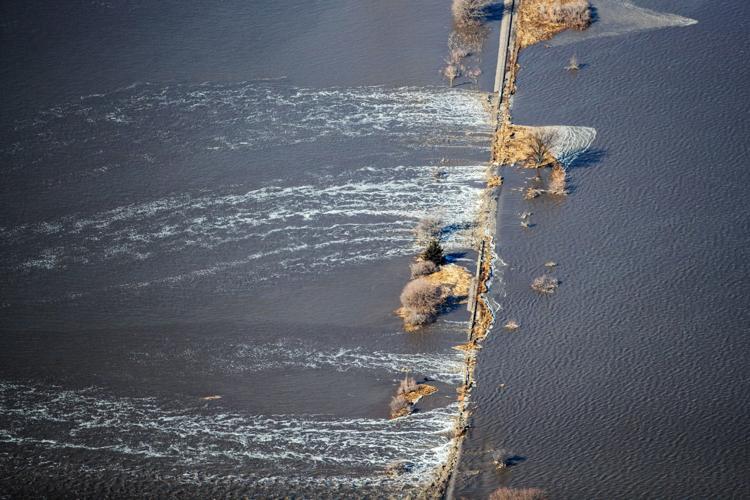 Floodwaters make their way into North Bend, Nebraska, on Friday.
The Elkhorn River encroaches on Waterloo on Sunday.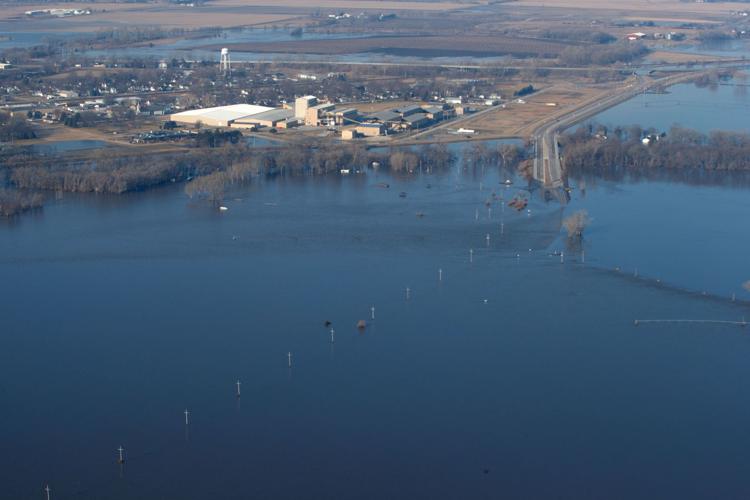 A portion of Highway 92 has been destroyed by floodwaters in western Douglas County.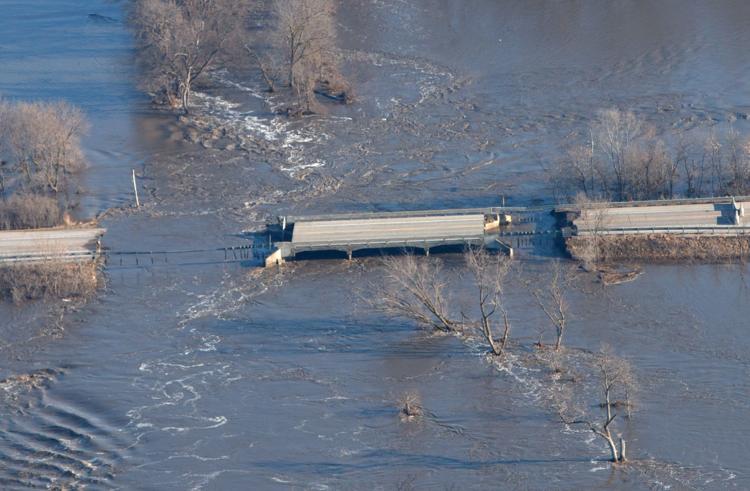 The Elkhorn River has covered several parts of western Douglas County.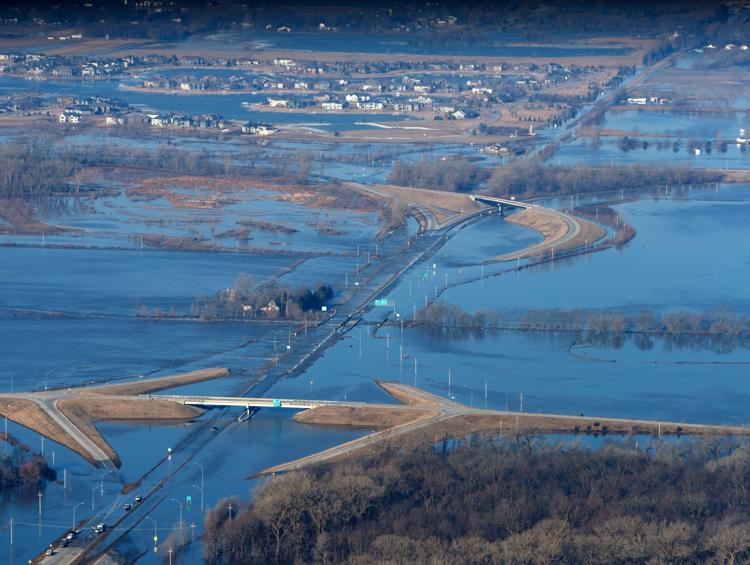 A levee breach is shown on the Platte River near Ashland on Sunday.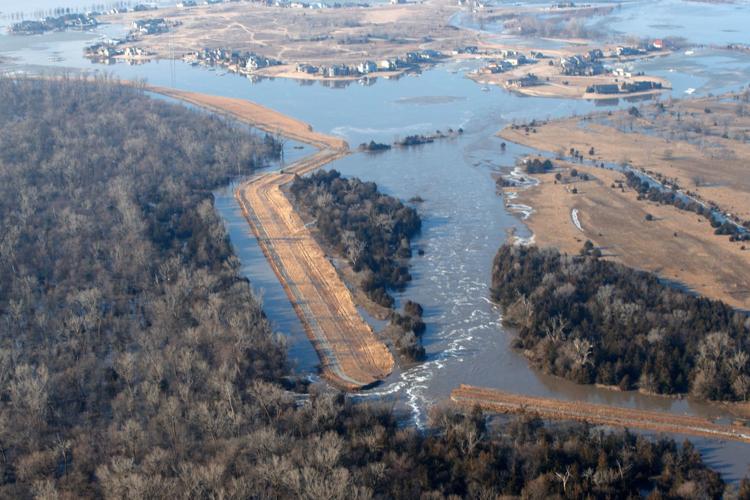 Valley is shown inundated by floodwaters on Sunday.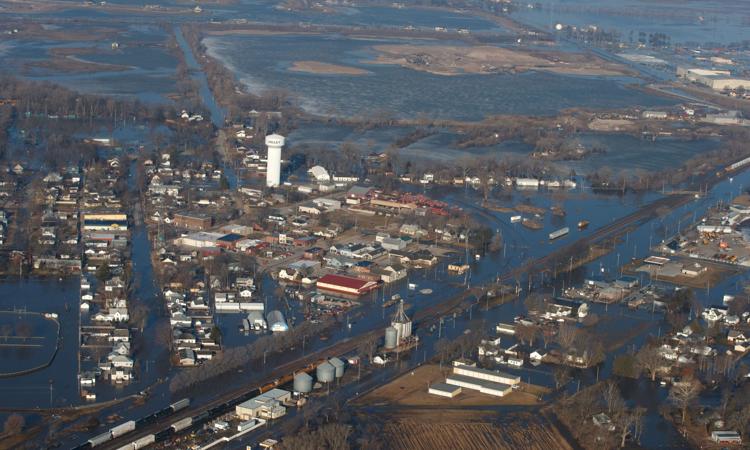 An aerial view of Missouri Valley near the Interstate 29 exit on March 15.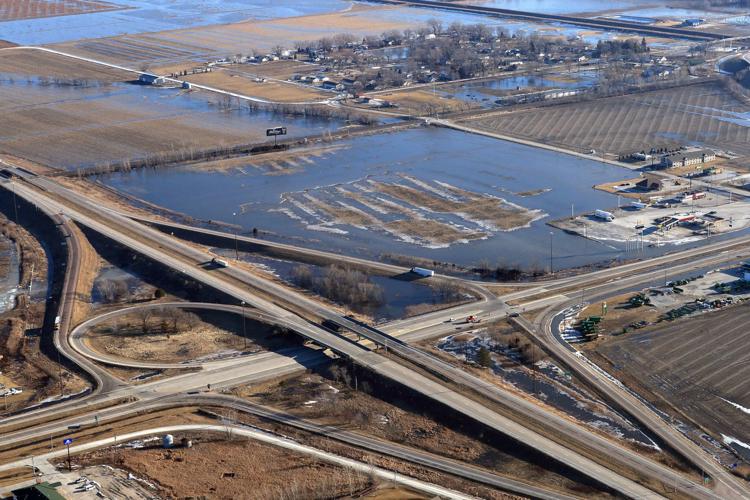 An aerial view of Missouri Valley as floodwaters continue to impact the area on Friday.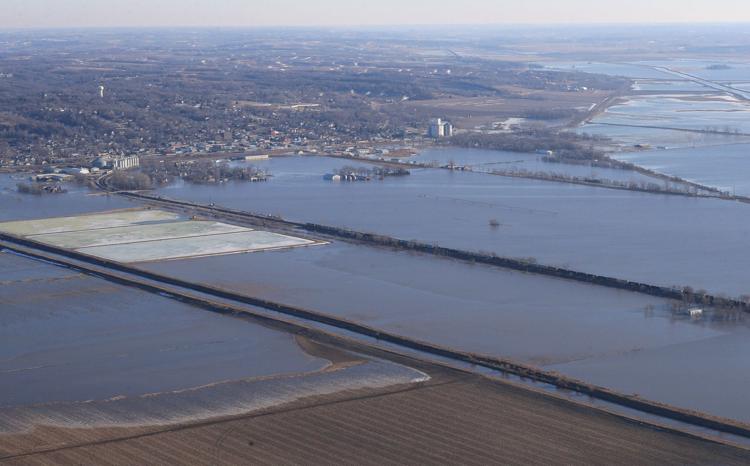 A house is surrounded by floodwaters near Waterloo, Nebraska, on Friday.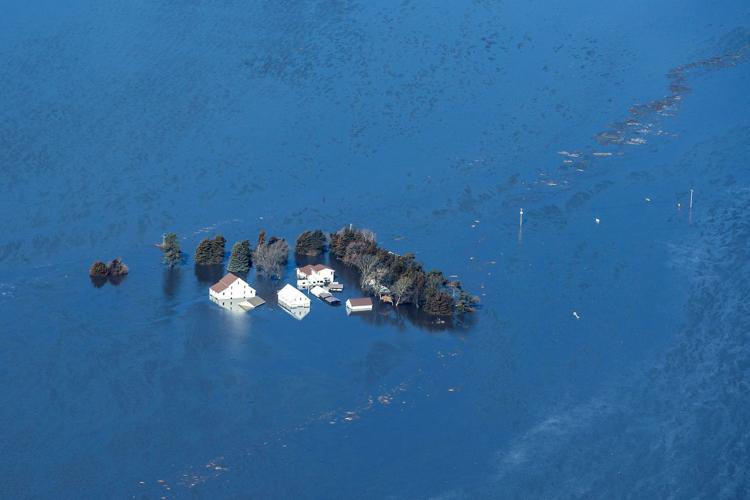 Floodwaters envelop King Lake, Nebraska, on Friday.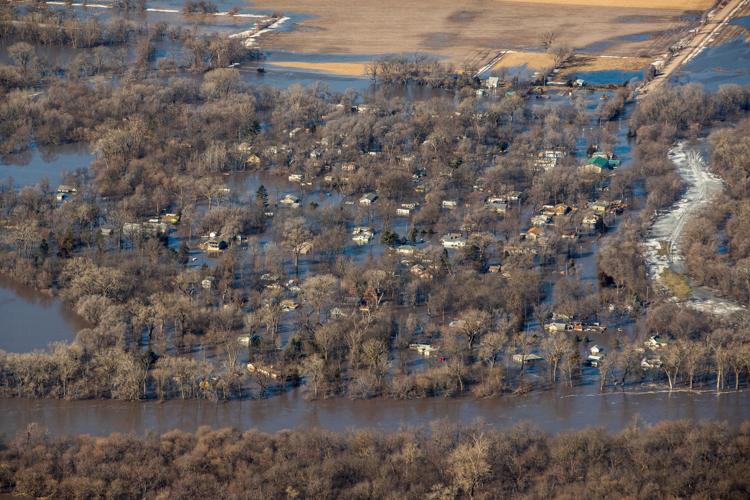 Floodwaters swallow the town of Rogers, Nebraska, on Friday.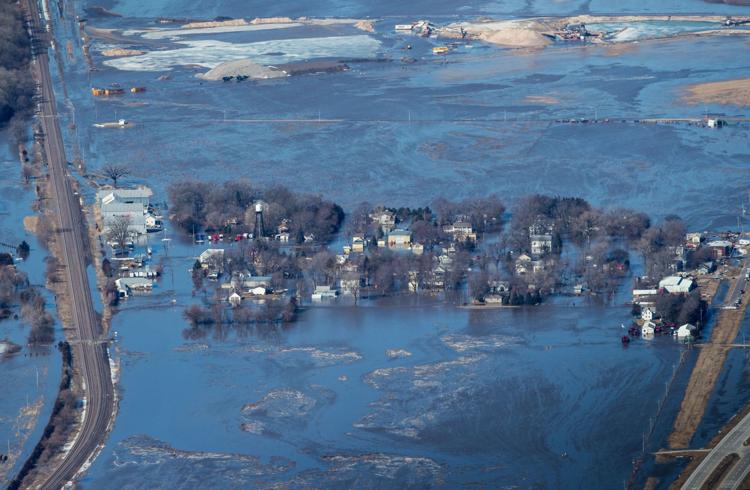 Water recedes in the town of Niobrara Neb. The highway showing is Hwy 12 and Hwy 14 Junction.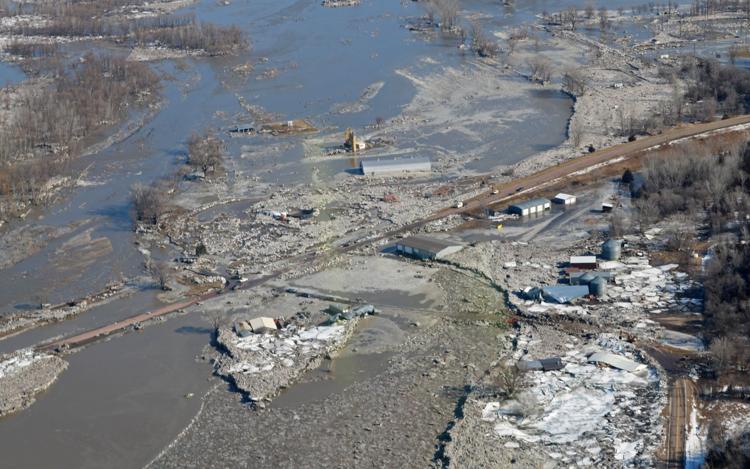 The Morman bridge on Highway 12 between Niobrara and Niobrara State Park was wiped out by a flood.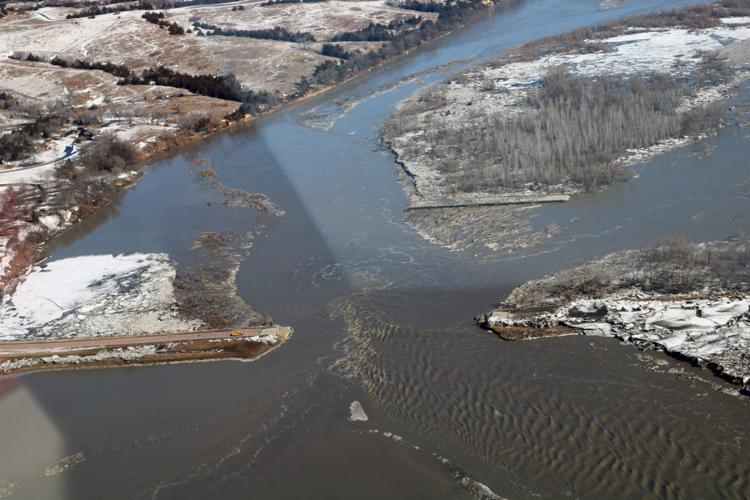 A train is stopped on flooded tracks next to the Platte River near Cedar Creek, Nebraska, on Friday.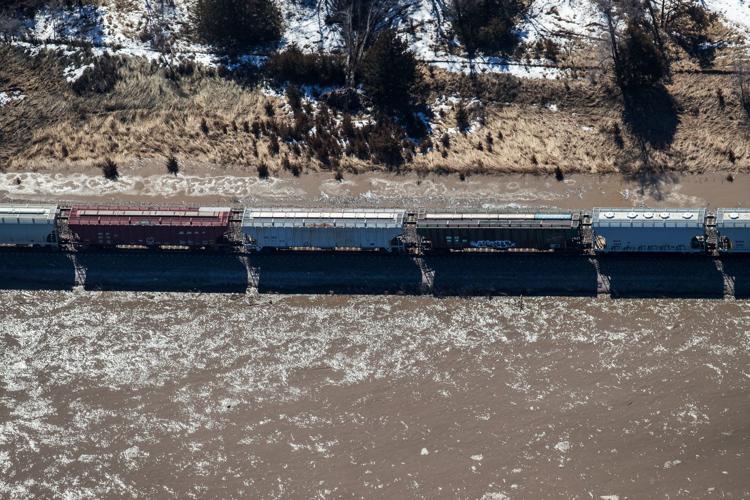 Interstate 29 surrounded by water near exit 56 in Council Bluffs, which is part of a section that is closed due to flooding on Friday.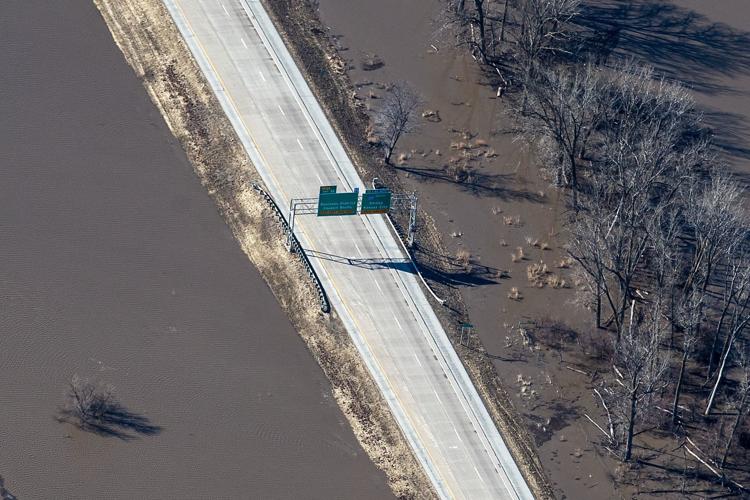 Highway 75's northbound lane is closed because of flooding near Merritt's Beach RV Park on Friday.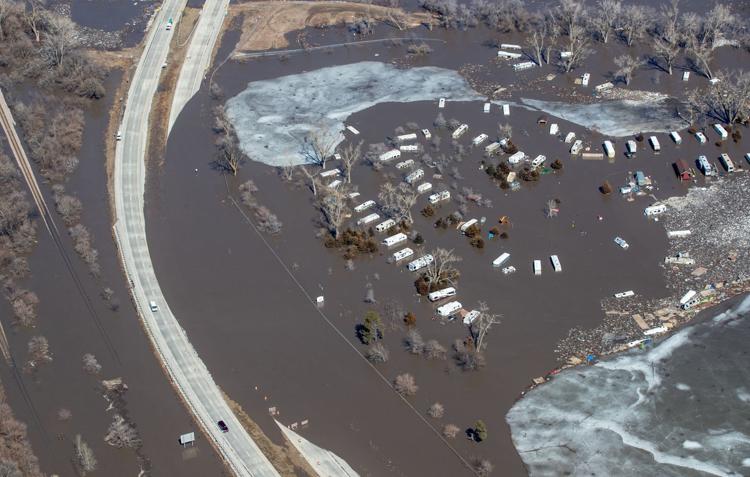 A Nebraska National Guard helicopter flies over areas flooded by the Platte River near Columbus, Nebraska, on Friday.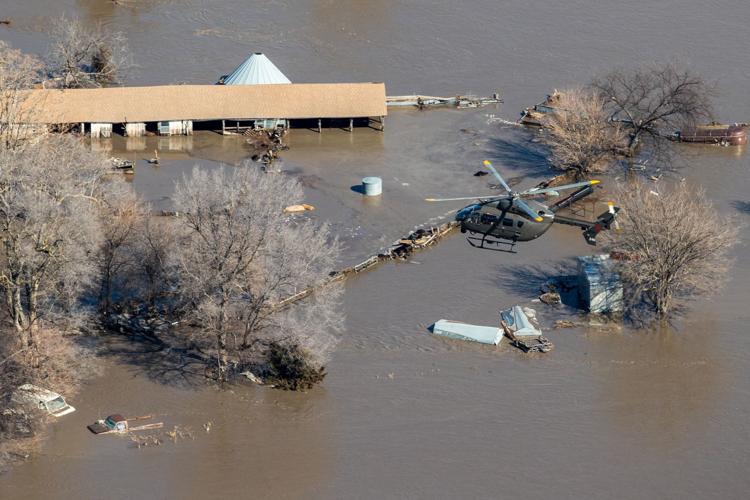 Highway 81 covered in floodwaters south of Columbus, Nebraska, on Friday.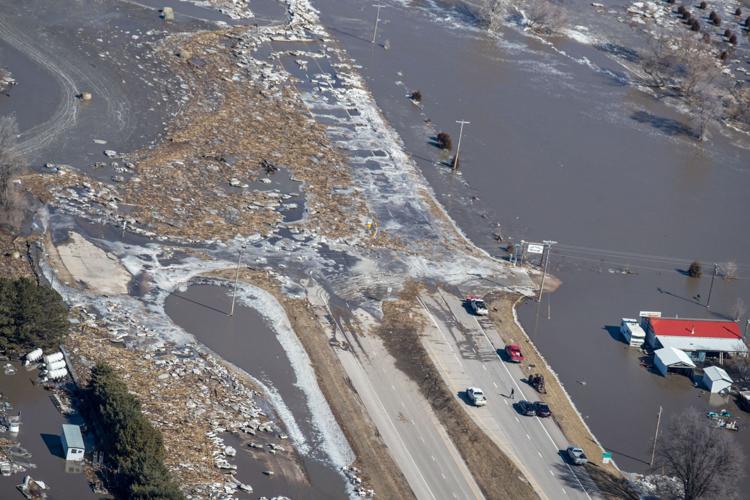 A Nebraska National Guard helicopter flies over flooded Waterloo on Friday.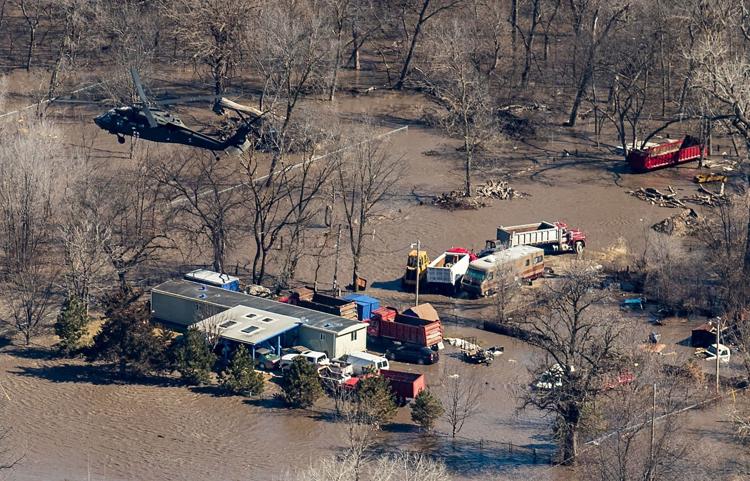 Cars drive drive across a flooded Platte River on Highway 50 just north of Louisville.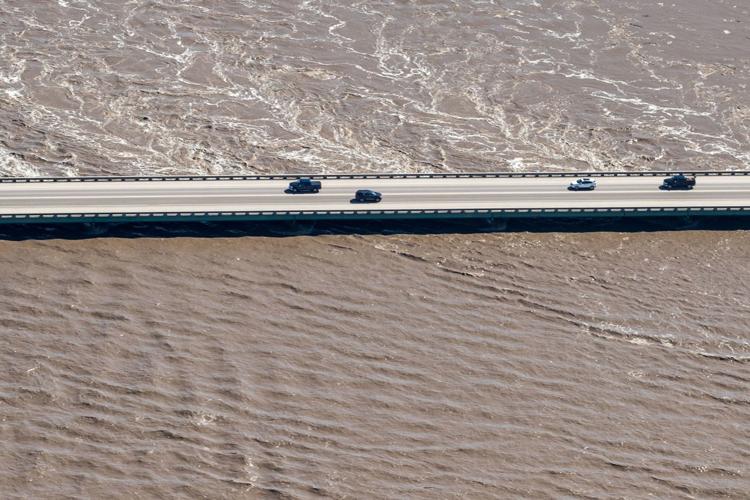 Water covers a road near Valley, Nebraska.
A westward, aerial view of a flooded Tom Hanafan River's Edge Park on Friday.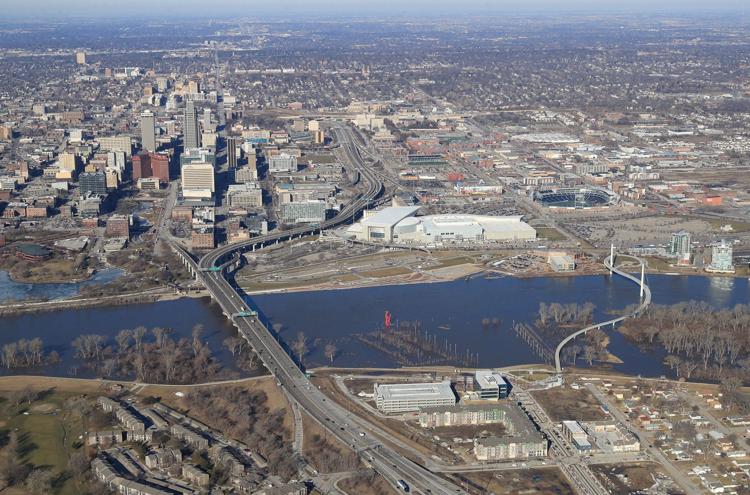 An aerial view of Missouri Valley, Iowa, as floodwaters continue to impact the area on Friday.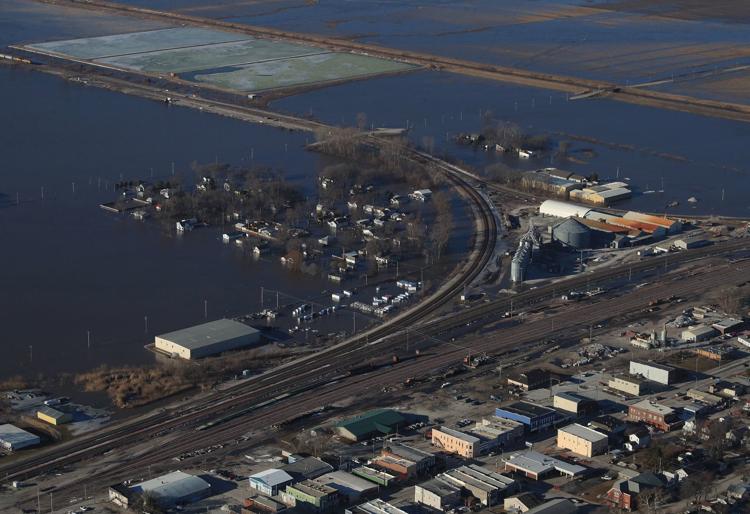 The National Weather Service in Valley, Nebraska was evacuated due to flooding.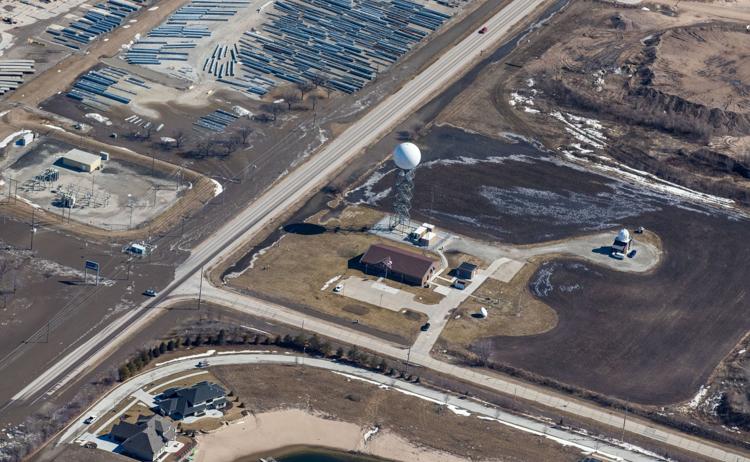 A truck drives through a flooded road near the Platte River.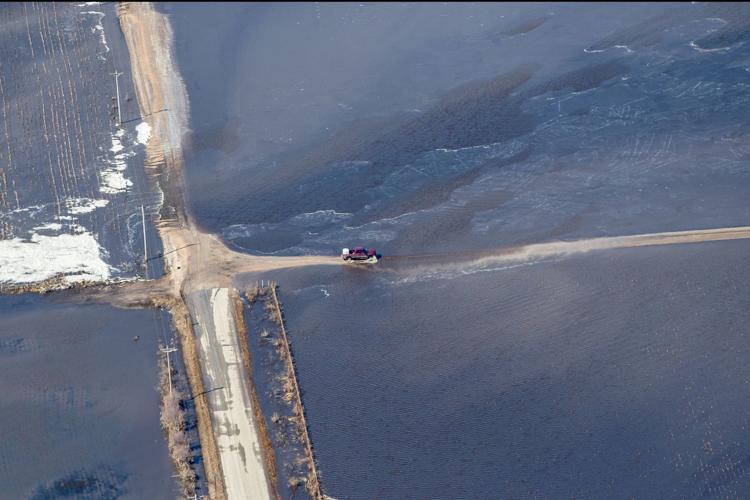 Land into water. Dreams into nightmares. A normal week — last week — dissolving into this one, when Shawn and Andrew are trying to clean with donated supplies and worrying about the damage, both the kind you can see and the kind you can't. They are wondering if they will ever move back into their little white home on the water. They are wondering if they should.
"My dream home," Shawn says, smiling thinly as he points toward the little double-wide trailer on Bellwood Lakes.
The yard is filled with so many ice chunks that the neighbors are calling it "Glacier Park." The carpet and insulation is ruined, the garage foundation is shaky and they don't know how much flood insurance will cover.
Zoom out from Shawn and Andrew, and you can see that untold thousands of people in and around Columbus face a similar burden — especially those who built their homes, businesses and lives near the Platte or the Loup Rivers.
Farms in every direction lost roads, fields, farmhouse basements, livestock. Rushing water simply tore apart several homes on the Loup River west of town. The businesses near the confluence of the Loup and Platte just south of town completely disappeared underwater last week before re-emerging as waterlogged shells of themselves. Highway 81 finally opened Monday, five days after the flooding, but only on one lane, meaning that miles-long lines of cars waited for two or three hours to drive north into town.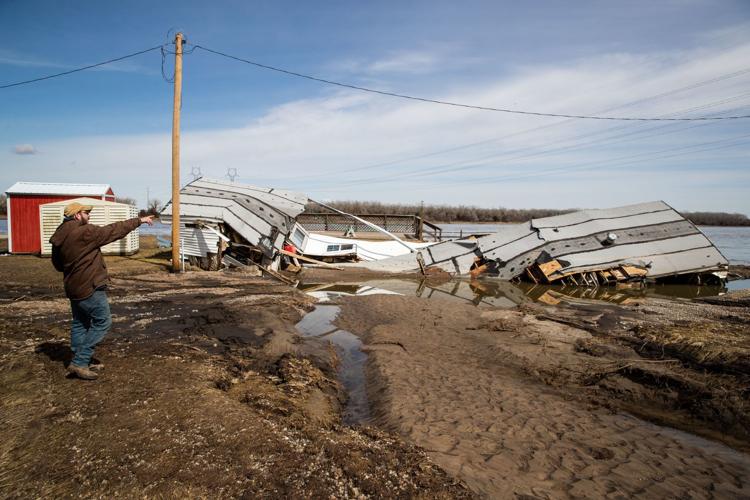 Two of Nebraska's three flood-related deaths happened in the Columbus area. The town remained so cut off Monday that flower shops struggled to get flowers shipped in for the funerals.
Residents of one of the area's priciest neighborhoods, Lake Okanee, still couldn't drive into their neighborhood this week, instead walking in to check on homes that barely escaped intact. And residents of Bellwood Lakes, a mix of summertime trailers and working class homes southeast of Columbus, had it much worse. Structures are flooded, broken or, in one case, simply gone.
"It really isn't one neighborhood that is totally affected," says Tim Hofbauer, Platte County's weary emergency management director said Tuesday morning. "It's spread out over multiple dozens of miles. ... A lot of these places we haven't even assessed, because we can't get to them yet."
And zoom out further to see this is just one troubling spot in a whole ocean of trouble. There is North Bend, where the town sign proudly proclaims "Home of Marg Helgenberger," of "CSI" fame, and where the Main Street flooded last week. On Monday residents pumped out flooded basements, continue to live in nearby shelters and wondered when they could flush a toilet or take a shower again.
There is David City, on high ground and thus not flooded, where Kelcie Keeling, the county chamber of commerce director, started an impromptu donation drive that by Tuesday filled the local county fair events center with tables of bottled water, paper towels, blankets, clothes and every other imaginable necessity. The supplies are open to anyone in eastern Nebraska affected by the flooding.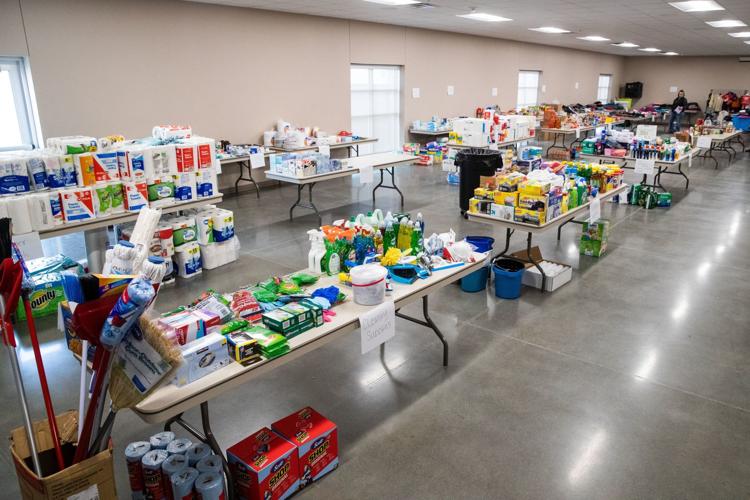 "I have heard stories of people evacuated with the clothes off their back, stranded, helicoptered out," Keeling says. "Some of them come in in a state of shock, not sure what they do. There have been a lot of tears."
Zoom out further still, and the scope of this disaster is hard to fathom.
Nebraska has 93 counties. As of Wednesday evening, a staggering 79 of those counties have declared emergencies. Residents from at least 29 counties have been ordered to evacuate, which may not count all the places where Nebraskans ran from the floods all on their own.
But zoom back into just one such evacuated couple, Andrew and Shawn, to truly understand the depth and complexity of the loss being faced by so many Nebraskans right now.
They met and fell in love in Lincoln. Shawn's apartment lease ran out. Andrew convinced him that they could make a different life together along the banks of the Platte. And they did, Shawn said, and for years it worked. Their neighbors got used to the idea of an openly gay couple in this rural area near Columbus. And the Platte itself became a constant calming presence in their lives, something close to a friend.
Sign up for The World-Herald's afternoon updates
Receive a summary of the day's popular and trending stories from Omaha.com.
Andrew fished in it nearly every day after work. When it got warm, Shawn put on his trunks or rolled up his pants and took the two dogs, Oxford and Brad, for a nightly walk in the water.
It felt like he and the Platte were on the same side, Shawn says. Until last week, when it nearly killed him.
"As stupid as it sounds, I want to say I feel betrayed," Shawn says. "You can't be betrayed by a force of nature. That's stupid. But I do."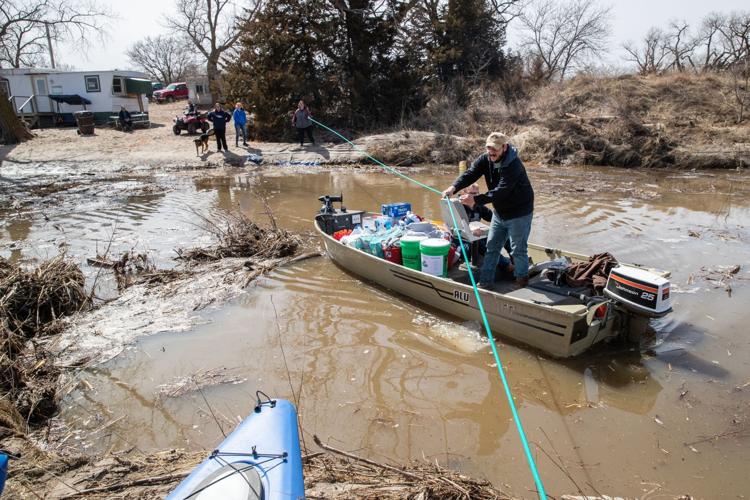 Life in Bellwood Lakes remained topsy-turvy, nearly unrecognizable, when I visited this week. The only way to Shawn and Andy's house is to take a boat across a flooded canal and then walk through muck while dodging craters and the slowly melting ice chunks that sit where the road once stood. The ominous smell of propane leaking from busted tanks fills your nostrils. A neighbor's dump truck teeters precariously on the newly expanded bank of the Platte. Cars are tipped over or half-buried.
An impossibly large Asian carp lies lifeless in a neighbor's yard, another casualty of the land that turned to water and then turned back to land.
At the little white home of Andrew Bauer, age 31, and Shawn Shonerd, 28, it's too soon to say if a way of life will be ended by the floods of 2019, too. The couple put years of work and all their savings into the property. Even if they find the money to rebuild, they aren't sure they can handle the idea of starting over here, withstand the fear that another flood could wash it all away yet again.
But the pull of the Platte is strong, too. Maybe they will rebuild and return. Maybe life will return to normal. Maybe they will spend lazy July nights wading ankle-deep in the gentlest river you ever met.
"I just hope it will be like that again," Shawn says. "Someday."