At the end of this long, strange journey backwards into the mists of time, I had only one thing left to do.
I drove to the BP gas station at 50th and Dodge. I got a dollar in quarters and put the quarters into an antique machine I had no idea how to use. The machine ate my dollar. I cursed. I went inside and got another four quarters. I tried again.
The machine started ringing.
"Hello?" the familiar voice on the other end said. But he seemed so far away, so tinny and hollow, like he was speaking from a faraway tunnel. Like he was speaking to me from the 1970s.
"Hey, Dad!" I said. "I'm calling you from a pay phone."
The line went silent for one second, two seconds, three.
"Why?" my father finally asked.
Pops, I'm so glad you wondered.
For the past few months, I have been periodically wandering the streets of Omaha in search of the pay phone, that most elusive of 20th-century species, that tech version of the ivory-billed woodpecker or the Himalayan snow leopard. I have also been calling city, state and federal agencies, emailing phone company spokespeople and asking them what seemed like a trio of simple questions.
How many pay phones are there in Omaha? Who owns them? And why do they still exist at all?
I think I asked these questions because of a lingering fascination with our past. Not the shiny past of great speeches by great Americans in history books, in this case. More the past of typewriters or beepers or subscribing to Columbia House it they sent you six free CDs. It's the past of great technological invention, of devices that became absolutely essential to our lives, until the present rushed right by them and — whoosh! — suddenly they were relics.
When I asked my pay phone questions, the answers proved as elusive as that aforementioned snow leopard. No one truly knows the number of working Omaha pay phones, in part because they are vanishing so fast that it's impossible to keep track. Additionally, no one is really trying. (More on that later.)
State and city officials don't know who owns and operates Omaha's pay phones. CenturyLink, a local telephone provider, does know but isn't telling. (More on that later, too.)
And finally no one I talked to seemed to have a good grasp on why pay phones still exist in Omaha. They pointed to the low cost of keeping them in place. They pointed out that, while surveys show that nearly every Nebraska adult uses a cellphone, the poorest and most desperate among us still might occasionally need to make a 50-cent local call. Mostly, they just verbally shrugged and said that soon — maybe really soon — they won't exist at all.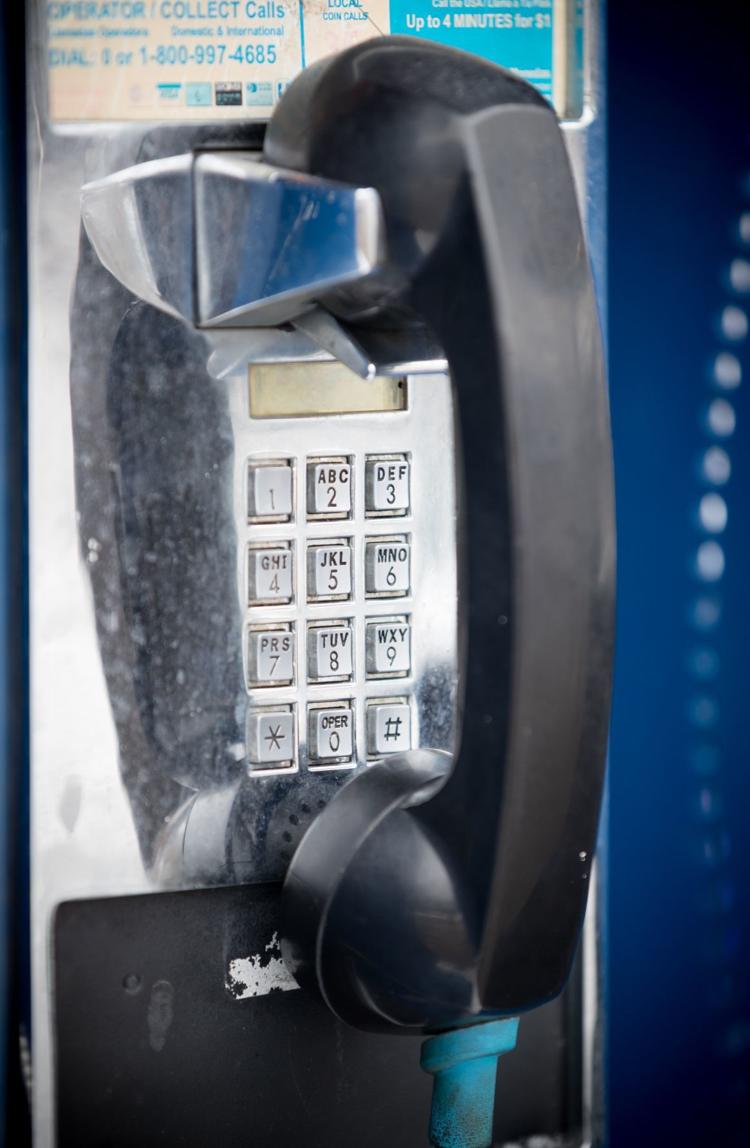 "It's not a growth business, that's for sure," said Scott Morris, a senior adviser at Windstream, the Arkansas-based telecommunications company that provides phone service to much of southeast Nebraska, including Lincoln and some Omaha suburbs. "It's a bit of an anachronism."
Windstream, which appears to be the largest owner and operator of pay phones in Nebraska, helpfully illustrates just how fast these things are disappearing.
The company last July owned 564 Nebraska pay phones inside a massive area that stretches from Hastings, through Lincoln and all the way to the Iowa border.
By the end of the year — only five months later — that number was down to 499, Morris said. It's going to drop far more this year, as Windstream does a national review and eliminates unused pay phones.
Other numbers I received seemed almost as outdated as the pay phone itself. The state of Nebraska had 1,150 pay phones total in 2016, says the Federal Communications Commission. But trust me: That number is way high for February 2018 when you consider that the state has been shedding several hundred pay phones each year, the FCC says.
The best estimate for the Omaha area — 98 pay phones — is also way high, as it comes from data collected by the Nebraska Public Service Commission in 2016. The commission has no more current info on the number of Omaha pay phones and nothing on who owns and operates them, said spokesman Cullen Robbins.
CenturyLink doesn't own or operate any Omaha pay phones, having sold off its last five a few years ago, a spokeswoman told me. But, because they keep customer information private, they wouldn't tell me who actually does own and operate them.
Fine, I thought, and got into my car. In the past few weeks, I have covered more than 60 miles of Omaha roadway, searching for pay phones. Spoiler alert: There aren't many.
I found two on Dodge Street, at gas stations. I found two more on North 24th Street, only one of which worked. I found three more scattered in South Omaha and Bellevue. I sat at many of these pay phones for creepily long periods of time. No one ever used one.
There are none at Westroads Mall, at least not in the spot where my wife, Sarah, an Omaha native, remembered them. There are none at the City-County Building — they tore those out years ago. There are none at many of the places where Omahans remember them, because people kept telling me the location of a pay phone and then I would drive there and ... no pay phone.
I found markings on several of the existing pay phones indicating that they are owned and operated by a company called WiMacTel, a Canada-based telecommunications company that actually changed its name to viiz communications not long ago. The very friendly company operator directed me at least six times to Charlie Anderson, the company's senior vice president in charge of marketing. I called Anderson and left messages for a long period of time, wondering why a company would invest in Omaha-area pay phones in 2018. He never returned those calls.
So at the end of this odd and not-entirely-satisfying pay phone journey, I had to do one final thing. Make an actual phone call on an actual pay phone. Like many 30-somethings, I hadn't done this since before I hit puberty. I do have a vague recollection of dialing my parents from the lone pay phone in my hometown of Red Cloud.
Like any adult in the age of cellphones, I have only a few phone numbers memorized. Three, actually: Sarah's and my parents'. I picked the person most likely to pick up a random number. Sure enough, Dad picked up.
We chatted for a few minutes as I stood in the gas station parking lot, getting sidelong glances from Omahans filling their tanks.
We remembered the location of Red Cloud's pay phone: In an actual phone booth (?!) next to the insurance agency, which my father informed me used to be the phone company. He also informed me that my great-grandmother once worked at that phone company.
We both commented on how weird our voices sounded. I don't know if you remember the connection on these things, but I think "underwater cavern interrupted by short bursts of static" does a decent job of describing it. And then, as we switched to other subjects, a robot voice came onto the line and gave me harsh instructions.
I had only inserted a dollar. That gets you but a scant four minutes of long-distance telephoning.
I need to go, I told my father from one of Omaha's last remaining pay phones. Time's up.