Feroz felt different when he awoke. He opened his eyes and stared up at his Omaha bedroom ceiling and realized that the heat boiling inside his chest for years — this fear that sometimes felt like it would burn a hole through his aorta — had cooled. Dissipated.
He lay there, and he looked up through the predawn darkness, and for the first time since he could remember, Feroz Mohmand felt different.
He felt calm.
"I'm a free man on the earth," Feroz whispered to himself as G slept beside him, and their two boys slumbered in the next room. "I am a U.S. citizen."
Not so long ago, Feroz Mohmand was an Afghan serving as an aide to Afghan President Hamid Karzai.
His wife, Gharghashta "G" Katawazai, held an even-more high-profile post. She was the youngest woman ever elected to Afghanistan's Parliament, a leader fighting for things like girls' education and women's health care in parts of the country where the Taliban's ideas — and in many cases, the Taliban themselves — still held sway.
All of this made Feroz and G one of Afghanistan's youngest power couples. It also placed targets squarely on their backs.
Sign up for World-Herald news alerts
Be the first to know when news happens. Get the latest breaking headlines sent straight to your inbox.
They survived too many death threats and assassination attempts to count. One such attempt, meant to kill G, instead claimed the lives of two of her bodyguards, who also were the couple's longtime friends.
After G gave birth to their eldest son, Fahd, he was nearly kidnapped from his Kabul day care.
And that all happened before Feroz and G learned of a 2012 plot to kill Americans. They reported that plot to officials inside the U.S. Embassy. When I originally wrote about Feroz and G, two high-placed U.S. officials — one in the military and one a diplomat — confirmed that plot. They also told me that the couple's act most likely had saved American lives.
After they did this, the Afghan couple's own lives were very much in jeopardy. The couple fled from Afghanistan with Fahd, taking only money and the clothes on their backs. They lived in hiding in Turkey. They applied for and received political refugee status in the United States. And then they bounced around the United States, working in hotels and at fast food chains.
By 2016, they were settled in Omaha, where G — once the youngest member of the Afghan Parliament — worked for a time at the checkout counter of a west Omaha Home Depot.
They were safer. But they did not feel safe, Feroz and G say.
They didn't feel truly safe because they were not yet fully American.
"I was just so worried," Feroz says. "Every day I would step out of my own home, and I would think, 'I'm not a citizen. Anything can happen. What if they kick us out? What will happen to us if they send us back to Afghanistan?' "
Feroz contemplates this for a moment and then answers his own question.
"We would disappear from the airport. The end."
So the couple waited nearly five years after entering the country, as U.S. law requires, and then scrounged together the more than $2,200 needed to apply for legal citizenship for Feroz, G and their eldest son. (Their youngest was born here and is thus already a U.S. citizen.)
They filled out long forms in their second language, worried that one misstep could land them in bureaucratic purgatory and delay their applications.
They were fingerprinted, and background-checked again and again, and you darn well better believe that these checks caused the fear to boil inside Feroz's chest. How do you properly explain their Afghan past to a U.S. immigration official? How do you do it in a way that creates no red flags and also no red tape?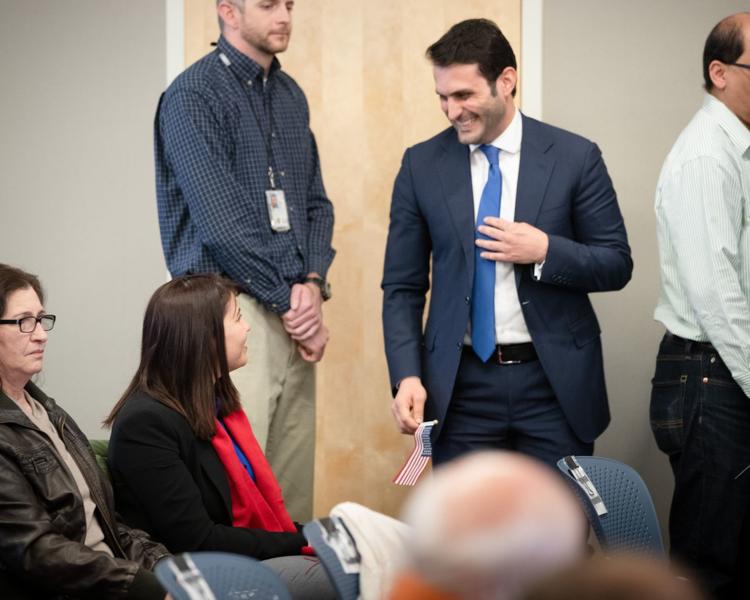 And in the weeks preceding their test, they studied.
The difference between the Declaration of Independence and the U.S. Constitution. The three branches of government and their powers. American history starting in 1776 and leading to the present.
Fahd, who is in fourth grade now and studying the U.S. government in social studies class, helped his parents study, throwing up his hands in mock disgust when they missed a question.
If you think that means the test is simple, take a moment here and answer the following questions without consulting Google: Who becomes president if the president and vice president are both unable to hold the office? How many amendments are there to the U.S. Constitution?
(The answers are the speaker of the House and 27 amendments.)
The night before the test, Feroz did not sleep. G tossed and turned, trying to keep Thomas Jefferson and James Madison correctly labeled in her mind.
They got dressed early and drove oh-so-carefully to the test site — even a traffic ticket, Feroz says, could derail their citizenship application.
Separated into different offices, they answered more background questions and took their tests.
Feroz got so nervous that when he was asked how many U.S. senators there were, his brain seized. He knew there were 100. What he momentarily forgot was how to write the numeral 1 in English.
But he remembered — they both did — and soon they were back in the waiting room, grinning silly grins and awaiting the afternoon ceremony.
They had texted the news to a large group of friends, a ragtag group of Americans who began to arrive to watch the ceremony as the clock neared 2 p.m.
Feroz's boss and co-workers at AOI Corp. in Omaha, where he works in information technology.
The woman who served as G's sponsor when she visited Omaha long ago as part of a UNO program that brought bright young Afghans to study here.
A rabbi the couple have befriended.
Their friends watched as Feroz and G squirmed on hard chairs in the ceremony room. They stood for the "Star-Spangled Banner." They put their hands over their hearts and said the Pledge of Allegiance.
It's hard for us to understand what this moment meant, G thinks, hard to understand for Americans who have always been so.
A few weeks ago, Americans grabbed a Starbucks and then went to their polling places, safe and secure as they voted for a Republican or a Democrat or whoever.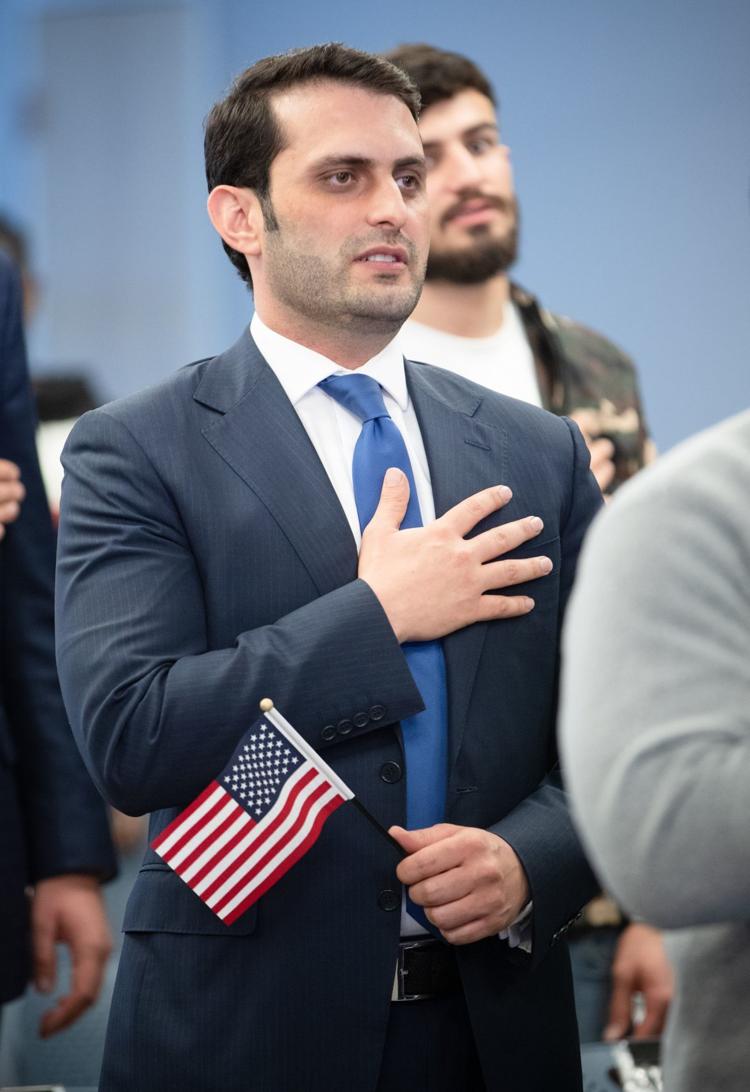 G points out that, in Afghanistan, people are routinely killed for exercising their right to vote.
During the ceremony, G thought about her mom back in Afghanistan. She got sick a few years ago. G couldn't go back to Afghanistan because of the danger and because she didn't know if she could re-enter America.
Her mom died. G couldn't attend the funeral.
She thought about that, and she thought about her family's journey to Omaha, and she cried so hard she didn't think she could ever stop. This woman who was once one of Afghanistan's most famous female leaders hopes to work for the U.S. State Department some day. She can, now that she's a U.S. citizen.
"It has not been easy to be a refugee," she says. "But now it is like you are newborn. A newborn in a new world."
Feroz, the man who was once a top aide to Afghan President Karzai, may run for elected office in the United States one day, he said. He has some ideas about how to bring Americans together. He has some things he would like to help Omaha and Nebraska accomplish.
Last week, after waking in the still hours of the early morning — his first morning as a U.S. citizen — Feroz did something oh-so-American after he stared at the ceiling and felt newly free.
Feroz has been watching President Donald Trump's Twitter feed since 2016. He frequently disagrees with the president, but he has never said anything in response. He was scared to do so.
So the first thing Feroz Mohmand did after waking on his first morning as a U.S. citizen was roll over and grab his phone.
He tweeted back at the president of the United States, to tell him that he disagreed with him.
Maybe that seems trite. To Feroz Mohmand, it seems profound.
"When something is wrong, I want to be a person that stands up and says, 'This is wrong,' " Feroz says. "That's what it means to be American."