You don't need to be a genius to understand how Flywheel is changing Omaha. You don't even need to fully grasp what the Omaha tech startup actually does.
To understand how Flywheel is changing things here, all you really need to do is walk in its downtown Omaha front door.
Once inside, you will find all the stereotypical trappings of a Silicon Valley startup: a fridge filled with free La Croix and craft beer; a dog named Sharky joyfully roaming the workspace; a skateboarding half-pipe; even the 37-year-old CEO, Dusty Davidson, who bounded through the office on a recent Thursday clad in sneakers and a black T-shirt reading "Design Matters."
But the superficial stuff obscures what's most striking about Flywheel: the sheer number of employees crammed into every nook and cranny of the three-story current headquarters and spilling into a nearby former grocery store that the company was forced to rent earlier this year.
Five short years ago, this company that sells products and services to web designers had three employees: Davidson and co-founders Tony Noecker and Rick Knudtson.
Now, fueled by millions of dollars in outside investment, the number of Flywheel employees is nearing 200. Most are millennials who on a recent workday made sales calls, did product design and offered online tech support between guzzles of free sparkling water and games of fetch with Sharky.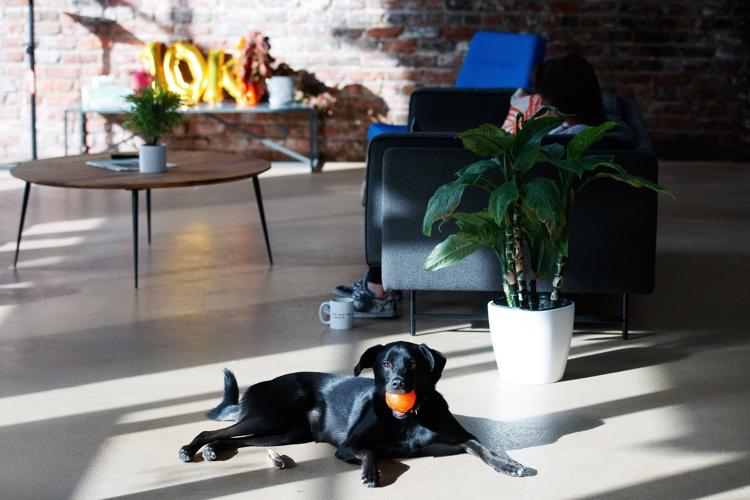 In 2020, the company plans to move to a new corporate headquarters in north downtown — a headquarters roomy enough for hundreds more employees and a move that will anchor the company in Omaha.
"People will often describe this as a niche," Davidson says of the company and what it does. He smirks. "I like to describe our niche as the people who build every website in the world.
"The Internet is a really big place. The pie is growing. The piece of the pie that we can attack is also growing. We're building something big, something impactful. And we're not going to slow down."
Flywheel's aggression is interesting because it's so un-Nebraskan in some ways. Davidson and his co-founders are seemingly succeeding at building a tech business from scratch, turbocharging its growth and then planning to sell it — likely for a whole boatload of money — within a decade.
That's a common move in Silicon Valley, but still uncommon on the so-called "Silicon Prairie."
Flywheel's aggression is also interesting because in many ways it is exactly what Nebraska needs.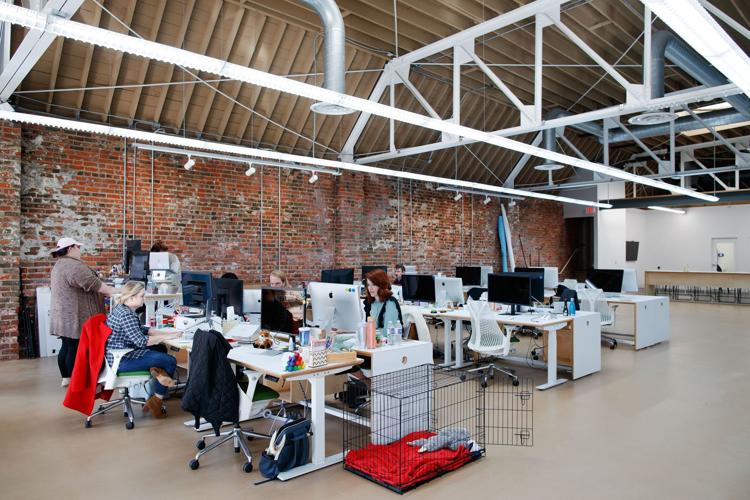 Many of these nearly 200 employees are recent local college graduates who not long ago would have had to move out of state to find a company like Flywheel.
You can't go a week without a Nebraska leader of one sort or another furrowing his or her brow and uttering the dreaded phrase: "brain drain."
We have talked about brain drain for decades. Flywheel, and fellow tech companies like Hudl and BuilderTrend, are actually doing something about it.
"That means more young people stay," Davidson says of companies like Hudl, the Lincoln software startup that revolutionized how football coaches study game film. "It means more people come here. It means more people realize there are (Omaha) opportunities outside the Fortune 500s. And all of that is a great thing for the city."
The Flywheel co-founders weren't necessarily trying to change Omaha when they launched in October 2012.
They thought they had a simple, potent business idea:
Most people who design a website use WordPress. Hardly anyone likes to deal with WordPress' headaches.
Flywheel focused on selling its solution to this problem to designers and ad agencies — businesses that often design hundreds of websites for hundreds of different clients, but want to host those websites under one roof.
Flywheel is that roof. It says it gives those customers a better experience — better design, centralized maintenance of the websites, ease of use, better customer service and better technical support — than those customers could get from a cheaper hosting company like GoDaddy.
Davidson thought this a fantastic idea in 2012. Hardly any Omahan he asked to invest in the company agreed.
They worried: Is the market big enough? Can you attract enough customers? Can you do this from Omaha?
All valid questions, Davidson says. Still: "I like proving them wrong."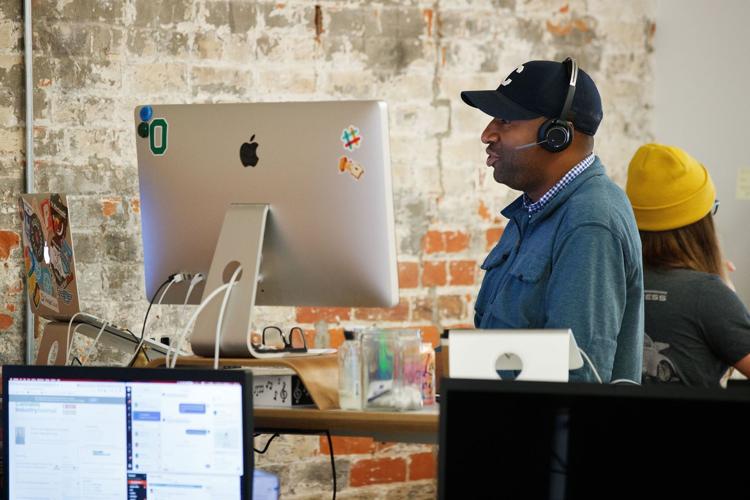 Flywheel got a key round of funding from two Omahans who did say yes, Dr. James and Karen Linder, who then served on the company's board.
"I wish we could say we were so brilliant that we could see the company was gonna grow to 200 people," says James Linder, who now runs Nebraska Medicine. "We didn't. What we did see was the opportunity Dusty was pursuing."
They got millions more from Five Elms Capital, a Kansas City-based venture capital firm that invests in Midwest tech startups.
They started to sell Flywheel to customers. And they started to grow: Four employees; then 14 in 2014, then 35 in 2016 and now nearly 200. The average employee age: roughly 29.
Flywheel brought in nearly $9 million in revenue in 2017, according to figures compiled by Inc. Magazine. That represents an eye-popping 1,445 percent revenue increase in the past three years — a jump that makes Flywheel the fastest-growing company in Nebraska, Inc. says.
Davidson says Flywheel will continue to grow, though the rapid addition of employees may slow a little. The company is now hiring more midcareer employees who have moved out of state to take tech jobs, then returned to Omaha to raise families. It will move into its new headquarters in mid-2020, becoming the anchor tenant in a north downtown redevelopment project meant to house other tech startups trying to become the next Flywheel.
And, in the coming years or months, it seems likely that Davidson and his co-owners will sell to a larger company, completing the circle that happens weekly in Silicon Valley but not so often here.
The clock is clearly ticking. Davidson mentioned the 10-year mark as a sale deadline several times in our conversation, though he pointed out that number is fluid.
He said Flywheel's owners will wait for the right price but also for a buyer who values what Flywheel values, including its Omaha location. The company's founders would likely work at the newly acquired company for some period of time, he said.
Flywheel just turned six. Of the half-dozen companies that do essentially what Flywheel does, the Omaha company is already second-largest.
"We're going to see where it takes us," Davidson said as he sipped on one of the countless Diet Mountain Dews he drinks each day. "As long as there's a big opportunity ahead, as long as there's a line of sight on what the next level is, as long as we're still enjoying ourselves, we're going to keep pushing. We're going to keep building."