Kirk Brown actually winces when I take off my shoes.
We are inside Buck's Shoes in Fremont, which has been selling loafers, heels and sandals to Nebraskans since we drove Model Ts. Brown has agreed to walk me through the process of a true shoe fitting, the kind of experience fast disappearing as local shoe stores are crushed by the behemoths of online shopping.
Buck's, the oldest shoe store in the Omaha area and a pillar of Fremont's Main Street, is the latest casualty. The store will sell its final pair of shoes near the end of April, closing three years shy of its 100th anniversary.
What Brown is about to show me, the old-school way of measuring, stretching, padding and fitting a shoe to a foot, will soon become a memory in Fremont right along with Buck's.
But first I need to take off my Nike Air Force Ones. They are double laced. I struggle for a second and then simply yank them off, still tied.
That's when Kirk Brown winces. This is a man who has spent his whole life around shoes. This is a man who gets a little politely offended when somebody treats their kicks like slop.
"You really shouldn't take off your shoes that way," he says quietly, managing to be both courteous and firm in that distinctly Nebraskan way.
And Buck's, the shoe store Kirk has owned since 1986 — the shoe store that has employed a member of Kirk's family since World War II — is oh-so-distinctly Nebraskan. It's the sort of place we need to mourn when it dies. It is the sort of place we need to fight for if we want to preserve our main streets, and if we want to protect local businesses and our local economies while also making Fremont, Nebraska, feel different from Fremont, California.
In many ways, Fremont's Main Street looks to be doing just fine. On a recent weekday, the restaurants and coffee shops were bustling. The town's seven antique stores have banded together and built a one-stop antique experience that draws people to town from all over, says Shannon Mullen, the director of Fremont's convention and visitors bureau. Many of those businesses are thriving.
But what is disappearing in Fremont — what is disappearing virtually everywhere — is the old bedrock of our downtowns, the brick-and-mortar retail stores. Retailers vacated nearly 150 million square feet of space in 2018, smashing a record set in 2017. Many big chains are in trouble. Many shopping malls are in trouble. And many, many small, independent retailers like Buck's are awash in trouble.
"You can tell when someone hasn't been to a store like ours," Kirk tells me before the shoe fitting as he sits in his cluttered office above the store. On the wall is a photo of Earl Buck, who started Buck's shoes in 1922. There's another photo of F. Douglas Brown, Kirk's father, who started working at Buck's in the mid-1940s and then bought this location in 1964.
"How can you tell?" I ask.
"When we try to physically put a pair of shoes on them, it scares them," he says. " 'What are you doing to me?' they say. They have never had that experience before."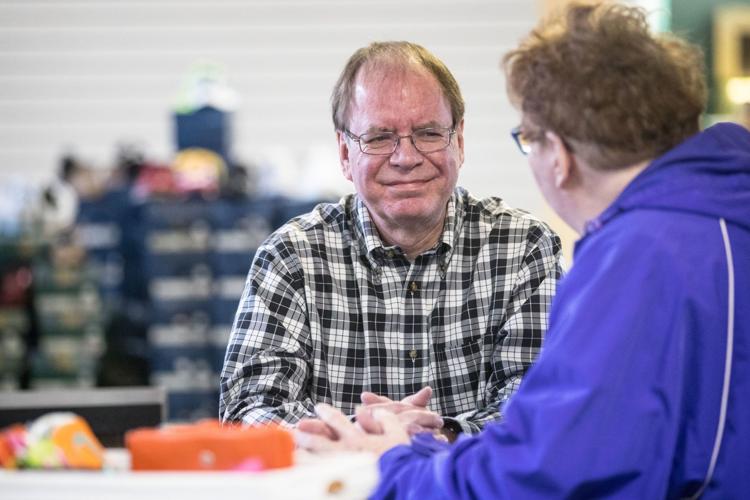 In its day, Buck's was a shoe experience that every well-heeled Nebraskan knew well. Earl Buck grew it from a single Omaha store to one with more than 30 locations across Nebraska, Iowa and Kansas. The store found its niche: high end but not too expensive; a sales staff trained to be wildly knowledgeable and courteous; the sort of place that would do almost anything to make sure you walked out feeling like you had just purchased the perfect shoes.
I'm biased, but that sounds pretty darn Cornhusker.
F. Douglas Brown returned from WWII, rose through the company and eventually took Buck up on his offer to buy the Fremont store. Kirk, the youngest Brown kid, started working in the shoe store at age 12. He sold his first pair of shoes — a pair of heels, he thinks — during the summer sale after he turned 13.
Kirk has worked in Buck's pretty much every day of his life since, if you remove the time he spent at the University of Nebraska-Lincoln. His wife, Mollie, has worked here for years, too.
"I always knew it was what I wanted to do," Kirk says. "It was the family business. I just ... I don't even remember when I first realized I wanted to do this. I always did."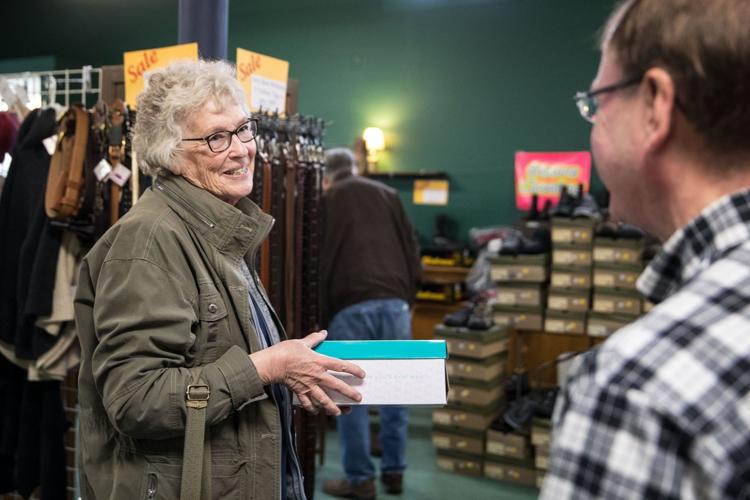 Kirk knows all of his customers' names. He knows who has wide feet, who has skinny feet and which customer has slightly upturned toes that necessitate a gentle stretching of the shoe near the front to make it fit just right. He is a walking, talking encyclopedia of shoe knowledge, but of course would never brag about that.
That, too, sounds pretty Cornhusker, doesn't it?
And this longtime family business hummed along just fine, even as the other Buck's Shoes all closed. It hummed until about 2011, when Kirk first noticed sales slowing. He started to see customers come in, look around, try on a shoe, find the perfect fit and then leave — this is known as "showrooming" in retail parlance. The customer is returning to their couch to order that exact pair of shoes online for a couple of bucks cheaper.
Shoe sales flatlined. Then they dipped. Kirk tried a lot of different things to stay afloat. Sales. Social media ad campaigns. He even tried to throw a Hail Mary pass by opening a west Omaha store that his son and daughter-in-law helped get off the ground. The new store did OK, but sales at the flagship location dipped further.
Kirk denied the reality of the situation for a long time. But then, late last year, he finally made the decision.
It has felt like he's fighting the shoe companies, and Zappos and Amazon, and rising freight costs and potential customers, too. It has felt like a fight he can't win.
"Oh, heavens yes," he says when I ask him if he wanted Buck's to reach its 100th anniversary. His eyes get misty. "We would have done 100 up big."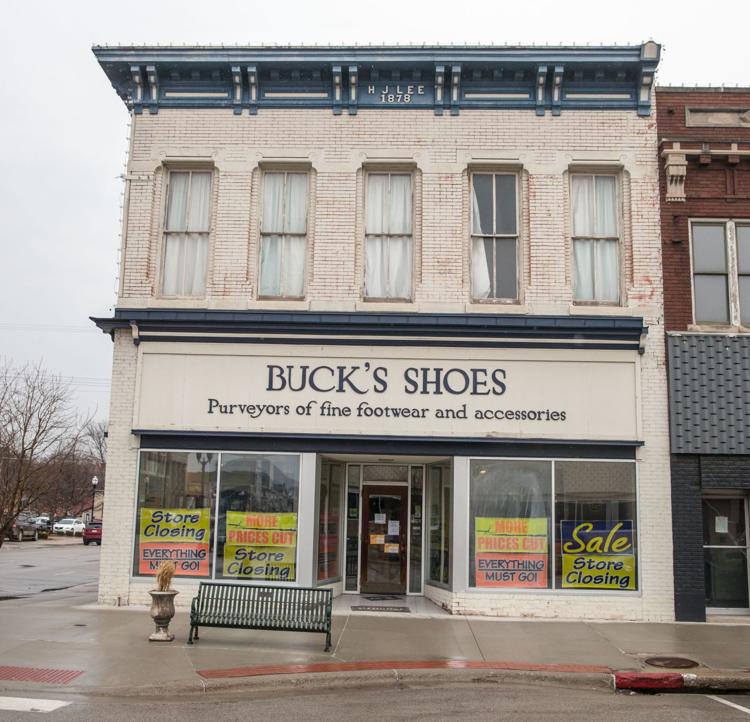 When Buck's is gone, something more than nostalgia is lost. The two stores employ nine people, not counting Kirk and Mollie Brown. They also do business with dozens of regional sales reps now losing an account. There's a whole network of local and regional workers who deliver to Buck's, fix things when they break there, or are employed by another Fremont business that shares business with the shoe store.
"It's a different world with the Amazons," Mullen says. "The playing field simply isn't equal for some of these mom and pops. ... When something like this happens, and we have a gem in our own community disappearing, only then do some realize what we had, what we're losing."
Yes, Buck's could have aggressively courted an online market. Yes, maybe it could have figured out how to be reborn in the new era. But let's be honest: That's a bit like asking a horse to become a zebra.
After I slip off my sneakers and make him wince, Kirk walks me through the fitting process. I learn for the first time that my feet are actually different sizes. I learn about foot width, and which brands might fit that width and how changes to my foot could change my shoe preference in the future.
I don't know this because I haven't bought shoes in a shoe store like this one since I was a kid. I swallow hard and admit as much to Kirk. He nods knowingly.
"We have been getting phone calls, retailers from around the country," says the owner of the area's oldest shoe store. "They are saying, 'that's gonna be me in a couple years.' "
"There aren't going to be many survivors."