Jacob stands there on the stage, shoulders slumped and hands in pockets. He looks alone and exposed and a little terrified, just like the hero of the movie he has watched dozens of times.
The music starts. Jacob begins to sway. He throws his head back dramatically. He begins to dance. He starts dancing the dance.
Did the packed house at the Millard South auditorium know what they were seeing on this April night? Did the hundreds assembled for the Mr. Millard South competition know they were witnessing a stunningly spot-on impression of a two-minute scene from a 2004 cult comedy?
"Some younger people in the crowd probably didn't get it. They probably just thought, 'This dude is up there dancing, it looks really weird, I don't get it,' " Jacob tells me.
"But I think most people got it. I think 'Napoleon Dynamite' is iconic enough that most people knew."
Jacob Marsh is an 18-year-old senior at Millard South. He's a member of show choir and an outside back on the soccer team and a part-time employee in the Fareway grocery store's produce department.
But, for a month this spring, when he wasn't practicing soccer or chopping broccoli, Jacob spent every spare moment in his west Omaha bedroom. He watched the two-minute video clip from a 2004 cult comedy again and again. He watched, took notes, and danced Napoleon Dynamite's dance.
"The hip thrust … that's the part I had to work on the most," Jacob says. "Hip movement isn't really my thing."
I watched the video of Jacob dancing on Twitter recently, becoming one of 21,000 people who have now viewed his hip-thrusting homage to Napoleon Dynamite on social media.
I was struck by how good it is, how accurate, how he keeps his face properly slack and his shoulders properly slumped as he fires through the dance's completely bonkers choreography.
I also wondered: How does a high school senior know anything about Napoleon Dynamite?
For those unfamiliar, the movie is an oddly captivating 2004 comedy about teenage alienation, high school loserdom, secret ninja moves and an idiot llama named Tina.
Its climactic scene arrives when the film's perpetually slack-jawed, emotionally stunted teen hero, Napoleon, walks onto a stage to promote his friend Pedro's candidacy for class president. He does so by performing a dance that's bewildering, baby giraffe-like and oh-so-sassy.
For people my age, the movie is a high school or college hallmark, an extreme example of our own teenage alienation.
But Napoleon Dynamite came out when Jacob was 4. He explained that his parents, Amanda and James Marsh, turned him and older brother Andrew on to the movie when they were pretty young. He has liked it ever since.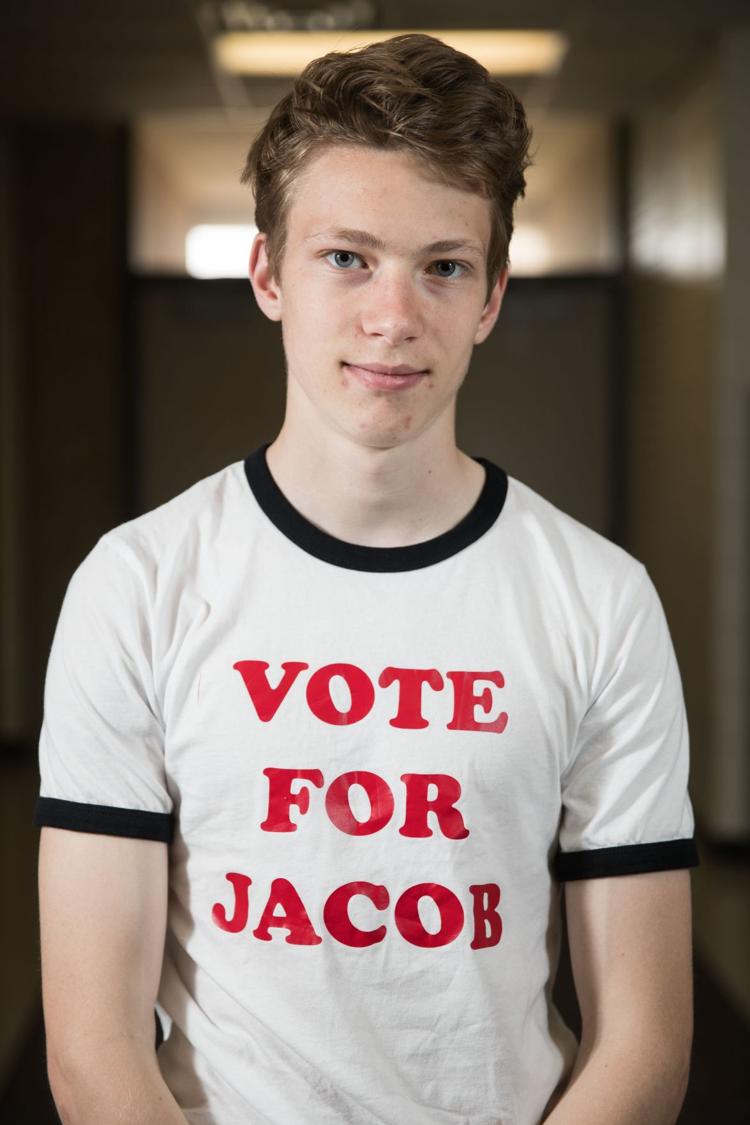 This year, Jacob wanted to enter Mr. Millard South, a tongue-in-cheek pageant. He couldn't decide what to do for the talent competition. Then, one morning, it came to him.
He would do the Napoleon Dynamite dance.
"It was very early in the morning," he says. "When all great ideas happen."
There were at least two problems with this great idea.
No. 1: He actually had to learn the Napoleon Dynamite dance.
Problem No. 2: He had less than a month.
That's why he locked himself in his bedroom and studied the movie's two-minute scene like a JFK conspiracy theorist watches the Zapruder film.
He got out a notebook and he wrote down every move and when it happens in the song.
Then he practiced. One hundred times, he says. Then 200.
Every so often he came downstairs and did a run-through for his mom, Amanda.
"She kept saying, 'You gotta get the face. The mouth open. The awkward dead look.' "
He practiced more. He found a suitable pair of dad jeans and his uncle's black boots that closely resemble Napoleon's moon boots. He bought a plain ringer tee and, helped by a family friend, affixed letters that say "Vote for Jacob."
He practiced more. Finally, with three days left, he memorized the whole dance. He did it again for his mom. She complimented him on his dead expression.
It was show time.
I just want to pause here and marvel for a moment at an 18-year-old willing to go on stage in front of hundreds and perform an incredibly awkward dance involving multiple pelvic thrusts, dozens of interpretative hand motions, several bird flaps and a somersault.
Most teenagers I know, including my former self, are far too self-conscious to go full Napoleon Dynamite in front of a room full of peers and parents.
Jacob was in fact terrified in the moments before he started. He had done dances as part of the show choir, but never solo.
But then the music begins, and, on the video, Jacob struts. He pelvic thrusts. He flaps his arms like a bird. He turns and shakes his booty. He gyrates, somersaults, points.
He nails it. For two minutes, he is Napoleon Dynamite.
The crowd goes wild at several points in the video. But the best part of the video, besides the dancing itself, is the sound of a woman infectiously laughing. Every time I watch the video I laugh right along with her.
Jacob confirmed what I suspected: That laugh belongs to his mom, Amanda.
"She thought it was pretty good," he says.
Somehow, Jacob Marsh did not win Mr. Millard South, which makes me wonder about the true depth of dedication it must take to be Mr. Millard South.
But Jacob does not much mind. He shared the video on Twitter and it went viral. Since the dance, many strangers in his 600-person senior class have stopped him to tell him how much they loved it.
He has met new people because of the dance. He has made new friends.
He has climbed a of couple rungs on the high school popularity ladder.
"I used to be here," he says, putting his hand a foot from the floor. "Now I'm here," he says, and raises his arm to mid-level.
Jacob is graduating soon and off to college at the South Dakota School of Mines and Technology. He plans to major in atmospheric science. He wants to work for the National Weather Service.
No matter what he does, Jacob says he has actually learned something from his random star turn as a spot-on impersonator of a 2004 cult comedy's dancing hero. What he learned has nothing to do with pelvic thrusts.
"My takeaway is, if you are gonna do something, do it," he says. "Grab the opportunity when you have one. That's what I learned from the dance. That's what I am going to try to keep in mind."