Hersz didn't wave. He didn't say hello. He simply began to speak.
The tiny old Omahan looked up from his immaculate lawn. He saw neighbor Tim Sully coming out of his house on that oh-so-normal day a few years ago. He walked across the Dundee street. He started talking long before Tim could hear him.
Tim was used to this, because Hersz Flatowicz loved to tell stories in his thick Polish accent. He loved to tell one zig-zagging story starting with his career as an Omaha tailor, jumping to an aside about an old customer, hopping to his children's accomplishments — "He was so proud of his kids," Tim says — shimmying to a side story and finally looping back to the tailor shop.
Tim expected that usual meandering tale as he walked to meet Hersz. He didn't mind. He loved the adorable little neighbor with the thick Polish accent. Everyone did.
They met in the middle of street, stopped right there in the road. Except this time, without saying why, Hersz was already telling a story that Tim had never heard before and would never hear again.
In the camps, there was only one day I thought, 'I will not make it through this day.' It happened one day when I was not feeling well. We lined up in the morning, and at the same time we were all supposed to remove our caps for the German guards. But that day I didn't feel well, so I was slow in removing mine. The German took the butt of his gun and slammed it down on my head. ...
Hersz Flatowicz told his final story this week. The tiny Omahan with the thick Polish accent lived a full life here, starting an Omaha tailor business from scratch and buying a little white house in Dundee, hemming pants and taking in shirts to help put his children through college, belting out Yiddish songs at the synagogue and, even as an old man, routinely getting down on his hands and knees to edge his immaculate yard with a pair of scissors — not clippers, scissors — and all the while telling countless stories to friends, family and neighbors. He died at the ripe old age of 96 on Tuesday.
That Omaha life is a column. That life is a book.
But Hersz Flatowicz lived another one before he ever reached Omaha, one that began the day the SS snatched him from his home in Poland, telling his parents they were taking the boy to pick some apples. He was 16.
Sign up for The World-Herald's afternoon updates
Receive a summary of the day's popular and trending stories from Omaha.com.
His Dundee neighbors had some basic sense of what Hersz had been through. He didn't hide the tattoo on his arm, the one they gave all the prisoners at Auschwitz.
But they didn't know much more. Because the Holocaust, that was one thing Hersz did not often chat about.
That whole day, my friends at the camp were helping me with everything. I was woozy. They were just trying to get me through the day. Because if I couldn't do my work ...
There are still a few Holocaust survivors who tell their stories at Beth Israel, trying to explain to younger generations why it's important to appreciate what we have, to love and protect it, because it is not guaranteed.
Hersz was not often among those vocal survivors, says Rabbi Ari Dembitzer. Instead, he established a ritual with the rabbi, in which he would be asked to and readily agree to sing after services.
He always sang the same old folk song, "A Yiddishe Mamme."
Was he a good singer?
"No, he was not," the rabbi says, laughing. "But it was so cute and so entertaining and I think it meant a lot to him."
Maybe it meant a lot to him because it's a song about missing your mother.
The English translation contains the following lines:
"My yiddishe momme. I long to kiss her wrinkled brow. I long to hold her hands as in days gone by."
After he survived nearly six years in seven different concentration camps, Hersz Flatowicz was liberated by American troops in 1945.
When he regained his strength, he began searching for his mother, father and his seven brothers and sisters.
He traveled to Spain. He searched in Paris. He looked with friends. He searched alone.
He did not find what he was searching for.
"He lost his entire family," says Pierre Flatowicz, a military veteran, a retired civilian supervisor at Offutt Air Force Base and Hersz's oldest son. "Every one of them. Can you imagine that?"
On the day Hersz started to tell his neighbor his story, Tim steered them out of the street and back toward Hersz's yard. He wanted to hear more. And Hersz needed to keep talking.
The guards were awful. We were in one building where you couldn't go to the bathroom. There were no bathrooms. And somebody couldn't hold it any longer and he went on the floor.
The guards found out and they made the guy lap it up.
Hersz stayed in Paris and got a job in a tailor shop. One day in 1947 a woman named Paulette walked in to ask about some tailoring work.
A year later, they were married, as they would be for the next 70 years.
Two years after that, Pierre was born.
And a few years after that — while Paulette was pregnant with the couple's third child — they boarded a ship. They crossed the ocean. They glimpsed the Statue of Liberty. They stopped in New York City, but it was too big, too loud, too much.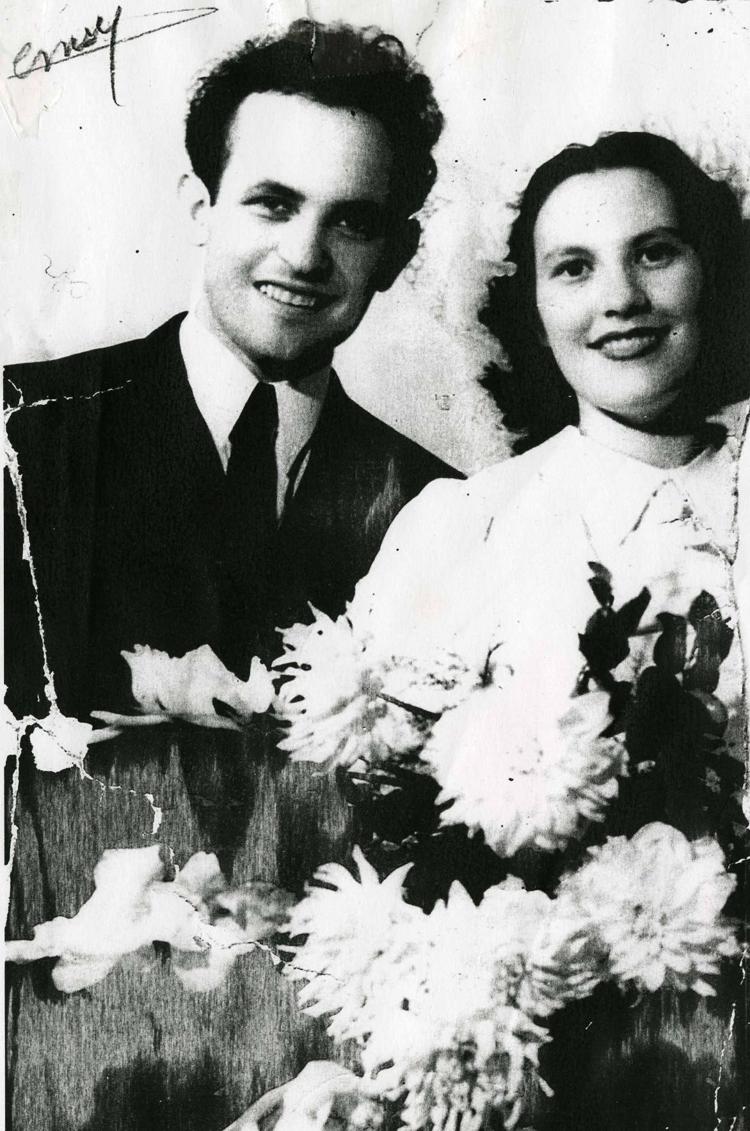 Hersz had a cousin in the Omaha area. He asked about a job. Soon the Flatowicz family moved to Nebraska. Hersz worked at a meatpacking plant, and then got back into his first love, tailoring.
Paulette got a job at the Brandeis department store, and with her French accent and charm became one of the city's most beloved shoe saleswomen at Brandeis and then Younkers. For a time Hersz had his own business, Henry's Tailor Shop, near 67th and Blondo Streets. He then tailored for years at Brandeis and Younkers.
They gave their first four kids French names: Pierre, Martine, Francois, Jean Claude.
They named their fifth, final child in a slightly more Nebraska style: Glen.
They took English-language classes. They attended Beth Israel. They saved every penny they could. From the ashes of the Holocaust, they built a sturdy middle-class life in midtown Omaha.
When I got hit in the head, I was so woozy. If I couldn't keep up, I knew that could be the end. But my friends helped me get through that day, and I made it through that day.
Anyway, that was the only time I thought that I wouldn't live to see the next day.
This life in Omaha was no fairy tale, Pierre Flatowicz says.
Hersz had a hard time becoming close with anyone who wasn't a relative. He sometimes struggled to communicate, struggled in big groups and in big rooms. He had a hard time trusting people.
"The Holocaust leaves a scar on people," Pierre says. "It left its scars on him."
But the scars did not stop him from reading the newspaper each morning and picking out a few words.
Spell "vocabulary," he would command one of the children. Spell "mayor." Spell "alleged."
They did not keep him from obsessing about his yard. Even into his 80s, he would take a pair of scissors out into the front yard, bend down on arthritic knees and carefully snip the blades creeping over onto the sidewalk and driveway.
They did not keep him from driving from Omaha all the way to California with Paulette to see his eldest son walk across the stage at his college graduation.
He had emphasized education to his kids, and saved money to help put them through school. Four of the couple's five children got bachelor's degrees, and today all are successful.
Pierre remembers looking at his father after he received his diploma.
"He had a grin on his face like he was the happiest person in the world."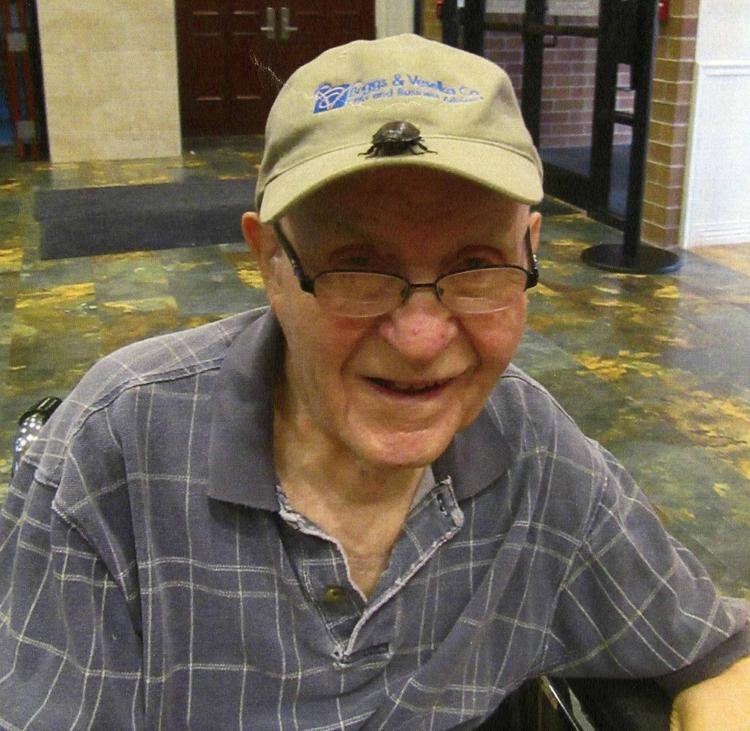 And the scars sure did not stop him from telling stories. Hersz's children used to roll their eyes and laugh when he said: "Let me get to the point."
He had already been talking for 20 minutes. He would talk for 20 more, never arriving at that promised point.
The art of tailoring. The old country, what it looked like as a child. His chest-busting pride he had for his children and the wider Flatowicz family that includes lawyers, accountants, CEOs and professors.
These are the things Hersz loved to speak about.
But the Holocaust? Hersz told his long Holocaust story to neighbor Tim exactly once.
In the camps there was only one day I thought, 'I will not make it through this day.'
Tim Sully walked back to his home that day a few years ago feeling dazed. He has thought a lot about why Hersz chose to tell him, and why they never really spoke of it again.
He isn't sure why. But he is sure that the tiny old man with the thick Polish accent deserves this column, deserves a book, deserves much more.
"This sounds weird, but I always felt like he deserved to live in a big old mansion," Tim says. "I always thought that. ... But I don't think Hersz ever thought that for even a moment."
A roundup of inspirational stories from Midlanders with heart
There's the woman with MS who runs despite her diagnosis. The 7-year-old born without his left hand who plays baseball just like the other kids his age. The refugee who turned to Zumba to help her recover from cancer treatments. Check out their inspiring stories and others below.
To plant a tree in memory of Hansen: Flatowicz as a living tribute, please visit Tribute Store.