A block in the heart of downtown Omaha sits empty, blanketed in brown grass, just as it has for the past decade.
Developers and three different mayoral administrations have looked at this city block at 14th and Dodge and dreamed big dreams. They have imagined a gleaming luxury condo building, a slightly smaller luxury condo building and a 25-story office building.
Yet this spring marks the 10-year anniversary of a crew ripping down the old Union Pacific headquarters. There are no condos or offices there now, not even a tree. Nothing but the forlorn empty lot, a cautionary tale and a couple of lingering questions: What happened? And what, if anything, have we learned from this non-place we created smack in the middle of downtown?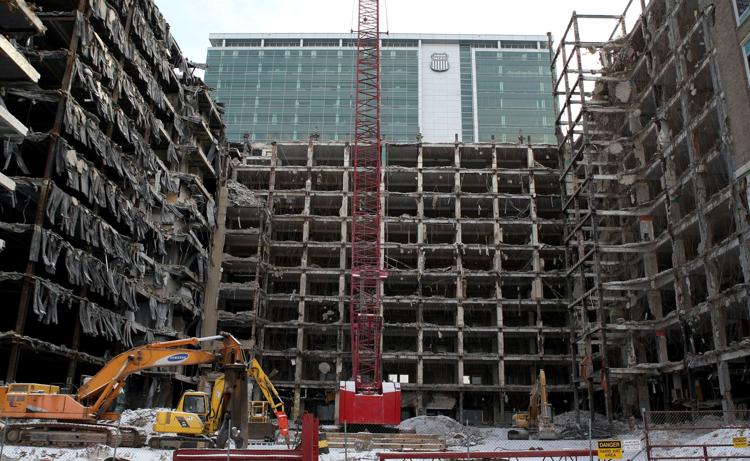 "The Union Pacific site was banking on people wanting to live in an apartment in the sky," says Marty Shukert, former city planning director and now a principal at the architecture and engineering firm RDG. "It was a hard project in the best of times. It became an impossible project in the worst of times."
I have long been fascinated by this empty lot, in part because I see it daily as I walk to work. But it's also fascinating because this little patch of ground symbolizes so many big issues facing Omaha today: the after-effects of the Great Recession, the condo crash, Omaha's continued reliance on the car and Omaha's struggle to build a downtown where more people will live and work.
There seemed little reason to worry about any of this back in 2005, when this newspaper published its first story detailing the project. Kansas City developers and the city rolled out a plan featuring a 32-story, $190 million glass condo building like nothing the city had ever seen, then gave it a suitably grandiose name: WallStreet Tower.
Omaha was in the middle of both a housing boom and a downtown condo boom. Steve Jensen, then in his first month as city planning director, remembers that Mayor Mike Fahey and his advisers chose the project because it seemed the most detailed and the most likely to get built.
"At the time, it was like, 'Boy this makes some sense.' We could really see this happening," says Jensen, who is now a city planning consultant but emphasized that he wasn't speaking on behalf of the current department or mayoral administration.
Then, just as the old U.P. headquarters was being torn down to make way for the condo tower, the economy tanked. Then the housing market. Financing for condo projects dried up. So did the Omaha downtown condo market, which had been overbuilt as developer after developer jumped into the action.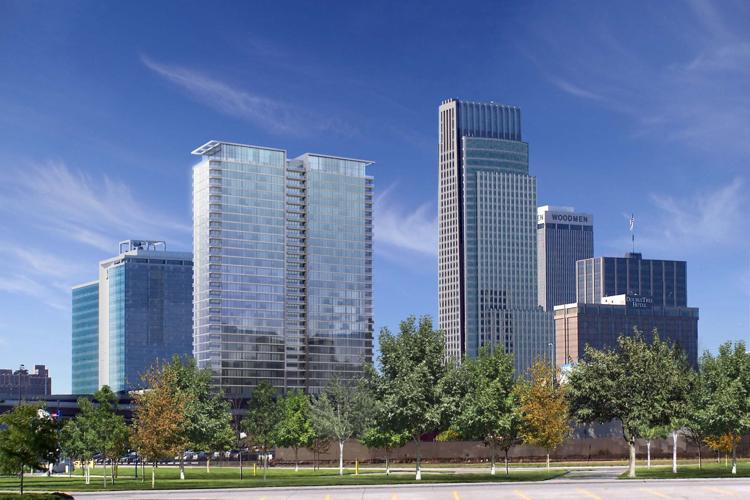 The grandiose — probably too grandiose — WallStreet Tower shrank on the drawing board. The cracks began to show.
"What do you mean, 'if'?" said Jason Townsend, the project's developer, when questioned by a World-Herald reporter in 2009. "We're moving forward. It's going to get done."
No, it wasn't.
The city ended up fighting with the Kansas City company for years to get it to fill the gaping hole in the ground at 14th and Dodge and then to mow down what often became an untamed urban weed jungle.
At some point, the city also realized that it had failed to put language in the contract allowing it to take back the land — which it had sold for $1 — if it didn't get developed. After paying millions to demolish the Union Pacific building, then sitting on the unused land for years, the Kansas City company sold it to Omaha's Lanoha Development for $2.75 million. (The city has since started including language in contracts to prevent this.)
Lanoha's plan, announced in The World-Herald in 2014, was audacious in its own right. The developer envisioned a 25-story building, filled mostly by a large company but probably including other mixed-use development and possibly topped by condos.
As signs on the lot show, a large building is still the plan, Jason Lanoha told me this week, but the project is in a holding pattern, with no timetable, as Lanoha continues to look for a major office tenant. He said the company has turned down several chances to sell the land or to build smaller buildings at 14th and Dodge.
"It stops and starts with that office user," said Lanoha, who thinks the project needs a company that can fill 250,000 square feet of office space. "We have been chasing them, but we haven't identified one large enough. From day one, we have committed to the city that we will be patient to find the user that can and will make a difference to downtown Omaha."
Lanoha said the problem is finding the right company. But former city planner Shukert and current city planning consultant Jensen see a couple of obstacles making it tougher to reel in a big fish downtown.
There are many unused and underused plots of land in and around downtown Omaha, Shukert said, including the Civic Auditorium site that a developer walked away from last week — making it possible that another large swath of land could sit empty for years.
And there's talk of more plots competing for developers. Just two: The Greater Omaha Chamber of Commerce plans to move and free up its half-block at 13th and Harney for redevelopment, and the city eventually hopes to move the downtown library, as that site is considered a prime spot for an office tower.
There is too much focus on high-end apartment projects and desired office tenants, Shukert said, and little attention paid to the fact that young families with children increasingly want to live in or near city centers. That would require a type of development, including some version of single-family homes, that downtown Omaha hasn't done much yet.
"That's what we ought to be building on the Civic," he said. "A high-density neighborhood. But we're not doing that. We're still building to the market that seems to be there, rather than building to where it's going or wants to go in the next 10 years."
Parking continues to be a concern for any large building project downtown, Jensen said. Better mass transit or other parking solutions, like garage sharing, are needed to ease this ever-present, ever-annoying problem that arises when a company thinks about moving downtown.
The proposed streetcar could be a piece of that, Jensen said. "If you can put all these pieces together, you start to shave the number of stalls. It's not something you change overnight. ... Big cities that have become big cities, they have done it in a step-by-step process."
Mass transit. Attracting families downtown. Attracting companies to Omaha. These are all big, interconnected issues, issues that will test the mettle and the imagination of our leaders, philanthropists and Joe Q Public in the years ahead.
There are good things happening in downtown Omaha, but if we want those successes to multiply, Omaha — Omahans — are going to have to work for it.
As we do, or don't, that bare patch of land in the heart of downtown will be there for the foreseeable future, reminding us of big dreams dashed and current hopes not yet fulfilled.
That bare patch of land just turned 10. The big one-zero. Let's hope it doesn't stick around long enough to get its license.